Brazil's Bolsonaro barred from office
Far-right former Brazilian president Jair Bolsonaro was barred on Friday from running for office again until 2030 after a panel of judges concluded that he abused his power and cast unfounded doubts on the country's electronic voting system.
The decision upends the 68-year-old's political future and likely erases any chance for him to regain power.
Five judges on the nation's highest electoral court agreed that Bolsonaro used government communication channels to promote his campaign and sowed distrust about the vote. Two judges voted against the move.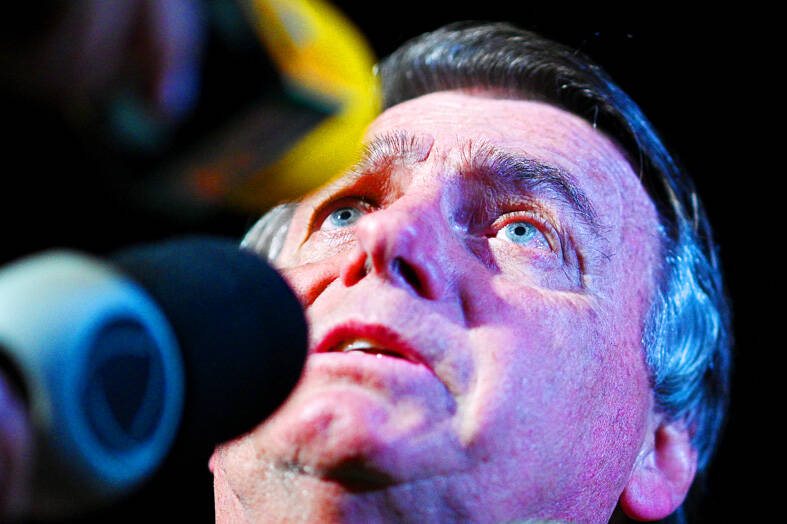 Former Brazilian president Jair Bolsonaro speaks to reporters in Brasilia on Friday.
Photo: EPA-EFE
"This decision will end Bolsonaro's chances of being president again, and he knows it," said Carlos Melo, a political science professor at Insper University in Sao Paulo. "After this, he will try to stay out of jail, elect some of his allies to keep his political capital, but it is very unlikely he will ever return to the presidency."
The case focused on a meeting on July 18, last year, where Bolsonaro used government staffers, the state television channel and the presidential palace in Brasilia to tell foreign ambassadors that the country's electronic voting system was rigged.
In her decisive vote that formed a majority, Judge Carmen Lucia — who is also a Supreme Court justice — said "the facts are incontrovertible."
"The meeting did take place. It was convened by the then-president. Its content is available. It was examined by everyone, and there was never a denial that it did happen," she said.
Alexandre de Moraes, also a Supreme Court justice, said the decision represents rejection of "populism reborn from the flames of hateful, antidemocratic speech that promotes heinous disinformation."
Speaking to reporters in Minas Gerais, Bolsonaro said that the trial was unfair and politically motivated.
"We're going to talk with the lawyers. Life goes on," he said when asked what his next step would be. He called the ruling an attack on Brazilian democracy. "It's a rather difficult moment."
Melo said the decision is "very unlikely" to be overturned.
It removes Bolsonaro from the 2024 and 2028 municipal elections as well as the 2026 general elections. The former president also faces other legal troubles, including criminal investigations. Criminal convictions could extend his ban by years and subject him to imprisonment.
Maria Maris, a 58-year-old engineer in Rio de Janeiro, celebrated the ruling, but said she suspects it might have been politically motivated.
"My fear is that Bolsonaro appeals and runs in the next presidential election, even though he was made ineligible today," Maris said.
Workers' Party chairwoman Gleisi Hoffmann wrote on social media that Bolsonaro's ineligibility offers a teachable moment.
"The far-right needs to know that the political struggle takes place within the democratic process, and not with violence and threatening a coup," she said. Bolsonaro "will be out of the game because he doesn't respect the rules. Not only him, his whole gang of coup mongers has to follow the same path."
Comments will be moderated. Keep comments relevant to the article. Remarks containing abusive and obscene language, personal attacks of any kind or promotion will be removed and the user banned. Final decision will be at the discretion of the Taipei Times.