Mark McGowan resigns as Western Australia premier
Western Australia (WA) Premier Mark McGowan yesterday announced his resignation, saying he is "exhausted."
McGowan made the shock announcement at a news conference, flanked by his colleagues.
He is also stepping down from his seat.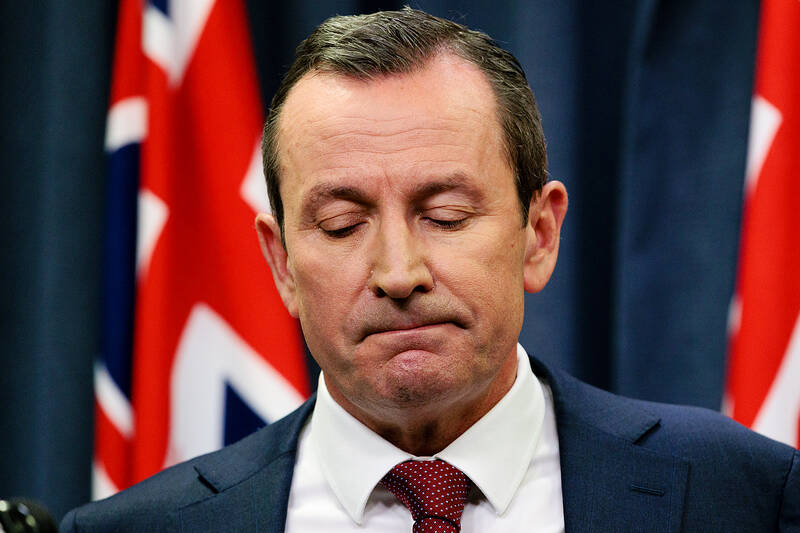 Western Australian Premier Mark McGowan speaks during a news conference in Perth, Australia, yesterday.
Photo: AFP
He said it was "an honor and a privilege" to serve the Western Australian people for nearly 30 years.
"It is way beyond what I could ever have imagined my career would amount to. WA has provided me with the opportunity of a lifetime," he said.
"When I was elected as premier I had ambitions for the state. I wanted WA to become the strongest, most successful state in the nation. To become more economically diversified and have the strongest public finances," he said.
"To be socially reformist with landmark achievements in conservation and environmental protection as well. To provide citizens with quality public services, and long-term infrastructure for long-term futures. I stand here today and I know our state is in the position I set out to reach," he said.
He listed the economy, including increasing WA's share of the goods and services tax, transport, health and education as among his achievements.
He said the job was "relentless" and "all consuming, each and every day."
"The truth is, I'm tired, extremely tired. In fact, I'm exhausted," he said.
"And combined with the COVID-19 years, it has taken it out of me. I'm convinced WA Labor can win and will win the next election in 2025. But I just don't have the energy or drive that is required to continue in the role as premier," he said.
McGowan was elected as member of parliament for Rockingham, Perth, in 1996, became the leader in 2012, and has been premier for more than six years.
He presided over a landslide victory in the 2021 state election, and his personal approval rating hit 91 percent during the pandemic, although that popularity has since waned.
Comments will be moderated. Keep comments relevant to the article. Remarks containing abusive and obscene language, personal attacks of any kind or promotion will be removed and the user banned. Final decision will be at the discretion of the Taipei Times.