Tina Turner, 'queen of rock 'n' roll,' dies at 83
Tina Turner, the unstoppable singer and stage performer who teamed with husband Ike Turner for a dynamic run of hit records and live shows in the 1960s and 1970s, and survived a horrifying marriage to triumph in middle age with the chart-topping What's Love Got to Do With It, has died at 83.
Tina Turner died on Wednesday, after a long illness in her home in Kusnacht near Zurich, Switzerland, her manager said.
She became a Swiss citizen a decade ago.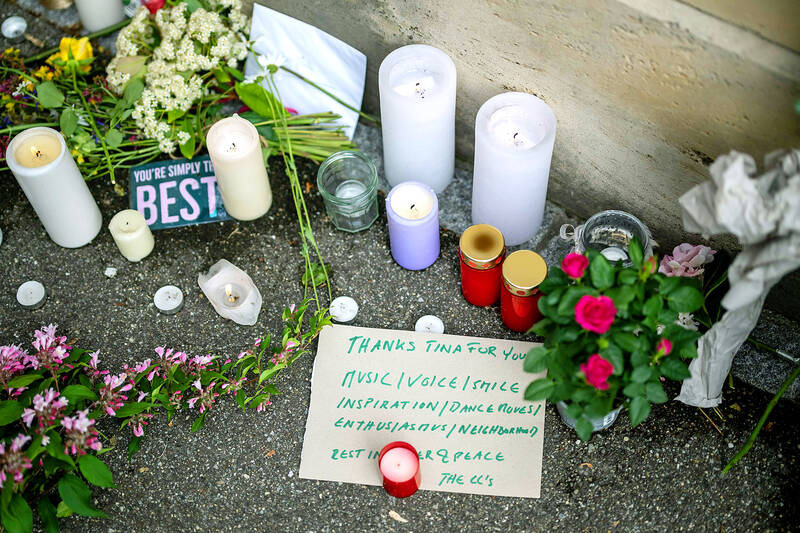 Flowers and messages are left outside Tina Turner's estate following the announcement of her death in Kusnacht, Switzerland, yesterday.
Photo: AFP
She was born Anna Mae Bullock in a segregated Tennessee hospital and spent her latter years on a 2.5 hectare estate on Lake Zurich — and overcame so much.
Physically battered, emotionally devastated and financially ruined by her 20-year relationship with Ike Turner, she became a superstar on her own in her 40s, when most of her peers were on their way down, and remained a top concert draw for years after.
"How do we say farewell to a woman who owned her pain and trauma and used it as a means to help change the world?" said Angela Bassett, who played Tina Turner in the 1993 biopic What's Love Got to Do With It.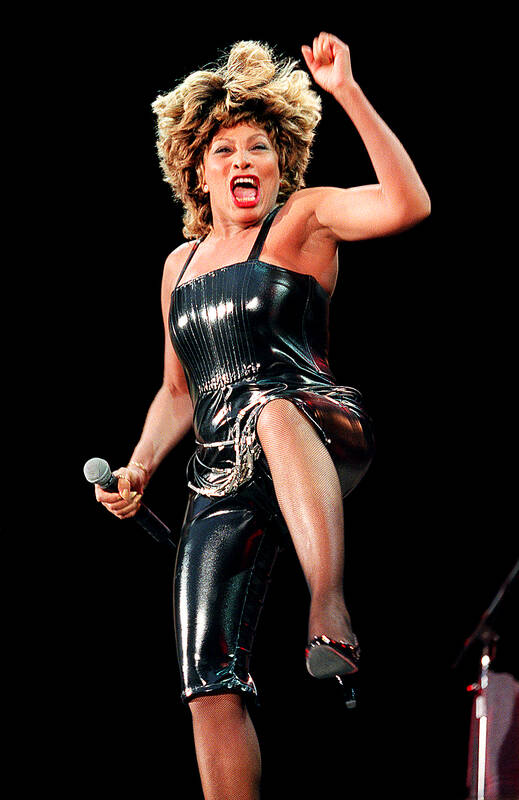 Singer Tina Turner jumps during a show at the Stade de France in Saint Denis, France, on July 5, 2000.
Photo: AFP
Her trademarks included a growling contralto that might smolder or explode, her bold smile and strong cheekbones, her palette of wigs and the muscular, quick-stepping legs she did not shy from showing off.
She sold more than 150 million records worldwide, won 12 Grammys, was voted along with Ike Turner into the Rock and Roll Hall of Fame in 1991 — and on her own in 2021 — and was honored at the John F. Kennedy Center for the Performing Arts in 2005, with Beyonce and Oprah Winfrey among those praising her.
Her life became the basis for a film, a Broadway musical and an HBO documentary in 2021 that she called her public farewell.
Until she left her husband and revealed their back story, she was known as the voracious on-stage foil of the steady-going Ike Turner, the leading lady of the Ike and Tina Turner Revue.
Ike Turner was billed first and ran the show, choosing the material, the arrangements and the backing singers.
As she recounted in her memoir, I, Tina, Ike began hitting her not long after they met, in the mid-1950s, and only grew more vicious. Provoked by anything and anyone, he would throw hot coffee in her face, choke her, or beat her until her eyes were swollen shut, then rape her.
She credited her Buddhist faith in the mid-1970s with giving her a sense of strength to leave him in July 1976. The Ike and Tina Turner Revue was scheduled to open a tour marking the country's bicentennial when Tina Turner left their hotel room, with just a Mobil credit card and 36 cents, while Ike Turner slept.
Tina Turner was among the first celebrities to speak candidly about domestic abuse, becoming a heroine to battered women and a symbol of resilience to all. Ike Turner did not deny mistreating her, although he tried to blame her for their troubles. When he died in 2007, a representative for Tina Turner said: "Tina is aware that Ike passed away."
The Turners were a hot act for much of the 1960s and into the 1970s, evolving from bluesy ballads such as A Fool in Love and It's Going to Work Out Fine to flashy covers of Proud Mary and Come Together.
Bassett and Laurence Fishburne gave Oscar-nominated performances in What's Love Got to Do with It, based on I, Tina, but she said that reliving her years with Ike Turner was so painful she could not bring herself to watch the movie.
By the end of the 1970s, Tina Turner's career seemed finished. She was aged 40, her first solo album had flopped and her live shows were mostly confined to the cabaret circuit.
Rock stars helped bring her back. Rod Stewart convinced her to sing Hot Legs with him on Saturday Night Live, and Mick Jagger sang Honky Tonk Women with her during the Rolling Stones' 1981 tour.
More popular in England than in the US, she recorded a raspy version of Let's Stay Together at Abbey Road Studios in London. By the end of 1983, Let's Stay Together was a hit throughout Europe and on the verge of breaking in the US. Capitol Records artists and repertoire representative John Carter urged the label to sign her up and make an album. Among the material presented was a reflective pop-reggae ballad initially dismissed by Tina Turner as "wimpy."
Tina Turner's Private Dancer album came out in May 1984, sold more than 8 million copies and featured several hit singles.
Tina Turner had two sons: Craig, with saxophonist Raymond Hill; and Ronald, with Ike Turner. Craig Turner was found dead in 2018 of an apparent suicide.
In a memoir published in 2018, Tina Turner: My Love Story, she revealed that she had received a kidney transplant from her second husband, former EMI record executive Erwin Bach.
They met in the mid-1980s, when she flew to Germany for record promotion and he picked her up at the airport. She wed Bach in 2013, exchanging vows at a civil ceremony in Switzerland.
"It's that happiness that people talk about," Tina Turner said at the time. "When you wish for nothing, when you can finally take a deep breath and say everything is good."
Comments will be moderated. Keep comments relevant to the article. Remarks containing abusive and obscene language, personal attacks of any kind or promotion will be removed and the user banned. Final decision will be at the discretion of the Taipei Times.