Razed markets spark food crisis in Sudan
TARGETED: Attacks on food factories and civilian infrastructure by paramilitary and military forces would have long-term consequences for the country, a researcher said
Food manufacturing sites have been destroyed, aid warehouses looted and markets razed in Sudan's five-week conflict, satellite imagery analyzed by Bloomberg showed, fueling a growing humanitarian crisis that has left about 20 million people in need of assistance.
The UN said it hopes that vital international aid for Sudan that has been blocked since April 15 would be delivered this week, as a seven-day ceasefire takes hold between the country's warring generals.
However, the destruction of Sudan's food supply chain — from the factory that produces 60 percent of its therapeutic infant food to key urban markets — has experts warning of dire economic consequences and a breakdown in the country's social fabric.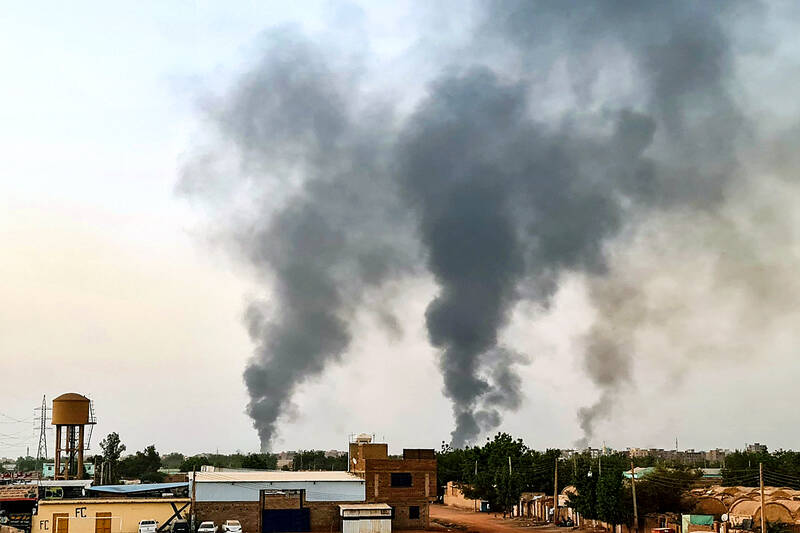 Smoke rises above buildings in Khartoum on Wednesday.
Photo: AFP
"Destroying infrastructure has longer-term consequences. It weakens the integrity of systems and people's sense of security," said Raga Makawi, a researcher on Sudan who fled the capital, Khartoum, earlier in the conflict. "It also affects people's livelihoods on a more structural level."
More than 1 million people have been displaced since the conflict began on April 15, fleeing to safer locations inside and outside Sudan, while at least 1,000 people have been killed.
Compounding an already dire situation in Khartoum and cities across the Darfur region — the two epicenters of the conflict — are attacks targeting food factories and civilian marketplaces.
Flour, milk and bread producers have also stopped working.
On May 10, Samil Industrial Co, the country's biggest infant food manufacturer, was looted and burned to the ground, satellite images provided by Planet Labs showed.
Shortly after fighting erupted last month, the food market near the town of El Fasher in northern Darfur was destroyed.
Another market in Omdurman, which neighbors Khartoum, burned in a massive fire on Monday last week, satellite images and videos posted on social media showed.
The UN has said that about US$2.6 billion is needed to implement its humanitarian response plan for nearly half of Sudan's 45 million population.
Foreign aid is being held up by systematic looting and debilitating administrative delays, with supplies stranded at neighboring countries' airports, it said.
UN flights have been denied clearance, while some aid workers have not been granted visas, three humanitarian officials said, asking not be identified as they do not have authorization to speak publicly.
"It's getting more and more difficult to get supplies in Khartoum," International Committee of the Red Cross in Sudan coordinator Germain Mwehu said. "There is a fear among humanitarian agencies regarding the looting of warehouses and offices."
Since May 11, when the paramilitary Rapid Support Force and the Sudanese Armed Forces agreed to uphold aid access and protect civilians, there have been at least 11 attacks against humanitarian facilities in Khartoum, and four against health facilities, the UN said.
On Wednesday, as an uneasy calm appeared to take hold around the capital despite sporadic artillery fire in some areas, many UN agencies were still awaiting clearance for flights into the country and for convoys to leave the coastal city of Port Sudan.
A panel of US and Saudi Arabian monitors were verifying alleged breaches of the ceasefire, a US Department of State spokesperson said in Washington on Tuesday.
Since the latest pact was signed, "there is a lot of hope," said Abdou Dieng, the UN's humanitarian coordinator in Sudan. "We are getting ready to take the opportunity of this week to scale up our operation and try and assist the population."
Comments will be moderated. Keep comments relevant to the article. Remarks containing abusive and obscene language, personal attacks of any kind or promotion will be removed and the user banned. Final decision will be at the discretion of the Taipei Times.