Russia PM eyes trade ties in China visit
BUSINESS BUDDIES: Mishustin, who has been sanctioned by Western nations, told a forum that trade with China has helped Russia decrease its dependence on the dollar
Russian Prime Minister Mikhail Mishustin yesterday began a two-day visit to China, as Moscow seeks to deepen trade ties with Beijing amid growing international isolation over its war in Ukraine.
At a Russia-China business forum in Shanghai, Mishustin said his nation's farmers were ready to significantly increase agricultural exports to China, Russian news agency Interfax reported.
The Russian politician, who has been sanctioned by the US, Australia, Canada, the EU, New Zealand and the UK, added that China trade had helped Russia decrease its "dependence on the dollar."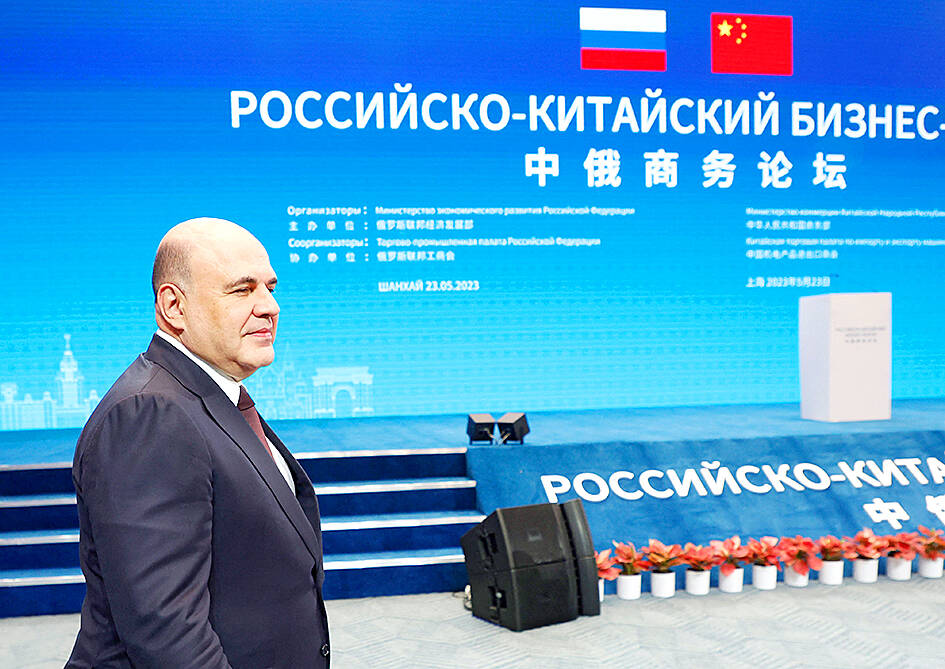 Russian Prime Minister Mikhail Mishustin attends a Russian-Chinese business forum in Shanghai yesterday.
Photo: AFP
That effort had also been bolstered by increased trade in the two nations' national currencies, he said.
Mishustin's inaugural visit to China as prime minister comes as President Xi Jinping (習近平) has dispatched a special envoy to Ukraine and several European countries.
The simultaneous trips symbolize how Beijing is balancing maintaining ties with Moscow, while also trying to portray Xi as a global peacemaker with unique ties to leaders on both sides of Russia's war.
Mishustin is expected to meet with Xi and Chinese Premier Li Qiang (李強) in Beijing today, to discuss cooperation in energy, transport infrastructure and agriculture, the Russian government said.
He is also to meet former Brazilian president Dilma Rousseff, who heads the New Development Bank in Shanghai.
Mishustin was set to be joined on the trip by Russian Deputy Prime Minister Alexander Novak, who is responsible for energy, Bloomberg reported earlier.
Russian Minister of Agriculture Dmitry Patrushev last week said he was planning to attend, to discuss issues such as winter wheat and meat shipments to China, he told an agriculture conference aired by RBC TV on Friday.
A number of tycoons sanctioned by the US and its allies had also been invited, but it was unclear if they would attend. The Chinese foreign and commerce ministries did not respond to questions about the event.
China has refrained from joining the US-led sanctions campaign against Russia for triggering Europe's deadliest conflict since World War II, and since then bilateral trade has boomed. China's exports to Russia hit a record in April, jumping 153 percent from a year earlier to US$9.6 billion.
While China has been buying a lot of commodities from Russia, imports of wheat have been hampered by a slew of issues, including transportation challenges.
At yesterday's forum, Mishustin said the two countries need to enhance food security, adding that Russian farmers can expand the range of goods supplied.
Chinese Central Political and Legal Affairs Commission Secretary Chen Wenqing (陳文清), who sits on the Chinese Communist Party's 24-member politburo, is visiting Russia this week to attend meetings on law enforcement and security, the Chinese Ministry of Foreign Affairs said on Saturday.
Comments will be moderated. Keep comments relevant to the article. Remarks containing abusive and obscene language, personal attacks of any kind or promotion will be removed and the user banned. Final decision will be at the discretion of the Taipei Times.