Six killed in armed attack in Ecuador tourist town
Gunmen in Ecuador opened fire in a restaurant in a beach town popular with tourists, killing at least six people and wounding six more, prosecutors said on Sunday.
The attack happened on Saturday night in a busy nightlife area of the town of Montanita on the Pacific coast, the prosecutors' office said on Twitter.
It gave no information on the age or identity of the people who were shot.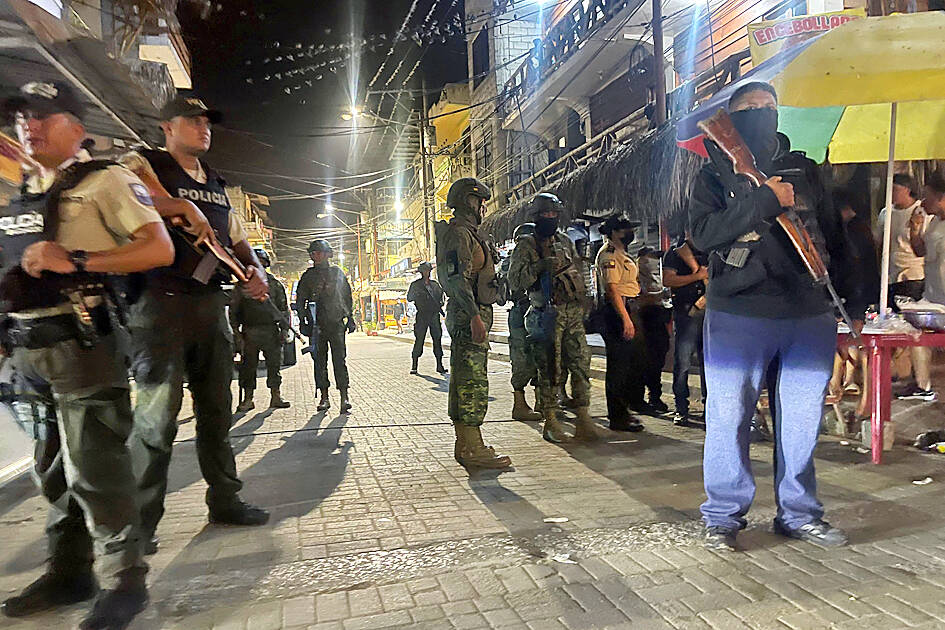 Military and police personnel stand guard near the site of a shooting in Montanita, Ecuador, on Saturday.
Photo: AFP
Located between Colombia and Peru, the world's top producers of cocaine, Ecuador is weathering the biggest surge in crime in its recent history.
Crime linked to drug trafficking caused the murder rate to almost double from 2021 to last year.
A woman who was near the restaurant at the time of the latest shooting described hearing gunshots.
"We heard the noise — boom, boom, boom — and people said: 'Run, run, it's a shootout,'" the woman told reporters.
She declined to give her name, saying she feared reprisal.
It was the second mass shooting in days on Ecuador's Pacific coast.
On Thursday, gunmen burst into a wake at a funeral home in the nearby town of Manta and started shooting, killing four people and leaving eight wounded.
Ecuadoran President Guillermo Lasso has tried to counter the crime wave by declaring a state of emergency in the hardest-hit provinces, such as Santa Elena, which includes Montanita.
The measure allows for deploying soldiers in the streets and declaring curfews.
The government also started letting people carry guns for self-defense.
Still, the country is seeing one massacre after another.
In the middle of last month, a group comprising dozens of attackers opened fire at the fishing port in the town of Esmeraldas, killing nine people in what the government called a drug turf war. Two weeks later attackers on motorcycles killed 10 people watching a soccer game in an auto workshop.
The government blames the violence on fights between drug gangs battling for power and control of routes to ship cocaine and other drugs from the Pacific coast to Europe and the US.
These battles have also claimed lives in prisons, as rival gangs fight each other behind bars. More than 420 inmates have died in rioting since 2021.
From January through last month the government seized 64 tonnes of drugs, mainly cocaine. Last year the government confiscated more than 200 tonnes of drugs.
Comments will be moderated. Keep comments relevant to the article. Remarks containing abusive and obscene language, personal attacks of any kind or promotion will be removed and the user banned. Final decision will be at the discretion of the Taipei Times.