China's backlash against comedy stirs more fears
One joke by a Chinese comedian about the nation's military has spurred online uproar, a US$2 million fine, a police probe, a sweep of canceled shows and fears for the survival of Chinese stand-up comedy, a rare refuge for somewhat free speech.
The furor over Li Haoshi's (李昊石) wisecrack in Beijing last weekend marks the biggest scandal yet for a form of entertainment that, despite China's tightening censorship regime, had managed to gain popularity with performances in small groups and material that managed to just toe the line.
"Stand-up comedy has been the last bastion in which people ... can still enjoy entertaining commentary about public life," said Beijing-based independent political analyst Wu Qiang (吳強). "After this, the space for stand-up comedy and public expression in general will inevitably keep shrinking."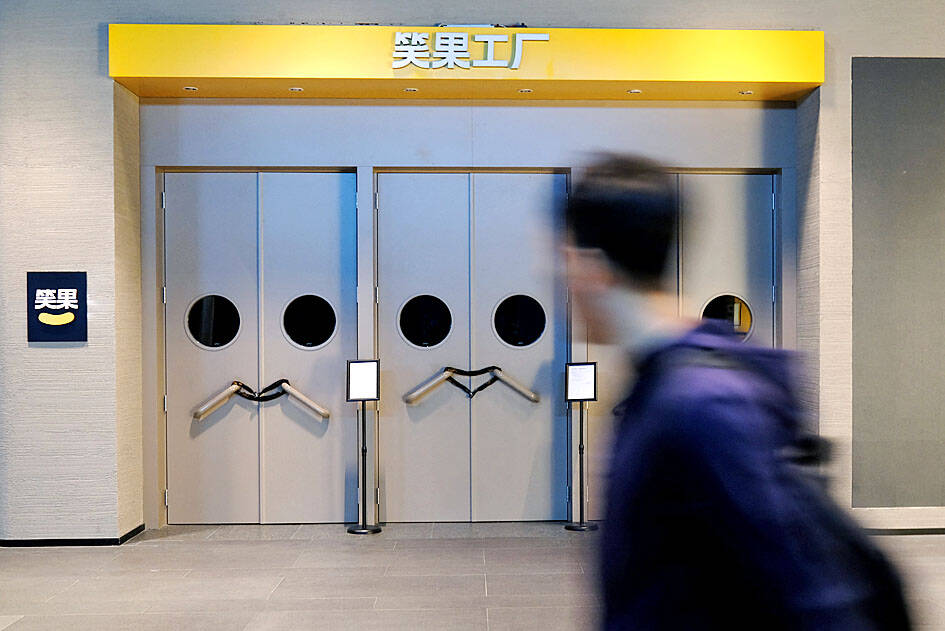 A person walks past a venue for stand-up comedy company Xiaoguo Culture Media Co in Beijing on Friday.
Photo: Reuters
The Chinese State Council's information office, which handles media queries on behalf of the government, did not respond to a request for comment.
China's comedy scene rose quickly during the COVID-19 pandemic as people spent more time indoors watching viral streamed comedy shows. The most popular were produced by Xiaoguo Culture Media Co, the firm at the center of the current uproar.
Following reports that the broadcasts were increasingly subject to censorship, especially when it came to sensitive subjects such as Shanghai's lockdown, offline shows proliferated, in part because of a perception that comedians were freer to speak in front of small groups than vast broadcast audiences.
"I fear this could spell a clampdown on the whole industry," said a US-based Chinese comedian who uses the stage name Kite.
She declined to give her real name, fearing repercussions.
"Stand-up comedy allows us to find small happiness amidst suffering. This is why I think we should try to do something to resist the clampdown. If we don't do anything, we won't even have the freedom to joke in future," she said.
A Beijing-based comedian, speaking on condition of anonymity for fear of repercussions, said that a number of their shows had been canceled in the wake of the incident and that they feared for the future of the stand-up scene.
Audiences at comedy events in China are often asked not to record jokes or performances, in part because of an awareness that a short clip can be quickly taken out of context on Chinese social media.
Li, whose stage name was House, nevertheless went viral when an audience member posted a description of a joke he had made during a set on Saturday last week, suggesting that it was demeaning to the Chinese People's Liberation Army (PLA).
Beijing police wrote on their Sina Weibo account that they were investigating Li.
The Beijing Culture and Tourism Bureau fined Xiaoguo 14.7 million yuan (US$2.13 million) and barred the company from hosting performances in Beijing and Shanghai, saying it would "never allow any company or individual [to] use the Chinese capital as a stage to wantonly slander the glorious image of the PLA."
Other comedy companies, including Beijing's Danliren Culture Media, have cleared their performance schedules without explanation.
A staffer at Danlinren on Friday said that she was not aware why the company had canceled its comedy shows in Beijing. Xiaoguo on Wednesday blamed the incident on "major loopholes in management" and terminated its contract with Li.
Li, who has apologized for the joke, did not respond to requests for comment.
China's leadership "fed an atmosphere of paranoia and fear over national security risks, defined so expansively that anything can be an attack," said David Bandurski, director of the China Media Project, a US-based research group.
"A punchline is treated with the same alarm as a real assault on the nation," he said.
Comments will be moderated. Keep comments relevant to the article. Remarks containing abusive and obscene language, personal attacks of any kind or promotion will be removed and the user banned. Final decision will be at the discretion of the Taipei Times.