Online abuse compounds S Korean families' grief
First he lost his child in Seoul's Halloween crowd crush. Then came a torrent of online abuse, upending his family's once-private life and making him an Internet-wide figure of mockery.
In October last year, Lee Jong-chul's 24-year-old son, Lee Ji-han, was among more than 150 people killed in the disaster in the city's popular Itaewon district. Grief-stricken, he spoke to media, pleading with South Korean politicians to take action.
Then, as has happened after incidents from the Sandy Hook mass shooting to the disappearance of British woman Nicola Bulley, an Internet mob formed: the family's personal tragedy was mocked, belittled and misrepresented online.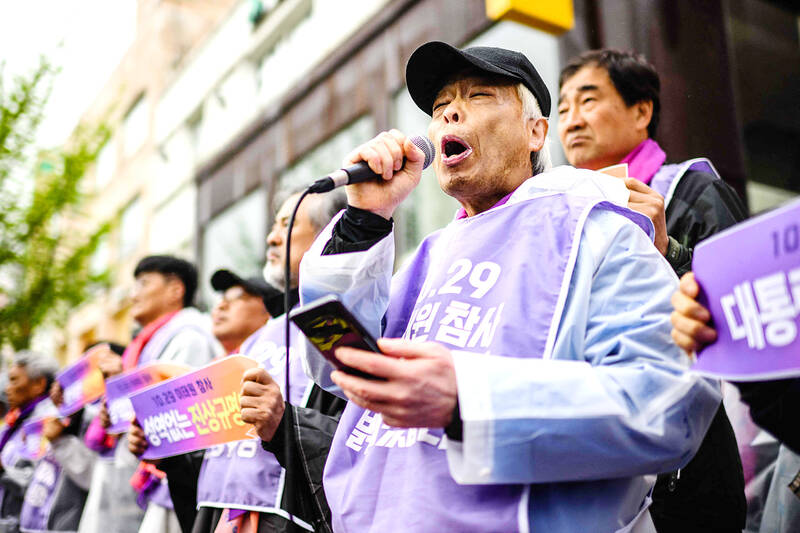 Lee Jong-chu, front, whose 24-year-old son, Lee Ji-han, was killed during a Halloween crush in October last year, attends a rally on Wednesday last week with other families of victims and supporters near the alleyway where the disaster took place in the Itaewon district of Seoul.
Photo: AFP
From photographs doctored to show Lee Jong-chul laughing after being offered compensation to attempts to link him to North Korea — two viral posts debunked by Agence France-Presse digital verification reporters — he and his family have become a virtual punching bag on Korean-language forums.
"It's unspeakable what some of these comments say," said his daughter, Lee Ga-young, adding that the sheer volume of abuse was "overwhelming," with any news report on them attracting hundreds of comments, almost exclusively negative, in minutes.
At the family's apartment in Goyang city just outside Seoul, Lee Ji-han's bedroom has not been touched since he last walked out on Oct. 29. His clothes still hang on the door where he left them, the book he was reading lies on his bed.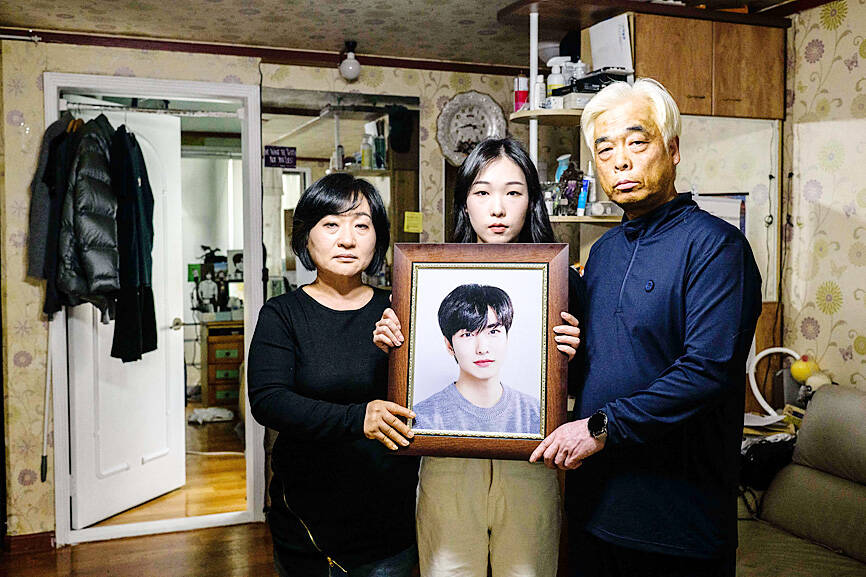 Cho Mi-eun, left, and her husband, Lee Jong-chul, right, whose 24-year-old son Lee Ji-han, pictured in framed photo, was killed during a Halloween crush in October last year, pose for a photograph with their daughter Lee Ga-young at their home in Goyang, South Korea, on Tuesday last week.
Photo: AFP
"That day changed our lives forever," his mother, Cho Mi-eun, said, adding that she still listens to old voicemail messages just to hear her son's voice.
"Every night Ji-han's father goes out to wait for him, for hours sometimes. He says he's going out to smoke, but we know he's waiting for Ji-han," she said, adding that her husband had attempted suicide on multiple occasions since the disaster and the online attacks.
The families of the Itaewon victims want answers about why authorities failed to prevent the catastrophe, despite clear warning signs, said Lee Jung-min, who lost his 29-year-old daughter.
Some of the victims' families formed a group "to understand what really happened and to hold those officials responsible," said the bereaved father, who was visibly tired and unshaven.
However, the Internet interpreted their efforts to organize as an attack on the government, with right-wing trolls launching a coordinated counter-attack, accusing the families of being profiteers out for compensation, or anti-government forces.
Experts say the government is worried the disaster could hurt the administration. Seoul's last conservative government lost power in part due to its mishandling of the 2014 Sewol ferry disaster, in which more than 300 people were killed.
As a result, some ruling-party lawmakers have criticized the victims' families during parliamentary sessions.
Lawmakers have promoted outlandish conspiracies: One said that the crowd crush was caused by vegetable oil poured on the ground by opposition-linked labor union operatives, while another insinuated that the deaths were due to illegal drugs.
An official police investigation found no evidence of either claim, but South Korea's highly polarized political environment allows such misinformation to thrive, said Seo Soo-min, a communications professor at Sogang University.
Two days after the disaster, Southe Korean Prime Minister Han Duk-soo urged people not to "make hateful comments, spread fabricated information or share graphic images of the accident."
Yet the government has done almost nothing to stop the attacks, despite repeated pleas from victims' families for help, said Kim Yu-jin, who lost her 24-year-old sister in the disaster.
A 16-year-old Itaewon survivor committed suicide in December last year, in part due to the online abuse, the victims' families said.
Han said that the government bore no responsibility, blaming the victims for not being "strong minded" enough.
Even a public mourning altar set up to commemorate the victims has become a flashpoint after authorities threatened to remove it, and far-right YouTubers picketed it while live-streaming.
The victims' families must now not only grieve their lost loved ones, but do battle for their memories online, Kim said.
Every day, she reads the fresh deluge of hateful comments about her sister and reaches out to individual media outlets to ask for them to be removed.
"I know it's a hopeless task, there are countless comments, but I have to carry on," she said. "Who else will fight for my sister?"
Comments will be moderated. Keep comments relevant to the article. Remarks containing abusive and obscene language, personal attacks of any kind or promotion will be removed and the user banned. Final decision will be at the discretion of the Taipei Times.