US says Russia seeking N Korean arms
BROKER IDENTIFIED: Moscow is offering food in exchange for weapons, as a blacklist aims to cut off a Slovakian arms broker from the US financial system, Washington said
The White House on Thursday said that Russia is seeking more arms from North Korea for the war in Ukraine, revealing the identity of a Slovakian man allegedly brokering deals between Moscow and Pyongyang.
"We have new information that Russia is actively seeking to acquire additional munitions from North Korea," US National Security Council spokesman John Kirby said.
Ashot Mkrtychev, 56, of Bratislava in the Slovak Republic, was working on arms-related sales and barter deals between the two countries between late last year and the early part of this year, Kirby said.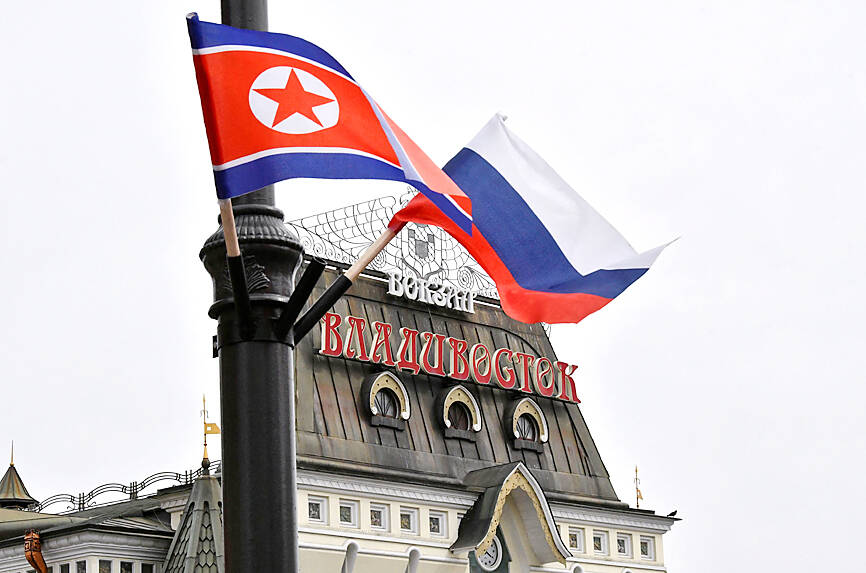 The flags of North Korea and Russia fly in front of a railway station in Vladivostok during a visit by North Korean leader Kim Jong-un on April 25, 2019.
Photo: Reuters
"With the support of Russian officials, Mkrtychev has been attempting to broker a secret arms agreement between Russia and North Korea," he said.
Under discussion was for North Korea to ship "over two dozen" kinds of weapons and munitions to Russia, according to the US Department of the Treasury, which placed Mkrtychev on its sanctions blacklist.
In exchange, Pyongyang would obtain cash, commercial aircraft, commodities and raw materials, the treasury said.
Kirby said Washington understands that Russia seeks to send a delegation to North Korea and is offering Pyongyang food in exchange for munitions.
He did not say if any deals had been completed, or detail the specific weapons involved.
"Any arms deal between North Korea and Russia would directly violate a series of UN Security Council resolutions," Kirby added.
He said the deals Mkrtychev was involved in were separate from North Korea's sale late last year of rockets and artillery munitions to the Wagner Group, a semi-independent Russian military force fighting on the front lines in Ukraine.
Being placed on the treasury sanctions list cuts Mkrtychev off from the US financial system, Kirby said.
"He will face significant challenges in attempting to access and abuse the international financial system now that his activities have been exposed," he said.
The blacklisting also places in jeopardy anyone who provides support to Mkrtychev.
"Today's action is a clear message that the United States will not relent in targeting those who provide support to Russia's aggression and brutal war against Ukraine," US Secretary of State Antony Blinken said.
"We will continue to identify, expose, and counter Russian attempts to acquire military equipment from [North Korea] or any other state that is prepared to support its war in Ukraine," Blinken said in a statement.
Last September, as Ukrainian and Russian forces faced looming shortages of artillery ammunition, the White House said it had intelligence that Russia was planning to acquire shells and rockets from North Korea.
Pyongyang denied the allegation.
Kirby in November last year said North Korea was shipping ammunition to Russia, but obfuscating the trade by making it look like it was sending arms to the Middle East or North Africa.
In December, he said Washington had intelligence that North Korea had completed an initial arms delivery to the Wagner Group.
Comments will be moderated. Keep comments relevant to the article. Remarks containing abusive and obscene language, personal attacks of any kind or promotion will be removed and the user banned. Final decision will be at the discretion of the Taipei Times.