US charges Russian spy who tried to infiltrate ICC
The US Department of Justice on Friday unveiled spying charges against a Russian who, under a Brazilian alias, studied at a Washington university and then tried to join the International Criminal Court (ICC) in The Hague.
The indictment of Sergey Vladimirovich Cherkasov said it would try to contest his extradition to Russia from Brazil, where he is jailed on identity fraud charges.
Cherkasov, 39, was detained at the beginning of April last year by Dutch authorities for using fake identity papers.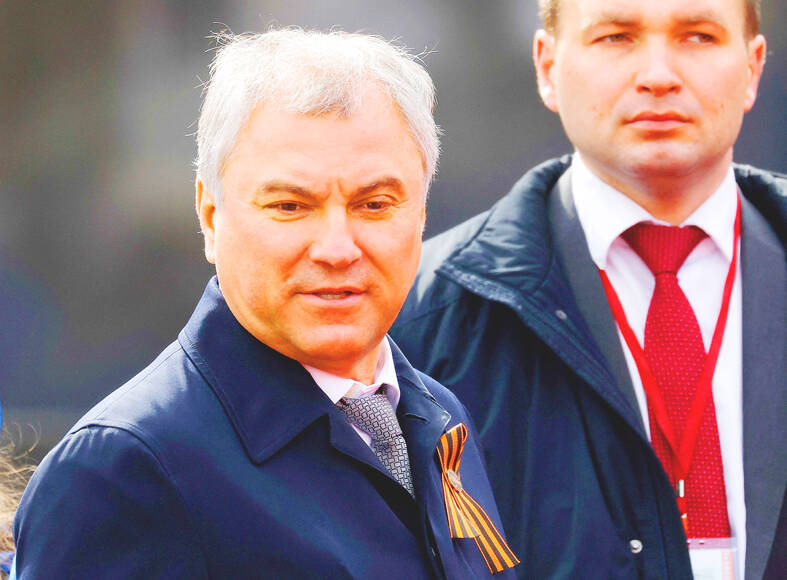 Russian State Duma Chairman Vyacheslav Volodin attends a military parade in Moscow on May 9 last year.Photo: Reuters
He arrived in the country as Viktor Muller Ferreira, a Brazilian, to take a position at the ICC as a junior analyst.
The Netherlands police determined that he was not Brazilian, but rather an agent of Moscow's military intelligence agency, GRU.
He was what is called an "illegal," a spy who lives abroad for years under deep cover, developing an entirely new identity.
That included spending 2018 to 2020 in a master's degree program at Johns Hopkins University's international studies program in Washington, the US indictment and a curriculum vitae he posted online showed.
Dutch authorities said that if Cherkasov had worked at the ICC, he could have accessed "highly valuable" intelligence on its probe into war crimes in Ukraine or even influenced criminal proceedings at the Hague-based tribunal.
He was deported on April 3 last year to Brazil, where he was charged with identity fraud and in July sentenced to 15 years in jail.
Meanwhile, Vyacheslav Volodin, the chairman of the Duma, Russia's lower house of parliament, yesterday proposed banning the activities of the ICC after it issued an arrest warrant for Russian President Vladimir Putin, accusing him of the war crimes.
Volodin, an ally of Putin's, said that Russian legislation should be amended to prohibit any activity of the ICC in Russia and to punish any who gave "assistance and support" to the ICC.
"It is necessary to work out amendments to legislation prohibiting any activity of the ICC on the territory of our country," Volodin wrote on Telegram.
Volodin said that the US had legislated to prevent its citizens ever being tried by the Hague court and that Russia should continue that work.
Any assistance or support for the ICC inside Russia, he said, should be punishable under law.
Additional reporting by Reuters
Comments will be moderated. Keep comments relevant to the article. Remarks containing abusive and obscene language, personal attacks of any kind or promotion will be removed and the user banned. Final decision will be at the discretion of the Taipei Times.