Child poverty rate in New Zealand remains static
New Zealand's child poverty rates have plateaued, despite government efforts and former New Zealand prime minister Jacinda Ardern making it a central priority of her time in office.
Reducing the country's child poverty rates has been a central commitment of the Labour government since Ardern ran on the issue in 2017, creating a new minister for child poverty, introducing legislation to ensure child poverty data were measured and published yearly, and bringing in a series of additional financial support packages for low-income families.
While the situation has improved for some children since then, in the 12 months to June last year, New Zealand's primary measures were unchanged from the previous 12 months, with 12 percent of children living in households that had less than 50 percent of the median household income before housing costs and 15 percent after housing costs.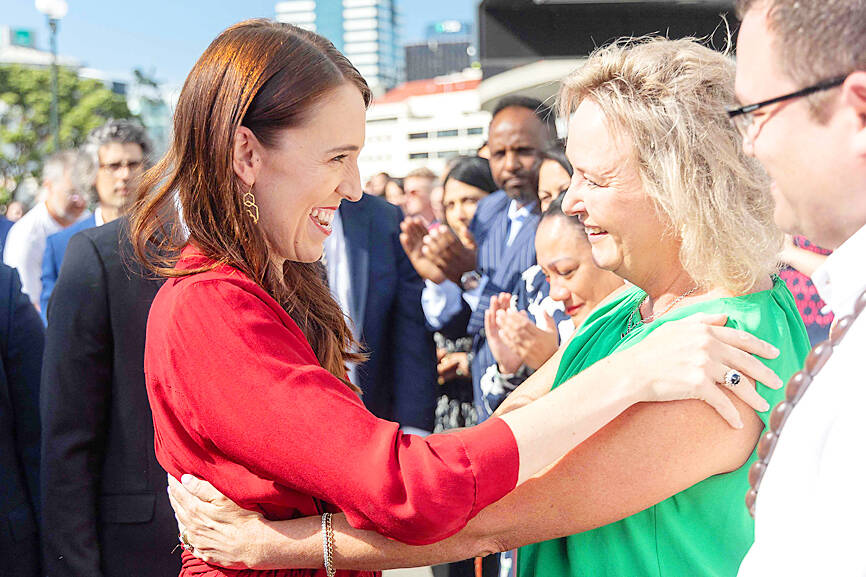 Then-New Zealand prime minister Jacinda Ardern, left, greets friends and colleagues as she heads to Government House in Wellington on Jan. 25 to officially resign. Ardern, who was also minister for child poverty reduction, made child poverty a priority.
Photo: AFP
There were 10.3 percent living in material hardship — defined as frequently being without basic essentials such as nutritious food, clothing and doctors' visits.
The child poverty measures for Maori and Pacific island children were unchanged from the previous 12 months.
Over the longer term, the picture was more positive. Eight of the nine measures of child poverty had statistically significant decreases since June 2018, the baseline year.
The government has framed the plateauing of child poverty reduction as "encouraging" given that inflation is at about 7.2 percent and the economic disruption of restrictions during the COVID-19 pandemic.
"It's a challenging environment, but child poverty figures staying steady this year is encouraging," said Jan Tinetti, who replaced Ardern as child poverty reduction minister after her resignation. "It shows the government's policies targeting kids and families are helping, despite the pandemic and tough economic times."
However, other political parties have decried the lack of progress.
"It's not good enough for the government just to say that they care — people need action and results," National Party spokeswoman Louise Upston said. "The Labour government has delivered a public-housing waitlist that has skyrocketed up from 5,000 to 24,000 since 2017, 3,000 children waking up in motels every day, and an estimated one in five children growing up in benefit-dependent homes."
"Poverty is a political choice," Greens spokesman Ricardo Menendez March said. "The tools to lift every family and child out of poverty exist, the government just needs to use them."
Comments will be moderated. Keep comments relevant to the article. Remarks containing abusive and obscene language, personal attacks of any kind or promotion will be removed and the user banned. Final decision will be at the discretion of the Taipei Times.