Inmate convicted of elaborate California jailbreak in 2016
An inmate who in 2016 organized a daring, elaborate jailbreak from a southern California facility was on Thursday found guilty of the escape, but acquitted of kidnapping a taxi driver while on the run, authorities said.
Jurors in the Orange County Superior Court also convicted Hossein Nayeri, 44, of stealing a van, but acquitted him of kidnapping during a carjacking and lesser offenses, the Orange County District Attorney's Office said in a statement.
On Jan. 22, 2016, Nayeri and two other men broke out of the Orange County Central Jail Complex in Santa Ana, prompting a week-long search.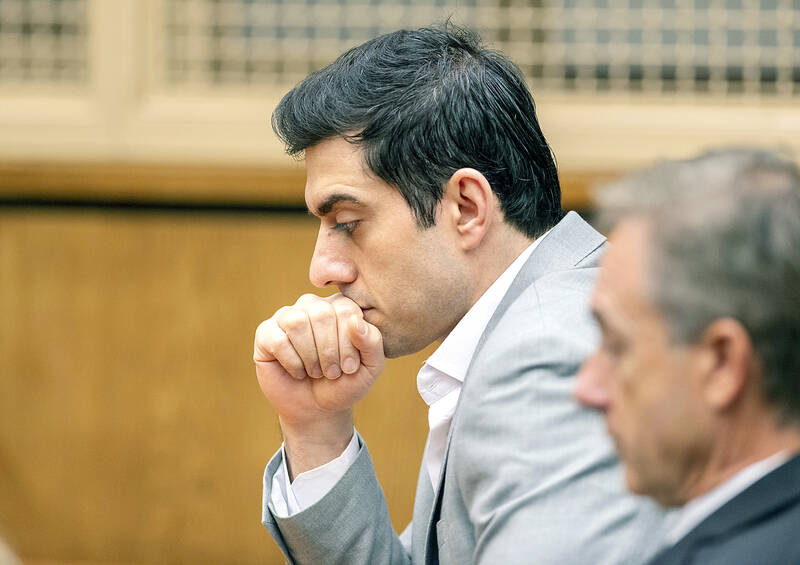 Defendant Hossein Nayeri listens to the judges' instructions before the reading of his verdict in Newport Beach, California, on Aug. 16, 2019.
Photo: AP
Using smuggled tools, they cut through a metal grate in their maximum-security dorm cell, then climbed through plumbing shafts within the walls to reach the roof, where they rappelled down five stories using a rope made of bed linens, the authorities said, citing evidence including a cellphone video shot by Nayeri.
The men later kidnapped a 72-year-old unlicensed taxi driver. The driver was sometimes held at gunpoint as he drove the men around. The men then stole a van, and took both vehicles and the driver along as they drove hundreds of kilometers north to the San Francisco Bay Area, authorities said.
One escapee, Bac Tien Duong, later feared that the driver would be killed and fled with him back to southern California, authorities said.
Nayeri and the third escapee, Jonathan Tieu, were arrested in San Francisco the next day, after a man recognized them from media reports, prosecutors said.
Duong was convicted of escape and kidnapping in 2021.
Tieu is awaiting trial for the escape, prosecutors said.
TORTURE CONVICTION
At the time of his escape, Nayeri was awaiting trial on charges that he and two accomplices kidnapped, tortured and mutilated the owner of a marijuana dispensary in 2012.
The owner was kidnapped from a Newport Beach home because the robbers falsely believed he had buried US$1 million in the Mojave Desert, prosecutors said.
He was beaten with rubber piping, shocked with a Taser, burned with a blowtorch and his penis was cut off before the robbers fled, prosecutors said.
Nayeri fled to Iran, but he was later caught in the Czech Republic and extradited.
In 2020, he was sentenced to life in prison without possibility of parole.
Nayeri's codefendants were also convicted.
Comments will be moderated. Keep comments relevant to the article. Remarks containing abusive and obscene language, personal attacks of any kind or promotion will be removed and the user banned. Final decision will be at the discretion of the Taipei Times.