ICBM test sought to 'strike fear': Kim
OVER TALKS, DRILLS: North Korea launched the missile as the leaders of Japan and South Korea met in Tokyo, and the US and its allies began anti-submarine drills
North Korean leader Kim Jong-un said his country launched its most powerful ballistic missile just before a Japan-South Korea summit to "strike fear into the enemies," state media reported yesterday.
Kim was on hand with his preteen daughter to watch the launch of the Hwasong-17 intercontinental ballistic missile (ICBM) on Thursday, the Korean Central News Agency (KCNA) reported.
The test was prompted by "the frantic, provocative and aggressive large-scale war drills conducted by the US and the south Korean puppet traitors," it said.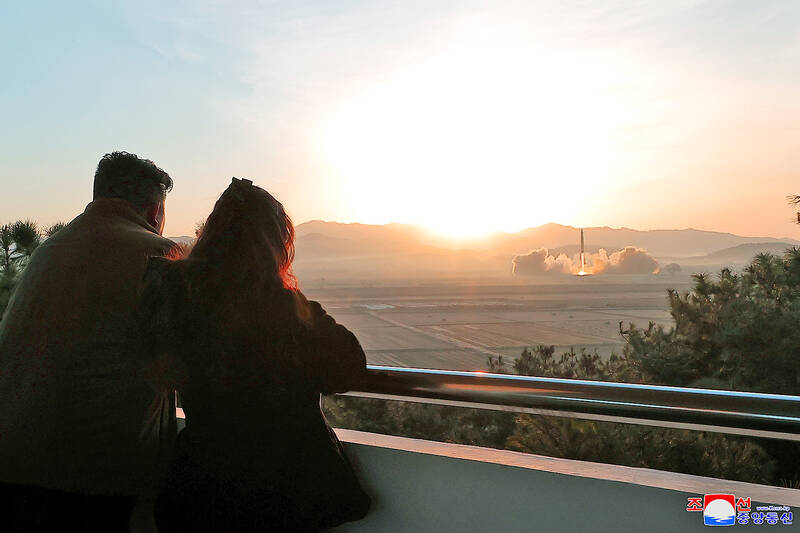 North Korean leader Kim Jong-un, left, and his daughter, Kim Ju-ae, watch the launch of an intercontinental ballistic missile near Pyongyang on Thursday.
Photo: EPA-EFE / KCNA
KCNA almost never calls its neighbor by its proper name.
The launch of what weapons experts consider to be the world's largest road-worthy ICBM came hours before South Korean President Yoon Suk-yeol arrived in Tokyo for a rare summit with Japanese Prime Minister Fumio Kishida to discuss ways to mend differences and cooperate with their mutual US ally to counter the nuclear threats made by the likes of Kim's regime.
The missile reached an altitude of about 6,000km and traveled a distance of about 1,000km on a flight that lasted about 70 minutes before landing in the waters outside Japan's exclusive economic zone, the Japanese Ministry of Defense said.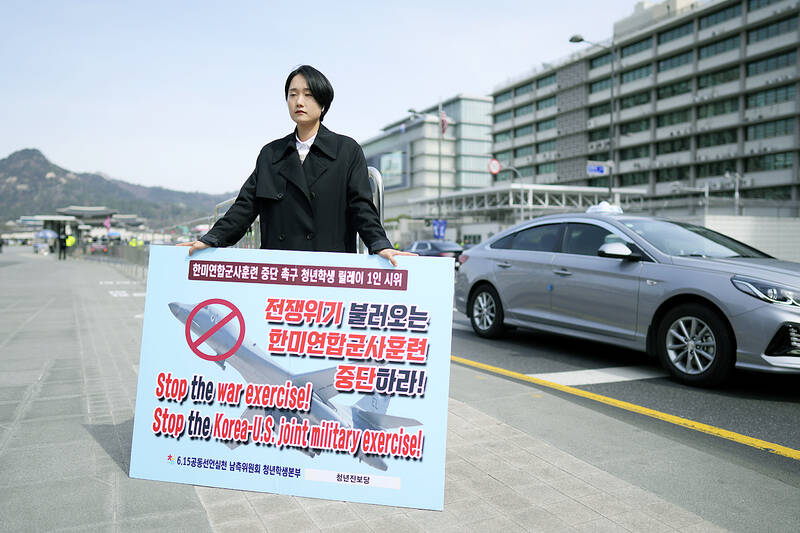 A woman holds a banner urging the US and South Korea to stop joint military drills at a protest in front of the US embassy in Seoul yesterday.
Photo: AP
The missile test came as the US, Canada, India, Japan and South Korea are staging joint anti-submarine warfare drills amid talks.
The Sea Dragon 23 exercises, which started on Wednesday, are to culminate in more than 270 hours of in-flight training "ranging from tracking simulated targets to the final problem of tracking a US Navy submarine," the US Seventh Fleet said in a news release.
Pilots and flight officers from all participating countries would also hold classroom training sessions to "build plans and discuss tactics incorporating the capabilities and equipment of their respective nations," it said.
The drills are being held as a competition, with the country winning the most points taking home the "Dragon Belt."
The US Navy is represented by two P-8A Poseidon maritime patrol and reconnaissance aircraft that are based in Guam.
The US did not say where the exercises would be held or how long they would last.
With 50 to 70 ships and submarines, 150 aircraft, and more than 27,000 sailors and marines ready to deploy at any given time, the Seventh Fleet "routinely interacts and operates with allies and partners in preserving a free and open Indo-Pacific region," it said.
That includes operating in the South China Sea, where it routinely draws Beijing's anger by sailing and flying near islands held and fortified by China, which claims the strategic waterway virtually in its entirety.
The exercises also come as China's navy is taking part in joint search-and-rescue exercises in the Gulf of Oman with Iran and Russia, three of the countries most at odds with the US.
Other nations, as of yesterday unidentified, are also taking part in the Beijing-led Security Bond exercises, which the Chinese Ministry of National Defense said would "help deepen practical cooperation between the participating countries' navies ... and inject positive energy into regional peace and stability."
Comments will be moderated. Keep comments relevant to the article. Remarks containing abusive and obscene language, personal attacks of any kind or promotion will be removed and the user banned. Final decision will be at the discretion of the Taipei Times.