Young Libyan robotics fans see hope in technology for conflict-scarred country
Youssef Jira, a fresh-faced 18-year-old in a hoodie, has big ambitions in a Libyan society where youthful creativity has long been sacrificed to dictatorship and violence. He wants to encourage other young people to use technology to help modernize the divided and conflict-scarred country.
Jira, with a bandana around his head, is one of a group of young tech fanatics who took part in a rare robotics competition in a suburb of Tripoli this month.
"We want to send a message to the whole of society, because what we've learned has changed us a lot," Jira said at the event.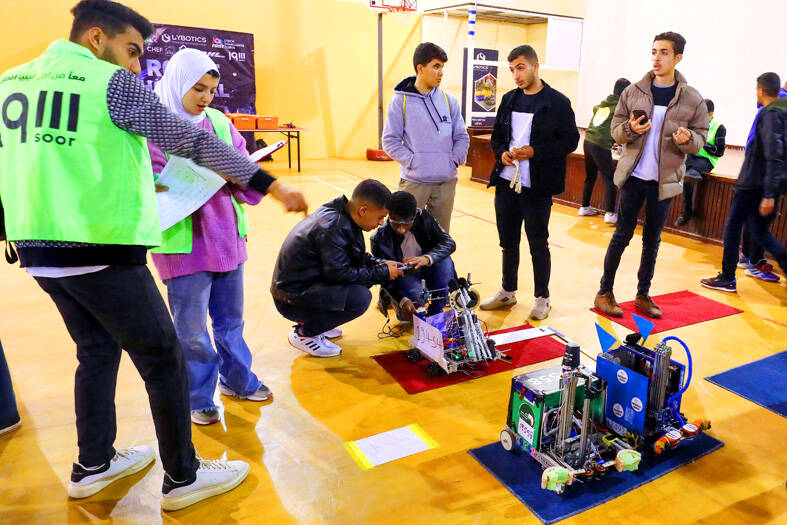 Students attend a local robotics competition in Tripoli on March 4.
Photo: AFP
Libya has seen more than a decade of stop-start conflict since a 2011 NATO-backed revolt toppled late Libyan leader Muammar Qaddafi, with myriad rival militias, foreign powers and multiple governments vying for influence.
The nation remains split between a supposedly interim government in the western capital, Tripoli, and another in the east nominally backed by Libyan National Army Supreme Commander Khalifa Haftar.
Unlike Libya's politicians, the young participants worked together at the school gymnasium where the competition took place.
Jira said he had gained new skills and learned about teamwork in pursuit of a common goal.
The event had the air of a high-school sports competition, with fans cheering on their teams who worked in a pen on the gym floor, against a backdrop of banners promoting "Lybotics" and the "First Tech Challenge."
The robots were nothing fancy: small wheeled contraptions, their electrical guts exposed. They made jerky movements as they maneuvered around the pen.
However, event coordinator Mohammed Zayed said that such projects help "open new horizons" for young Libyans.
"This is not just about simple robots," he said. "These young people also had to manage their relationships and work towards inclusion, unity and peace."
Zayed said that the event aimed to "prepare the workers of the future and make the country aware of the importance of technology and innovation."
Under Qaddafi's 42-year rule, the education and development of young people was not a priority, and universities emphasized the leader's views on politics, the military and economics.
After years of violence, a period of relative calm since a 2020 ceasefire has allowed some to dream that Libya can start moving forward, despite the ongoing political split.
At the competition, family, friends and even government officials joined the effort to promote tech culture and the start-up spirit, particularly among young people.
The event, funded by an international school and private sponsors, had been envisaged since 2018, but was repeatedly delayed because of unrest and then COVID-19.
About 20 teams competed, many of them with members of groups often marginalized in Libya's conservative society: women, migrants and the disabled.
Little public money goes into science and technology, but Nagwa al-Ghani, a science teacher and mentor to one of the teams, said this needs to change and could help give Libya "a better image."
"We need it if we want our country to develop," she said.
Comments will be moderated. Keep comments relevant to the article. Remarks containing abusive and obscene language, personal attacks of any kind or promotion will be removed and the user banned. Final decision will be at the discretion of the Taipei Times.