European arms imports doubled last year, report shows
Arms imports into Europe almost doubled last year, driven by massive shipments to Ukraine, which has become the world's third-largest destination, researchers said yesterday.
Soaring 93 percent from 2021, imports have also increased due to accelerating military spending by European states including Poland and Norway, the report by the Stockholm International Peace Research Institute (SIPRI) said.
The rate of imports is expected to accelerate further, it said.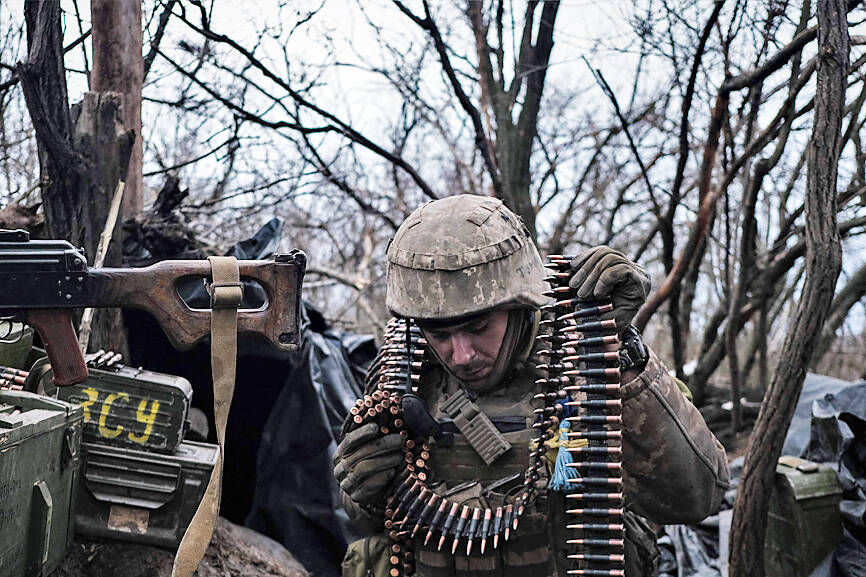 A Ukrainian Volunteer Corp soldier prepares ammunition near Bakhmut, Ukraine, on Saturday.
Photo: AFP
"The invasion has really caused a significant surge in demand for arms in Europe, which will have further effect and most likely will lead to increased arms imports by European states," SIPRI senior researcher Pieter Wezeman said.
Ukraine was until last year a negligible importer of arms, but last year it quickly became the third-largest arms destination in the world, behind Qatar and India, as Western nations delivered arms following Russia's invasion.
Ukraine alone accounted for 31 percent of arms transfers to Europe and 8 percent of world deliveries overall, SIPRI's data showed.
Ukraine's imports, including donations, grew more than 60-fold last year, the institute found.
The deliveries to Ukraine were mainly weapons lifted from stockpiles.
Among them were 230 artillery pieces from the US; 280 Polish armored vehicles; and more than 7,000 British anti-tank missiles, as well as more newly produced pieces such as anti-aircraft systems, SIPRI said.
Comments will be moderated. Keep comments relevant to the article. Remarks containing abusive and obscene language, personal attacks of any kind or promotion will be removed and the user banned. Final decision will be at the discretion of the Taipei Times.