Latvia donates DUI drivers' cars to Ukraine
Latvia began seizing cars from heavily drunk drivers this year, and as hundreds of vehicles began overfilling impound lots, decided to send them to Ukrainian military and hospitals.
On Wednesday, seven cars were driven in a snowstorm onto a trailer and out of a state impound lot, destined for Ukraine.
Two hundred cars were taken from drivers found with blood alcohol levels over 0.15 percent in two months in the Baltic nation of 1.9 million people.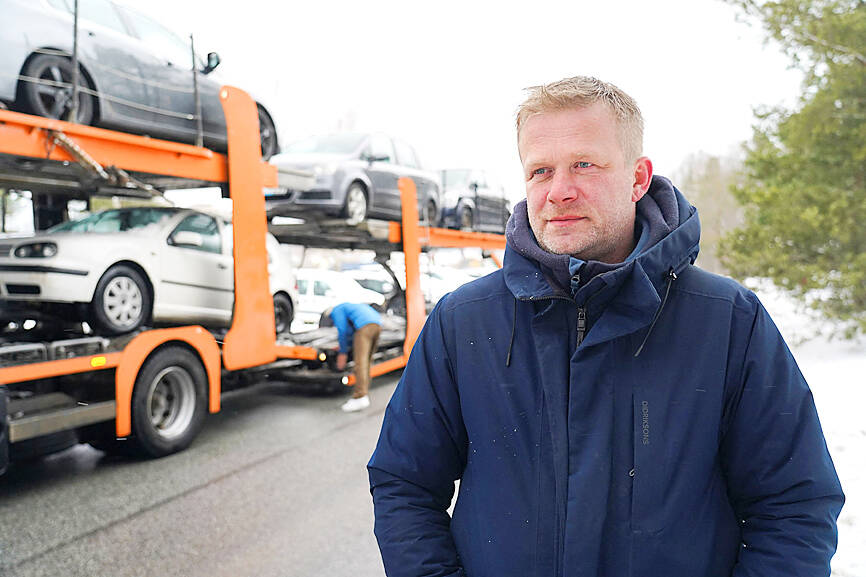 Reinis Poznaks, founder of the non-governmental organization Twitter Convoy, stands in front of a trailer loaded with vehicles, which were confiscated from drunk drivers, in Riga on Wednesday.
Photo: Reuters
"It's actually very scary when you realize how many cars are driving around with drunk drivers," said Reinis Poznaks, founder of the non-governmental organization (NGO) known as Twitter Convoy, which has been tasked by the government to deliver the vehicles to Ukraine.
The two dozen confiscated vehicles the state has promised to hand him each week to send to Ukraine would test the limits of his largely volunteer operation, Poznaks said.
"No one expected that people are drunk-driving so many vehicles, they can't sell them as fast as people are drinking. So that's why I came with the idea — send them to Ukraine," Poznaks said.
He laughed as he found a Russian flag pinned in one of the confiscated vehicles, left there by its owner.
Twitter Convoy has already dispatched about 1,200 vehicles, after announcing a plea for donations on Twitter days after the Russia's invasion started on Feb. 24 last year. Last year, it raised 2 million euros (US$2.1 million) for vehicle purchases, renovations and logistics.
Latvian Minister of Finance Arvils Aseradens said the government was inspired by the success of the NGO to drop attempts to auction the vehicles: "We said, well, you can take those cars ... and [Poznak] says: 'Oh, that's very good.'"
"We are ready to do practically anything to support Ukrainians," she said.
At a police raid on Wednesday, where four officers closed a Riga road for half an hour to check every driver for alcohol, none was found drunk.
However, 4,300 drivers were found over the limit on Latvia's roads last year, police said, and were involved in almost 1,000 accidents last year.
In other news, the US on Wednesday obtained a warrant to seize a Boeing aircraft owned by Russian oil company Rosneft that is valued at more than US$25 million, the US Department of Justice said.
The US District Court for the Eastern District of New York authorized the seizure, based on violations of export controls and sanctions against Russia, the department said.
Western sanctions against Russia over Moscow's invasion of Ukraine that began on Feb. 24 last year have impeded global trade and complicated financing capabilities of Russian oil firms.
Rosneft CEO Igor Sechin, a long-standing ally of Russian President Vladimir Putin, was sanctioned by the US.
Since the sanctions went into effect, the US-manufactured Boeing 737-7JU aircraft has left and re-entered Russia at least seven times, the department said.
"By violating commerce department export controls, Rosneft has converted its jet into contraband," justice department official Andrew Adams said.
The Boeing jet was last in the US in March 2014, and is believed to be in, or traveling to or from, Russia, the justice department added.
"Today's enforcement action demonstrates there is a price to pay for Russian companies and oligarchs that flagrantly evade sanctions that the United States has imposed in response to the unjustified war against the people of the Ukraine," US Attorney Breon Peace said.
Comments will be moderated. Keep comments relevant to the article. Remarks containing abusive and obscene language, personal attacks of any kind or promotion will be removed and the user banned. Final decision will be at the discretion of the Taipei Times.