Finland looking to accelerate its NATO entry bid
SPOOKED BY INVASION: The parliamentary debate was to coincide with a visit by NATO Secretary-General Jens Stoltenberg, who was to meet the PM and president
Finland, which has one of Europe's longest borders with Russia, yesterday began a parliamentary debate aimed at accelerating the nation's bid to join NATO, increasing the likelihood it would leave neighbor and military partner Sweden behind.
Spooked by Moscow's invasion of Ukraine, Finland and Sweden dropped their decades-long policies of military non-alignment and applied to join NATO in May last year, but facing fewer diplomatic hurdles than Stockholm, Helsinki appears set to move forward even before Finland's general elections next month, as public opinion also supports membership in the transatlantic military alliance.
The two nations have the support of all but two of NATO's 30 members, the holdouts being Hungary and particularly Turkey.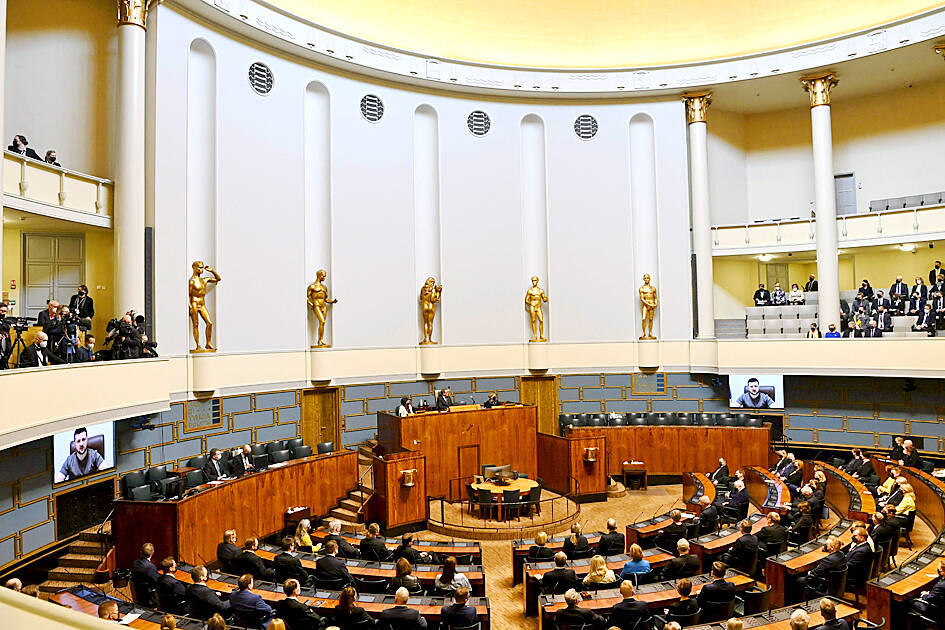 Ukrainian President Volodymyr Zelenskiy addresses members of the Finnish parliament via videoconference in Helsinki on April 8 last year.
Photo: AFP
Many Finnish lawmakers have pushed for legislation affirming that Finland accepts the terms of the NATO treaty to be passed before the elections on April 2.
Finland was to debate the bill yesterday, coinciding with a visit from NATO Secretary-General Jens Stoltenberg — who was due to meet with Finnish Prime Minister Sanna Marin and President Sauli Niinisto.
A vote is expected by today, and having the bill passed means that Finland could act swiftly even if the ratifications come in before a new government has been formed.
The legislation is expected to pass without much opposition, as the initial membership bid was supported by 188 of 200 lawmakers.
Helsinki has so far stressed its preference to join the alliance together with Sweden, but some have interpreted the bill as signaling that Finland is ready to move forward alone.
Turkey has blocked the bids, accusing Sweden in particular of providing a safe haven for what it considers "terrorists," especially members of the Kurdistan Workers' Party.
By contrast, Turkish Minister of Foreign Affairs Mevlut Cavusoglu on Monday said that Turkey looked favorably on Finland's bid.
"We may separate Sweden and Finland's membership process," Cavusoglu said.
While Sweden sympathizes with Finland's position, Swedish Prime Minister Ulf Kristersson has said Finland joining alone could "complicate" the close military cooperation between the Nordic nations.
While passing the bill does not mean that Finland would automatically join NATO after ratification by Turkey and Hungary, it puts in place a deadline for how long it can wait for its neighbor.
Finnish Chancellor of Justice Tuomas Poysti said that after the bill is approved by parliament, the president can wait a maximum of three months to sign it.
After the president has signed the law, there is still some time to wait for Sweden, "a few weeks at most," before depositing the instruments of accession to Washington.
Niinisto told reporters that he intended to sign the law "as soon as it is approved by parliament," but "if there are practical reasons, I can wait."
"But not beyond the elections," he added.
Cavusoglu on Monday also announced that negotiations between the three nations would resume on Thursday next week, after talks with Sweden were dropped over a row about protests held in Stockholm, including a burning of the Koran in front of the Turkish embassy.
Comments will be moderated. Keep comments relevant to the article. Remarks containing abusive and obscene language, personal attacks of any kind or promotion will be removed and the user banned. Final decision will be at the discretion of the Taipei Times.