Migrant boat breaks apart off Italy; 30 bodies found
The Italian coast guard yesterday recovered about 30 bodies after a migrant boat broke apart in rough seas off the southern coast of Italy's mainland, RAI state radio reported.
Rescuers said there were about 40 survivors.
Quoting unidentified port authorities near the coastal town of Crotone, in Calabria, the toe of the Italian peninsula, RAI said the boat was carrying more than 100 migrants when it ran into trouble at dawn in the Ionian Sea.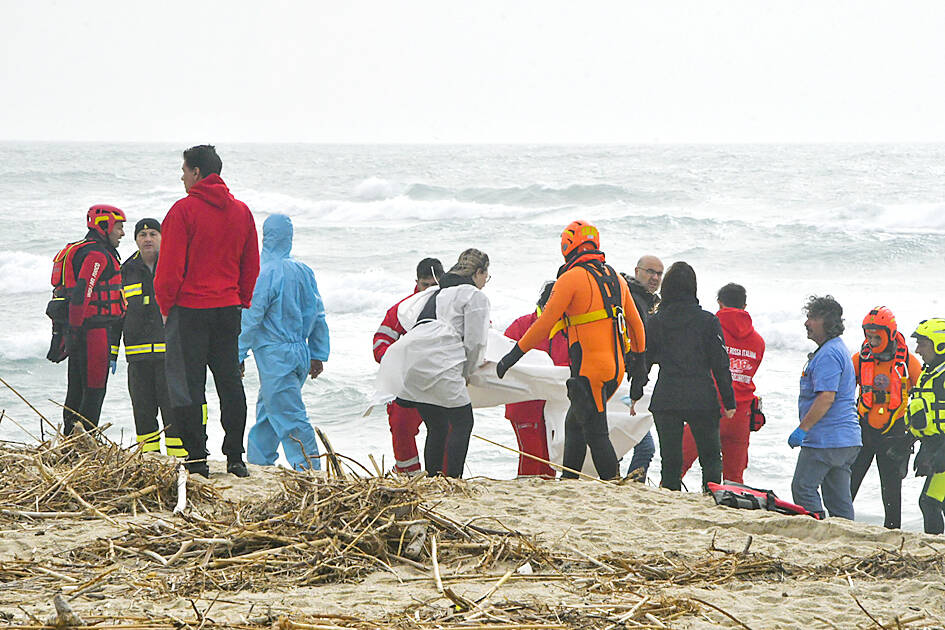 Rescuers recover a body at a beach near Cutro, Italy, after a migrant boat broke apart in rough seas yesterday.
Photo: AP
By mid-morning, about 40 survivors had been found, said Luca Cari, a spokesman for firefighters who were involved in rescue efforts.
State TV said that 27 of the survivors made it to shore, apparently on their own.
"At the moment there are various victims," Cari said, without specifying a number of dead as rescue efforts were still under way.
The Italian news agency AGI put the number of recovered bodies at 27 and said a baby a few months old was among the dead.
The radio report said that vessels from the coast guard, border police and firefighters were involved in rescue efforts.
The coast guard was not immediately available for more details.
Details about the nationalities of the migrants were not immediately provided in the reports.
It was not immediately clear where the boat had set out from, but migrant vessels arriving in Calabria usually depart from Turkish or Egyptian shores. Many of such boats reach remote stretches of Italy's long southern coastline unaided by the coast guard or humanitarian rescue vessels.
Comments will be moderated. Keep comments relevant to the article. Remarks containing abusive and obscene language, personal attacks of any kind or promotion will be removed and the user banned. Final decision will be at the discretion of the Taipei Times.