Taylor Greene decries low pay in US Congress
US Representative Marjorie Taylor Greene is facing backlash after saying that her salary is "too low."
Earlier this week, Greene appeared on journalist Glenn Greenwald's podcast and expressed concern about her US congressional salary, which according to public records is US$174,000 annually.
Greene told Greenwald: "Becoming a member of Congress has made my life miserable. I made a lot more money before I got here. I've lost money since I've gotten here."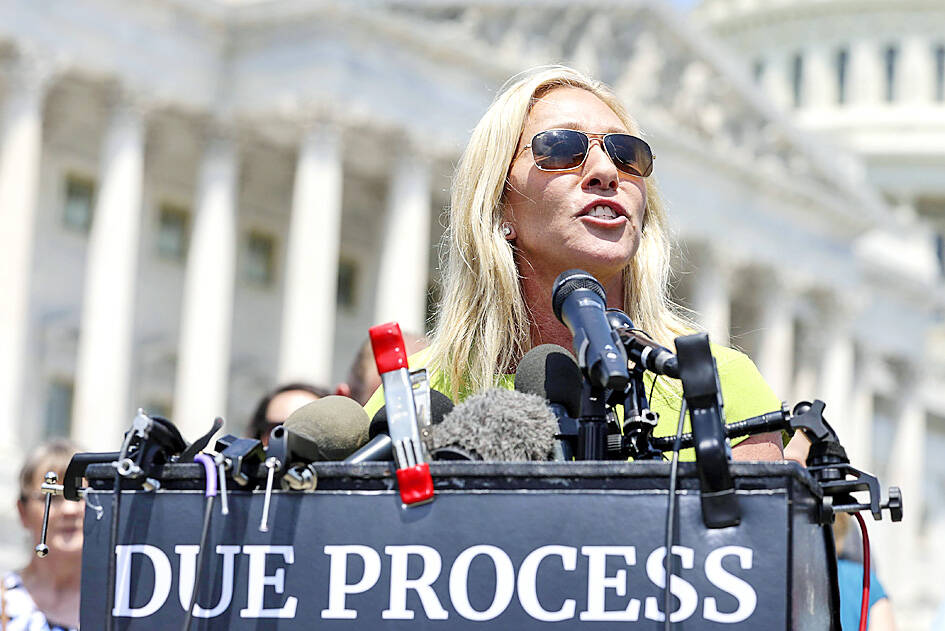 US Representative Marjorie Taylor Greene speaks at a news conference at the US Capitol in Washington on June 15 last year.
Photo: AFP
"It's not a life that I think is like something that I enjoy because I don't enjoy it," she said.
Greene owned a CrossFit gym in Georgia before being elected to the US House of Representatives in 2020.
Additionally, Greene said her congressional work consumes too much time.
"The nature of this job, it keeps members of Congress and senators in Washington so much of the time, too much of the time, that we don't get to go home and spend more time with our families, our friends, or maybe just be regular people because this job is so demanding. It's turned into practically year-round," Greene said.
"For those of us in the House of Representatives, we have to run for Congress every two years. So you're practically campaigning nearly the entire time that you're here serving as a representative," she said.
Greene's comments have faced swift backlash online.
"Feel free to step aside if it isn't too cushy of a job for you @RepMTG. Millions of us won't mind. #stopwhining," one Twitter user wrote.
Another user wrote: "Griping Greene you don't get to serve the Constitution and its people expecting to profit. Get a part time job or better yet, just quit."
Another user said: "Really? Being in Congress isn't supposed to be about money. And I guarantee you make more per year than most of your constituents. If you don't like the life and job, stop running for office."
Greene also told Greenwald that people have harassed her since working on Capitol Hill.
"I have people come up to me and say crazy things to me out of the blue in public places that they believe because they read it on the Internet or saw it on some news show about me," she said.
Comments will be moderated. Keep comments relevant to the article. Remarks containing abusive and obscene language, personal attacks of any kind or promotion will be removed and the user banned. Final decision will be at the discretion of the Taipei Times.