US to send Ukraine longer-range bombs
ABOUT-TURN: Biden said 'no' to sending F-16 jets, but as the latest change of mind shows, one day's denial is a future 'yes,' the Ukranian defense minister said
After months of deliberation, the US has agreed to send longer-range missiles to Ukraine as it prepares to launch a spring offensive to retake territory Russia captured last year, US officials said on Thursday, confirming that the weapons would have about double the range of any other offensive weapon provided previously.
The US is to provide ground-launched small diameter bombs as part of a US$2.17 billion aid package, several US officials said on condition of anonymity.
The package also for the first time includes equipment to connect all the different air defense systems Western allies have rushed to the battlefield, and integrate them into Ukraine's own air defenses to help it better defend against Russia's missile attacks.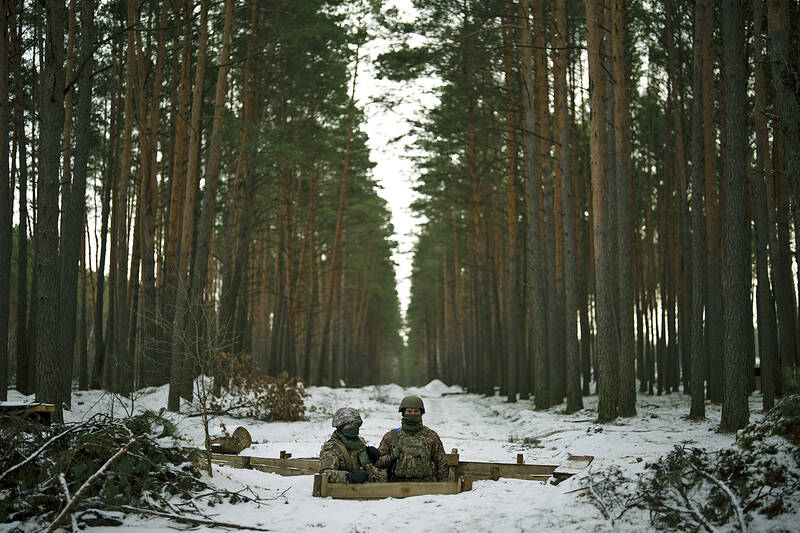 Ukrainian soldiers stand in a shelter in Ukraine close to the Belarusian border on Wednesday.
Photo: AP
US officials for months have hesitated to send longer-range systems to Ukraine out of concern that they would be used to target inside Russia, escalating the conflict and drawing the US deeper in.
The longer-range bombs are the latest advanced system, such as Abrams tanks and the Patriot missile defense system, that the US has agreed to provide Ukraine after initially saying no.
However, Ukraine's requests for fighter jets continue to be rejected by the US.
Ukrainian leaders have pressed for longer-range munitions, and on Thursday officials said the US agreed to send an undisclosed number of the ground-launched, small diameter bombs, which have a range of about 150km.
To date, the longest-range missile provided by the US is about 80km. The funding in the aid package is for longer-term purchases, so it is unknown how long they will take to arrive at battlefields in Ukraine.
Ukrainian Minister of Defense Oleksii Reznikov on Thursday said the country is prepared to offer guarantees to its Western partners that their weapons would not be used to strike inside Russian territory, adding that Kyiv needs weapons with a range of up to 300km to expel the Russian forces.
"If we could strike at a distance of up to 300km, the Russian army wouldn't be able to mount a defense and will have to withdraw," Reznikov said at a meeting with EU officials.
"Ukraine is ready to provide any guarantees that your weapons will not be involved in attacks on the Russian territory. We have enough targets in the occupied areas of Ukraine, and we're prepared to coordinate on [these] targets with our partners," Reznikov said.
The US aid package includes US$425 million in ammunition and support equipment that can be pulled from existing Pentagon stockpiles, and US$1.75 billion in new funding through the Ukraine Security Assistance Initiative, which is used to purchase new weapons from industry.
The assistance initiative, which is to pay for the longer-range bombs and air defense integration, also funds two HAWK air defense systems, anti-aircraft guns and ammunition, and counter-drone systems.
Since Russia's invasion nearly one year ago, Western allies have pledged myriad air defense systems to Ukraine to bolster its own Soviet-made S-300 surface-to-air missile defense systems, and the latest package aims to provide the capability to integrate them all, which could improve Ukraine's ability to protect itself against incoming Russian attacks.
The US has pledged medium to long-range National Advanced Surface-to-Air Missile Systems and truck-launched short-range Avenger air defense systems; the Netherlands, Germany and the US are sending Patriot missile defense systems; Germany is sending medium-range IRIS-T air defense systems; and Spain is sending Aspide anti-aircraft air defense systems.
Ukraine is still seeking F-16 jets, which US President Joe Biden has opposed sending since the beginning of the war.
Asked on Monday if his administration was considering sending F-16 jets to Ukraine, Biden responded, "No."
"All types of help first passed through the 'no' stage," Reznikov said. "Which only means 'no' at today's given moment."
Comments will be moderated. Keep comments relevant to the article. Remarks containing abusive and obscene language, personal attacks of any kind or promotion will be removed and the user banned. Final decision will be at the discretion of the Taipei Times.