Asian wind projects hit by shortage of vessels
RENEWABLE TARGETS: Erecting wind turbines at sea requires specialized vessels and demand is expected to vastly outpace supply by 2030, a shipbroker said
Asian nations counting on offshore wind farms to meet clean energy goals are facing an increasing shortage of ships for installing the massive turbines in the sea.
As countries embark on a rapid buildout of wind power in the next decade, builders cannot churn out the support vessels fast enough to keep up, shipping experts have said.
The situation is only going to get worse as blades get longer and require bigger ships to handle them.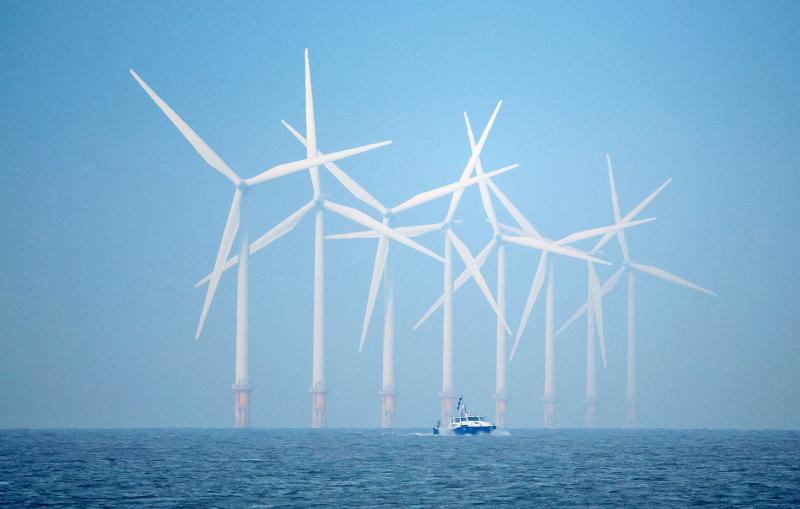 A survey vessel sails past wind turbines at the Burbo Bank offshore wind farm near New Brighton, England, on Monday last week.
Photo: Reuters
"Specialized vessels are going to be in demand for projects in Taiwan and South Korea," said Sean Lee, chief executive officer of shipyard Marco Polo Marine Ltd. "There will be more and more projects coming up, and a big wave of them in Japan from 2028."
The complicated job of planting a wind turbine in the seabed requires several types of ships specially designed for the work: Turbine installers feature massive cranes capable of hoisting objects weighing as much as 700 tonnes. Commissioning service operation vessels, or CSOVs, provide adjustable gangways that allow technicians to reach the turbine blades.
Excluding China, there are only about 10 turbine installing ships and a few dozen CSOVs operating worldwide, according to shipbroker Clarksons.
By 2030, demand for turbine installers would outpace supply by about 15 vessels, while the gap for CSOVs would widen to more than 145 CSOVs from 30, it estimates.
China has 84 ships capable of installing wind turbines, according to trade group Global Wind Energy Council (GWEC).
However, the majority of those can only handle small turbines, with many having been converted from oil and gas ships. These are unlikely to meet specifications in Europe or elsewhere in Asia.
The shortage of ships is significant for Asia as the GWEC predicts the continent will top Europe as the region with the most new offshore wind installations through 2026.
A lack of vessels could set back countries' efforts to diversify away from fossil fuels.
"The potential crunch is likely to occur in the mid-to-late 2020s as more countries begin constructing their wind farms to meet 2030 national targets," said Bahzad Ayoub, a senior analyst at consultant Westwood Global Energy Group.
Many of the ships have been deployed to Europe, Lee said.
To fill the gap in Asia, tugs and support vessels that were serving oil rigs in Southeast Asia have been diverted to wind farms, he said.
However, using oil and gas ships cannot be a long-term solution and the current fleet of installation vessels might soon become obsolete as turbine sizes grow to be almost as long as the Eiffel Tower.
As technology advances, wind farms could see these lengths increase to 275m by 2030, the GWEC has said.
Larger turbines mean the required lifting heights and crane capacities of vessels installing the blades must increase, Ayoub said.
Shipping companies are racing to fill the gap. Marco Polo is building a CSOV by next year to be chartered by Vestas Wind Systems A/S in Taiwan. Cadeler A/S has ordered four turbine installation vessels for next year to 2026 from Cosco Heavy Industries, while Maersk Supply Service has ordered one from Sembcorp Marine Ltd for delivery to the US in 2025.
Comments will be moderated. Keep comments relevant to the article. Remarks containing abusive and obscene language, personal attacks of any kind or promotion will be removed and the user banned. Final decision will be at the discretion of the Taipei Times.