US shows power in South China Sea
Over a few hours under gray skies, dozens of combat planes and helicopters roar on and off the flight deck of the USS Nimitz aircraft carrier, in a demonstration of US military power in some of the world's most hotly contested waters.
MH-60 Seahawk helicopters and F/A-18 Hornet jets bearing pilot call signs such as "Fozzie Bear," "Pig Sweat" and "Bongoo" emit deafening screams as they land in the drizzle on the Nimitz, which is leading a carrier strike group that entered the South China Sea two weeks ago.
US Rear Admiral Christopher Sweeney, who is commanding the group, said the tour was part of a US commitment to uphold freedom of passage in the waters and airspace of a region vital to global trade.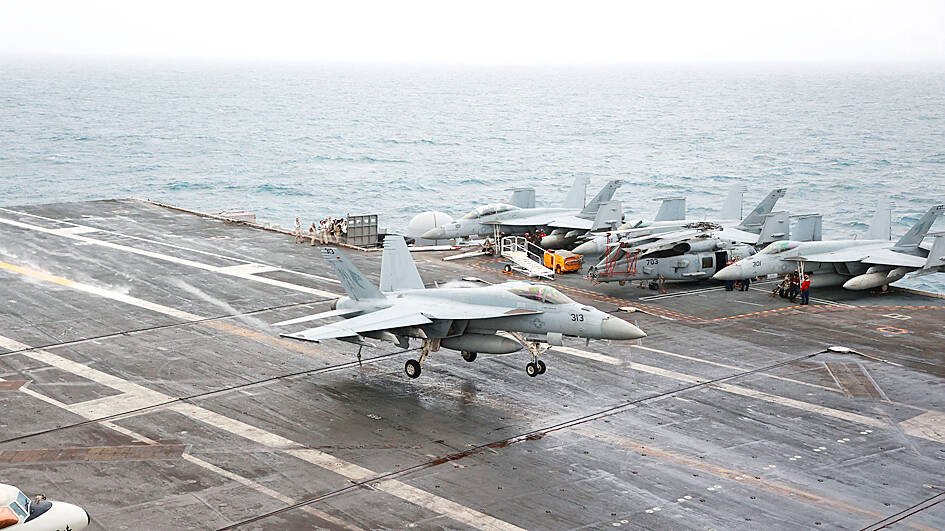 A F/A-18E Super Hornet jet lands on the deck of the USS Nimitz aircraft carrier after a routine flight in the South China Sea on Friday.
Photo: Reuters
"We are going to sail, fly and operate wherever international norms and rules allow. We're going to do that safely and we're going to be resolute about that," Sweeney told Reuters on Friday.
"It's really just about sailing and operating obviously with our allies and partners in the area and assuring them of free and open commerce and trade in the Indo-Pacific," he said.
A US presence in the South China Sea, a conduit for about US$3.4 trillion of annual trade, has been welcomed by allies such as Australia, Japan, the Philippines and South Korea, but it continues to rile rival China, which sees the exercises as provocations in its backyard.
China claims historic jurisdiction over almost the entire South China Sea, which includes the exclusive economic zones of Taiwan, Brunei, Malaysia, the Philippines and Vietnam.
Beijing has been conducting regular exercises, and maintains a large presence of coast guard and fishing vessels far off its coasts — a source of frequent tension with its neighbors.
Nimitz Carrier Strike Group 11 includes the guided-missile cruiser Bunker Hill and the guided-missile destroyers Decatur, Wayne E. Meyer and Chung-Hoon. The Chung-Hoon on Jan. 5 sailed through the sensitive Taiwan Strait, irking China.
That came two weeks after a Chinese navy J-11 jet caused alarm when it came within 3m of a US Air Force plane over the South China Sea.
Sweeney said it was crucial for international rules to be followed, and said the US presence in the South China Sea demonstrated its commitment to its regional allies.
"We've operated in the same body of water as the Chinese or the Singaporean navy or the Filipino navy since we've arrived and it's all been safe and professional," he said.
"We're going to sail, fly and operate wherever international waters allow us to, so we're not going anywhere," he added.
Comments will be moderated. Keep comments relevant to the article. Remarks containing abusive and obscene language, personal attacks of any kind or promotion will be removed and the user banned. Final decision will be at the discretion of the Taipei Times.