Vietnam succession heats up after president's ouster
CORRUPTION PURGE: The ouster of Nguyen Xuan Phuc opens the door for the Communist Party head to line up a successor and shut out rival reformist factions
Vietnamese Communist Party General Secretary Nguyen Phu Trong in the past few years has won praise from investors for removing corrupt officials. Now as some big names fall, it is becoming clear that his campaign serves another purpose: strengthening his hand in choosing a successor.
Nguyen Xuan Phuc this week was ousted as president after assuming "political responsibility" for the "violations and shortcomings" involving two graft cases related to pandemic repatriation flights and a manufacturer of COVID-19 test kits.
A familiar face to foreign investors, Phuc as prime minister oversaw a booming economy and was once seen as a strong contender to take over from Trong, who has been in the role since 2011.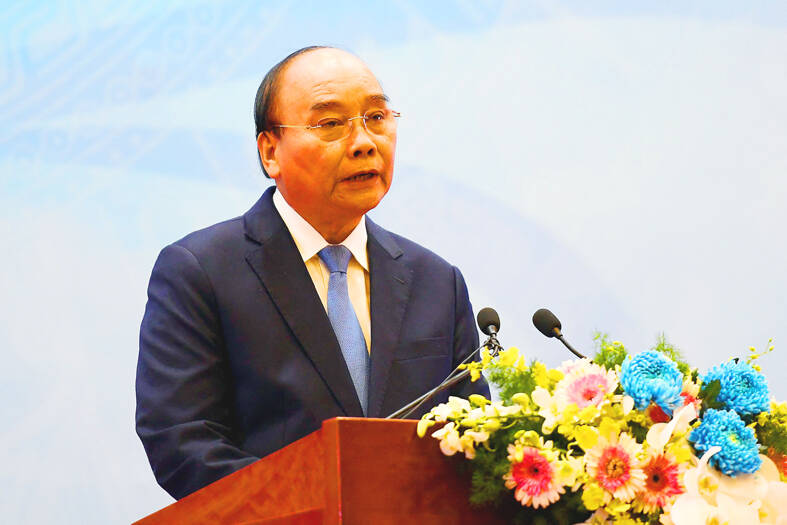 Then-Vietnamese president Nguyen Xuan Phuc speaks in Hanoi on Oct. 21 last year.
Photo: AFP
However, at a party reshuffle two years ago, Phuc lost his position as prime minister and was put in the largely ceremonial role as president.
Trong, 78, kept his job for an unprecedented third term, but failed to position his preferred conservative candidate as successor, all but assuring a leader from a rival faction seen as more reformist would one day take power.
Phuc's ouster opens the door for Trong to line up a successor to run Vietnam, which has recently attracted investment from companies that are leaving China, and has improved relations with the US.
The battle is set to take place in the run-up to a mid-term plenum in April, when a new politburo member is to be announced, and there is a chance the president could be revealed at that time. The president is usually named in May after the National Assembly votes.
"There's definitely an element of conservatism in Trong because he sees the threat from those in government who are more directly involved in business," Control Risks lead Vietnam analyst Linh Nguyen said.
"He has felt the need to reorganize the party to strengthen party ideology and not let those who make decisions in business policies hold important party positions," he said.
Much of what happens in Vietnam's government is opaque. Without formal elections, corruption purges are frequently used to oust rivals and clear the way for allies to take key positions.
Vietnam's anti-graft push is beginning to look similar to one by Chinese President Xi Jinping (習近平) that ensnared 4.7 million officials, including a potential successor. While Xi vowed to catch "tigers" and "flies" as part of his crackdown, Trong has likened his to a "blazing furnace." More than 530 party members were punished last year.
"It is a fairly murky situation," said Peter Mumford, head of Southeast Asia at risk consultancy Eurasia Group.
"There is an ideological bent to Trong's purges, along with desire to influence succession process, but he also views corruption as a major threat to the party's legitimacy and one that needs to be tackled, even if somewhat selectively," he said.
One top presidential contender is Vietnamese Minister of Public Security To Lam, who has been carrying out Trong's crackdowns. Lam was also the subject of social media outrage in Vietnam when a TikTok video emerged of him being served a gold-leaf-encrusted steak in London during the corruption crackdown in 2021.
It is unclear to what extent the political shakeup might impact domestic and foreign policy. Vietnam has leaned closer to the US in recent years, particularly on defense issues as China has become more assertive over disputed territory in the South China Sea.
Trong, who is the only Vietnamese Communist Party head to have met a US president at the White House, last year conveyed a desire bring the relationship with China to "new heights."
Phuc had overseen a push to improve relations with the US, and frequently met top executives and advocated for free trade during regular addresses to the World Economic Forum.
Comments will be moderated. Keep comments relevant to the article. Remarks containing abusive and obscene language, personal attacks of any kind or promotion will be removed and the user banned. Final decision will be at the discretion of the Taipei Times.