Brazil seeks arrest of Bolsonaro ally
'TERRORIST CRIMINALS': Ex-justice minister Anderson Torres was fired as Brasilia's security chief after failing to stop a mob from ransacking the country's seat of power
Brazilian authorities seeking to punish the mob that stormed the halls of power in Brasilia issued arrest warrants on Tuesday for two former senior officials, one of them a close ally of far-right former Brazilian president Jair Bolsonaro.
One of them is Anderson Torres, who used to be Bolsonaro's justice minister and lately served as security chief in the capital.
He was fired after Sunday's stunning violence, which was reminiscent of the Jan. 6, 2021, insurrection in Washington, and brought global condemnation.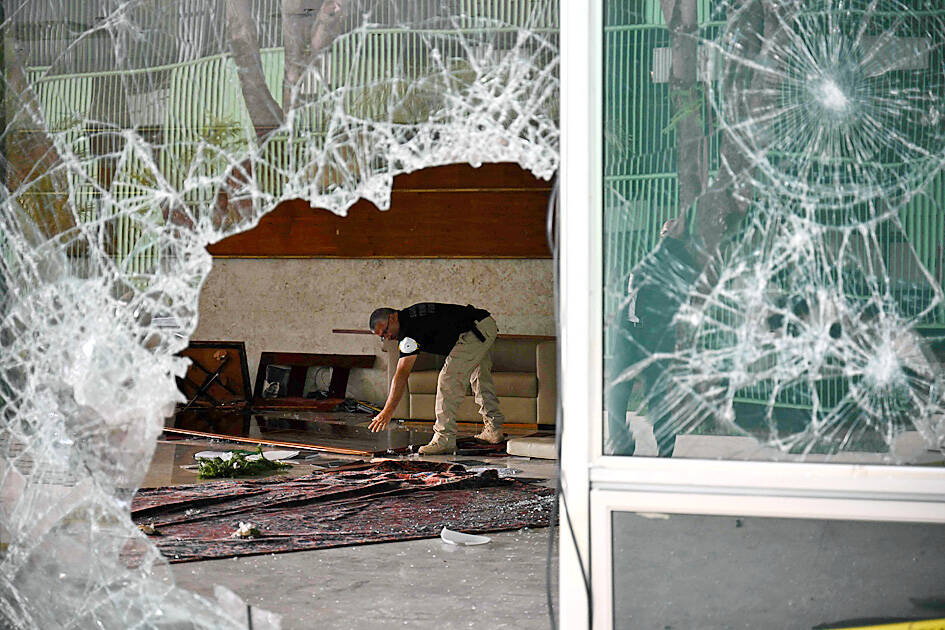 A police officer removes debris at the Supreme Court building in Brasilia on Tuesday, two days after a mob ransacked federal buildings in the capital.
Photo: AFP
Anderson's failure to act as thousands of Bolsonaro supporters overran Congress, the presidential palace and the Brazilian Supreme Court is "potentially criminal," Judge Alexandre Moraes of the Supreme Court said.
He also issued an arrest warrant for Fabio Augusto, who led the military police in Brasilia and was also removed from his job after Sunday's mob violence. News reports said he is already in custody.
"Brazilian democracy will not be struck, much less destroyed, by terrorist criminals," the judge wrote in his decision.
Torres was on vacation in the US on Sunday as the mob ran amok. On Tuesday, he denied any complicity in the events, and said he would return to Brazil and defend himself.
Bolsonaro has also been in the US since the end of last month, skipping the inauguration of his successor, Brazilian President Luiz Inacio Lula da Silva.
On Tuesday, Bolsonaro left the Florida hospital where he had been receiving treatment for intestinal problems stemming from a stabbing in 2018.
The security forces in Brasilia have come under stinging attack over how they responded initially to the riot. Video posted on social media showed some of them filming the violence rather than intervening to halt it.
Brazilian Minister of Justice Flavio Dino said about 50 arrest warrants had been issued for people not caught in the act of pillaging and for others not present, but accused of organizing the attack.
Police have arrested more than 1,500 people so far, but said on Tuesday that "599 people were released, mostly old people, people with health problems, the homeless and mothers with children" on humanitarian grounds.
Most of the arrests took place on Monday as police cleared protest camps set up in the capital.
Lula had condemned "terrorist acts and criminal, coup-mongering vandalism" when he returned to work at the pillaged presidential palace on Monday.
However, he said in a Twitter post on Tuesday that "Brazilian democracy remains firm."
"Let's recover the country from hatred and disunity," added the 77-year-old former trade unionist, who took office on Jan. 1 for his third term as president after defeating Bolsonaro in a deeply divisive election.
Police said 527 people remain detained, while others were being processed.
Those that were released were taken on buses to a bus station from where they would be able to return to their home regions.
From one of the buses, passengers shouted: "Victory is ours." Some people put their arms outside the vehicles with clenched fists — a symbol of resistance — or making the "V" victory sign.
Other detainees were taken to police stations to then be transferred to the Papuda prison complex, an Agence France-Presse reporter said.
"Now we're going to rest and prepare ourselves for another battle, because if they think they will intimidate us, they are very wrong," Agostinho Ribeiro, a freed Bolsonaro supporter, told reporters.
Hundreds of soldiers and police mobilized to dismantle an improvised camp outside the army's headquarters in Brasilia on Monday.
There, about 3,000 Bolsonaro supporters had set up tents — used as a base for the sea of protesters who ran riot for about four hours on Sunday.
Bolsonaro has claimed that his electoral defeat was due to a conspiracy against him by Brazil's courts and electoral authorities.
Lula, who previously led Brazil from 2003 to 2010, met with the leaders of both houses of Congress and the chief justice of the Supreme Court on Monday.
Comments will be moderated. Keep comments relevant to the article. Remarks containing abusive and obscene language, personal attacks of any kind or promotion will be removed and the user banned. Final decision will be at the discretion of the Taipei Times.