Thousands march in Paris in memory of murdered Kurds
Thousands of demonstrators on Saturday marched in central Paris to pay tribute to three Kurdish activists murdered a decade ago.
The march, an annual event since the killings on Jan. 9, 2013, came two weeks after an eerily similar triple slaying on Dec. 23 last year at the Kurdish Cultural Center in Paris — just a few minutes' walk from the site of the earlier shootings.
The organizers said that at least 25,000 people from all over Europe had joined the rally, while Paris police put the figure at 10,000.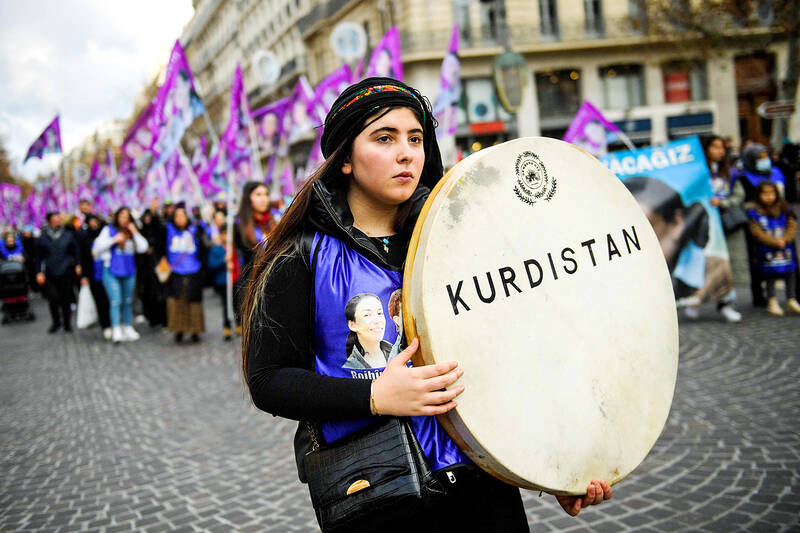 A woman holds a daf during a tribute march in Marseille on Saturday in the memory of three Kurdish activists who were murdered in January 2013 and victims of a shooting in Paris on Dec. 23 last year.
Photo: AFP
They carried banners with the pictures of the 2013 victims and slogans such as "The Turkish government has massacred three more Kurds" as they walked from the Gare du Nord station in the north of the capital toward Place de la Republique, a popular spot for demonstrations.
In 2013, Sakine Cansiz, 54, a founder of the Kurdistan Workers' Party (PKK), which has waged a long insurgency against Turkey, was killed execution-style with shots to the head.
Two other women were killed in the same way: Fidan Dogan, 28 and Leyla Saylemez, 24 at the Kurdish Information Centre in Paris' 10th district.
Demonstrators in Marseille on Saturday hold portraits of Kurdish activists killed in 2013 and portraits of victims of a shooting in Paris on Dec. 23 last year.
Photo: AFP
More than 1,200 people also marched in the southern French city of Marseille, according to an Agence France-Presse estimate, while local police said the figure was about 800.
The PKK, which fights for increased autonomy for the Kurdish population, is considered a terrorist organization by the EU, Turkey and the US. Turkey is a member of the NATO and considered as crucial for the protection of the military alliance's southeastern flank.
A Turkish maintenance worker at Paris Charles de Gaulle Airport had been due to go on trial for the 2013 attack, but he died from a brain tumor in December 2016, shortly before his trial was due to start.
Kurdish activists in France, home to the second-biggest Kurdish community in the EU after Germany, have always believed that the Turkish secret service ordered the killings, something Ankara has always denied.
In May 2019, a French anti-terrorist judge was tasked with reopening the investigation, but the victims' families say the probe has been hampered by lack of access to secret documents they say France has refused to declassify.
"France has a debt of justice towards us," Metin Cansiz, the brother of Sakine Cansiz, said ahead of Saturday's march.
His family had lost a loved one "sacrificed" on the altar of Franco-Turkish relations, he said.
In last month's attack, Abdurrahman Kizil, singer Mir Perwer and Emine Kara, leader of the Movement of Kurdish Women in France linked to the PKK, were shot dead by a man named as William Malet.
French prosecutors say the suspect, a retired rail worker, had admitted to wanting to "murder migrants," but several said they suspected a "terror" act orchestrated by Turkey.
The murders sparked a major protest by Kurds in Paris on Dec. 24.
"People from every country live in the neighborhood where the attack took place," a Kurdish activist who gave her name only as Fatna said of last month's attack.
"But it was only Kurdish people, in a street with businesses everyone knows are Kurdish, who were attacked," she said.
Comments will be moderated. Keep comments relevant to the article. Remarks containing abusive and obscene language, personal attacks of any kind or promotion will be removed and the user banned. Final decision will be at the discretion of the Taipei Times.