Blasts preceded Baltic pipeline leaks
ENVIRONMENTAL DISASTER: Most of the escaped gas is methane, the second biggest contributor to climate change and a 'potent greenhouse gas,' an oceanographer said
Denmark on Tuesday said it believed "deliberate actions" by unknown perpetrators were behind big leaks — which seismologists said followed powerful explosions — in two natural gas pipelines running under the Baltic Sea from Russia to Germany.
European leaders and experts pointed to possible sabotage amid the energy standoff with Russia provoked by the war in Ukraine. Although filled with gas, neither pipeline is currently supplying it to Europe.
"It is the authorities' clear assessment that these are deliberate actions — not accidents," Danish Prime Minister Mette Frederiksen said.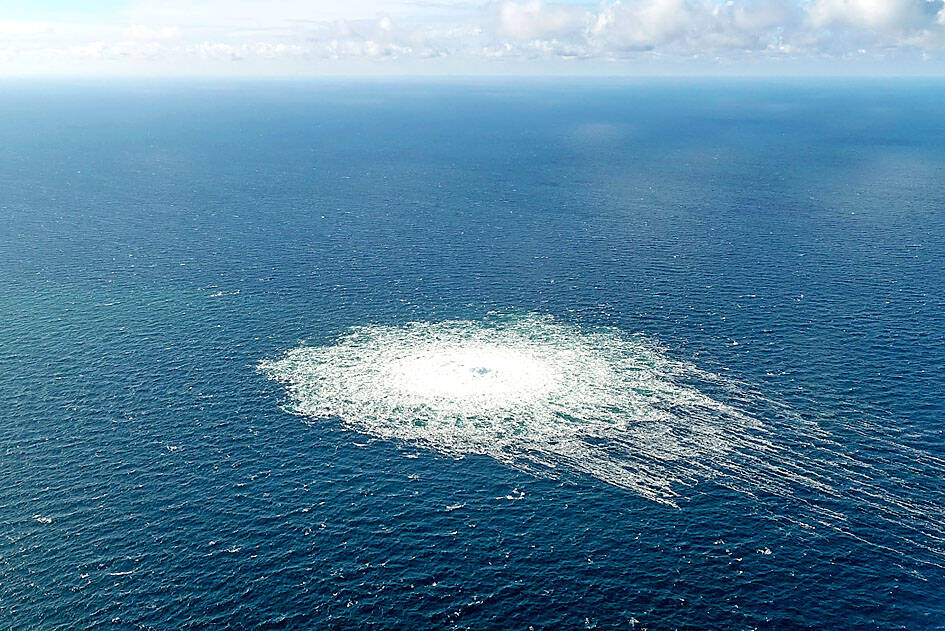 Natural gas bubbles to the surface from a leak along the Nord Stream 2 pipeline in the Baltic Sea in a photograph released by the Danish Defense Command on Tuesday.
Photo: AFP / Danish Defense Command
However, she added that "there is no information indicating who could be behind it."
Frederiksen also rejected the suggestion that the incident was an attack on Denmark, saying the leaks occurred in international waters.
The incident overshadowed the inauguration of a long-awaited pipeline that would take Norwegian gas to Poland to bolster the continent's energy independence from Moscow.
The first explosion was recorded early on Monday southeast of the Danish island of Bornholm, Swedish National Seismic Network director Bjorn Lund said.
A second, stronger blast northeast of the island that night was equivalent to a magnitude 2.3 earthquake. Seismic stations in Denmark, Norway and Finland also registered the explosions.
"There's no doubt, this is not an earthquake," Lund said.
Danish Minister of Defense Morten Bodskov was yesterday to travel to Brussels to discuss the leaks with NATO Secretary-General Jens Stoltenberg.
He said it could take up to two weeks to inspect the pipelines due to the pressure inside the pipes.
Danish Minister of Foreign Affairs Jeppe Kofod said nearby Sweden, Germany and Poland have been kept informed, and "we will inform and reach out to Russia in this case."
He said Denmark's foreign intelligence service did not see any increased military threat against Denmark after the three leaks on the Nord Stream 1 and 2 pipelines.
They created a foamy white area on the water's surface, images released by the Danish Defense Command showed.
Danish Minister of Climate, Energy and Utilities Dan Jorgensen said that "we cannot say how long the leak will go" on for as the gas has not been turned off.
There was no indication when the gas would be turned off.
The German operator of the pipelines, Nord Stream AG, said it is preparing a survey to assess the damage in cooperation with local authorities.
"Currently, it is not possible to estimate a timeframe for restoring the gas transport infrastructure," a company statement said. "The causes of the incident will be clarified as a result of the investigation."
Acting Swedish Prime Minister Magdalena Andersson said that "it is probably a case of sabotage," but not an attack on Sweden.
Andersson added that neighboring oil-rich Norway "has informed us about increased drone activity in the North Sea."
Swedish Minister of Foreign Affairs Ann Linde said the country is "not ruling out any scenarios and we will not speculate about motive or actor."
The escaped natural gas is made up almost entirely of methane — the second-biggest contributor to climate change after carbon dioxide.
David Hastings, a retired chemical oceanographer in Gainesville, Florida, said much of the gas would rise through the sea and enter the atmosphere.
"There is no question that the largest environmental impact of this is to the climate, because methane is a really potent greenhouse gas," he said.
No official presented evidence of what caused the leaks, but with distrust of Russia running high, some feared Moscow sabotaged its own infrastructure out of spite or to warn that pipelines are vulnerable to attack. The leaks raised the stakes on whether energy infrastructure was being targeted and led to a small bump in natural gas prices.
"We can clearly see that this is an act of sabotage, an act that probably means a next step of escalation in the situation that we are dealing with in Ukraine," Polish Prime Minister Mateusz Morawiecki said.
Additional reporting by AFP
Comments will be moderated. Keep comments relevant to the article. Remarks containing abusive and obscene language, personal attacks of any kind or promotion will be removed and the user banned. Final decision will be at the discretion of the Taipei Times.