UN's Guterres visits flood-devastated Pakistan
UN Secretary-General Antonio Guterres yesterday visited several areas of Pakistan ravaged by floods, as he rounded off a two-day trip aimed at raising awareness of the disaster.
Record monsoon rains and glacier melt in northern mountains have triggered floods that have killed more than 1,391 people, sweeping away houses, roads, railway tracks, bridges, livestock and crops.
Huge areas of the country are inundated, and hundreds of thousands of people have been forced from their homes. The government says the lives of nearly 33 million have been disrupted. Pakistan estimates the damage at US$30 billion, and the government and Guterres have blamed the flooding on climate change.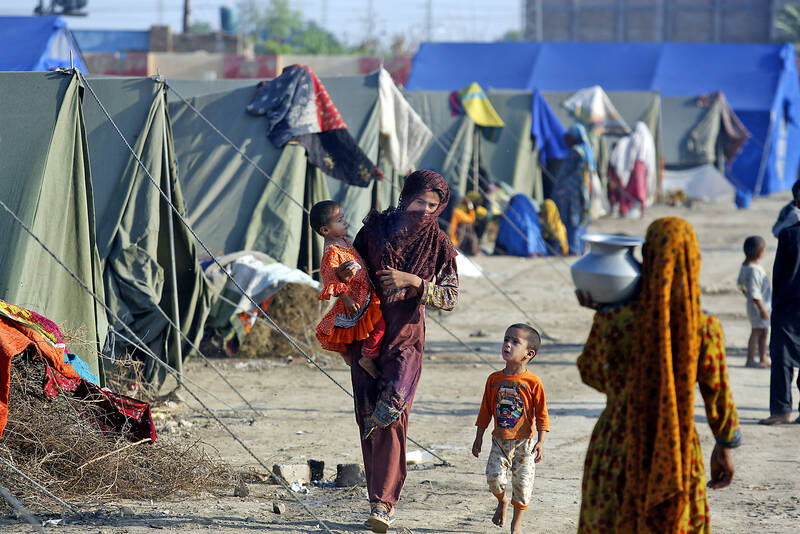 A woman carrying a child walks with a boy through a temporary housing camp organized by the office of the UN High Commissioner for Refugees in Sukkur, Pakistan, yesterday.
Photo: AP
The UN secretary-general yesterday landed in Sindh Province, before flying over some of the worst-affected areas en route to Balochistan, another badly hit province.
"It is difficult not to feel deeply moved to hear such detailed descriptions of tragedy," Guterres said after landing in Sindh, according to a video released by the office of Pakistani Prime Minister Shehbaz Sharif.
"Pakistan needs massive financial support. This is not a matter of generosity, it is a matter of justice," he said.
A video released by Information Minister Marriyum Aurangzeb showed Guterres seated next to Sharif viewing flood-damaged areas from an aircraft window.
"Unimaginable," Guterres said, surveying the damage.
In July and last month, Pakistan received 39.1cm of rain, or nearly 190 percent more than the 30-year average. The southern province of Sindh has seen 466 percent more rain than average.
Guterres said the world needed to understand the effects of climate change on low-income countries.
"Humanity has been waging war on nature and nature strikes back," he said.
"Nature strikes back in Sindh, but it was not Sindh that has made the emissions of greenhouse gases that have accelerated climate change so dramatically," Guterres said. "There is a very unfair situation relative to the level of destruction."
On Friday, Guterres wrote on Twitter that "Pakistan and other developing countries are paying a horrific price for the intransigence of big emitters that continue to bet on fossil fuels."
He also lamented the lack of attention the world gave to climate change — particularly the industrialized nations that scientists blame.
"This is insanity, this is collective suicide," he said.
Pakistan is responsible for less than 1 percent of global greenhouse gas emissions, but is eighth on a list compiled by nonprofit Germanwatch of countries most vulnerable to extreme weather caused by climate change.
Additional reporting by AFP
Comments will be moderated. Keep comments relevant to the article. Remarks containing abusive and obscene language, personal attacks of any kind or promotion will be removed and the user banned. Final decision will be at the discretion of the Taipei Times.