Kremlin hails 'triumphant vote' for Putin
HARD TO FORECAST? Russia's Central Election Commission said 78 percent of voters backed amendments that would give Putin two more terms
The Kremlin hailed as "a triumphant vote of confidence in [Russian] President [Vladimir] Putin" the overwhelming approval by voters of his bid to extend his two-decade-long rule potentially to 2036.
"Such high levels of turnout and such support would have been hard to forecast," spokesman Dmitry Peskov told reporters in a conference call. "Now that Russians have given such support to all the initiatives to amend the constitution, this of course will become the foundation for a better future for the country."
In voting that concluded on Wednesday, 78 percent of Russians backed the package of amendments, with turnout of 65 percent, the Central Election Commission said.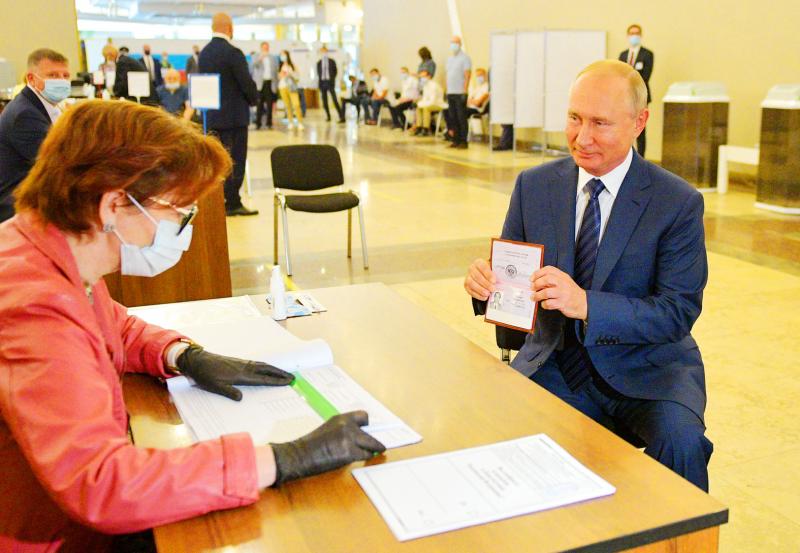 Russian President Vladimir Putin shows his passport to a member of a local electoral commission as he arrives to cast his ballot in a nationwide vote constitutional reforms at a polling station in Moscow on Wednesday.
Photo: AFP
Independent vote monitors claimed widespread manipulation and pressure on voters, but officials denied any significant breaches.
Amid rising public discontent about stagnant living standards, the Kremlin pulled out all the stops to ensure a high turnout and resounding approval in balloting that started last week.
Authorities wooed Russians with populist sweeteners such as an effective constitutional ban on gay marriage, along with prize drawings for voters, while playing down the removal of term limits for Putin and blocking any campaigning against a "yes" vote.
Putin, a former KGB colonel who was first elected in 2000, is already the longest-serving Russian leader since Soviet dictator Josef Stalin.
The plan would give him the right to run for two more six-year terms after his current mandate runs out in 2024.
While insisting he has not decided if he would run again, Putin last month said that speculation over a possible successor would be destabilizing.
"The main result is the formal legitimization of the zeroing" of presidential term limits for Putin, said Mikhail Vinogradov, head of the St Petersburg Politics Foundation. "Plus the ability to maintain a relatively high level of declared approval for the actions of the authorities, even though the pandemic hasn't scored many points for them."
The 67-year-old Putin is confronting a slump in poll ratings as Russia's economy reels under the impact of the COVID-19 pandemic and a collapse in oil prices.
The referendum failed to pass only in the Arctic Nenets Autonomous Region, where the proposal got only 46 percent for and 53 percent against, RIA Novosti reported.
Putin caught even many in his inner circle by surprise in January when he announced plans to carry out the most extensive reform of the Russian constitution since it was adopted in 1993.
However, the clause allowing him to sidestep term limits did not appear until March, even if some officials later suspected that had been his plan all along.
Putin's popularity rating at 60 percent — although still respectable by Western standards — is at about the lowest levels since he became president in 2000, said the Levada Center, an independent polling and research organization in Moscow.
In Moscow and St Petersburg, where critical views of the Kremlin are stronger, opponents of the plan said their small exit polls showed "no" votes prevailing, but official results contradicted that.
"This vote will even more strongly polarize society and divide the majority from the minority," said Boris Makarenko, president of the Center for Political Technologies, a Moscow-based political consultancy.
"This is a dangerous precedent of the complete destruction of electoral procedures," he added. "The temptation will be very strong to repeat these practices at later elections."
State workers were pressured into voting, the use of large-scale online balloting for the first time and the week-long process made it harder for independent observers to uncover any breaches, election monitoring group Golos said.
Comments will be moderated. Keep comments relevant to the article. Remarks containing abusive and obscene language, personal attacks of any kind or promotion will be removed and the user banned. Final decision will be at the discretion of the Taipei Times.