S Koreans outraged over Trump's China comment
Buffeted by the currents of diplomacy, South Korea is sometimes described as a "shrimp between two whales," and US president Donald Trump has touched nerves with remarks that the Korean Peninsula "used to be part of China."
The comments came after Trump hosted Chinese President Xi Jinping (習近平) at his Mar-a-Lago retreat in Florida.
As the pair discussed ways to curb North Korea's nuclear ambitions amid mounting tensions, Trump told the Wall Street Journal, Xi "went into the history of China and Korea."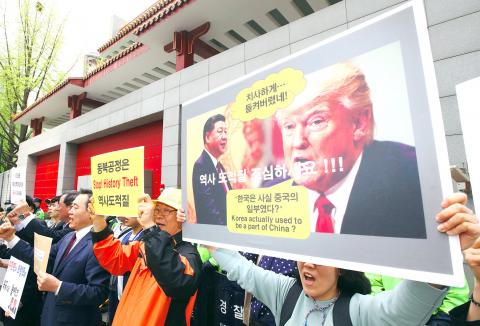 South Koreans on Saturday outside the Chinese embassy in Seoul protest against "absurd remarks" attributed to Chinese President Xi Jinping by US President Donald Trump.
Photo: AFP
"And you know, you're talking about thousands of years ... and many wars. And Korea actually used to be a part of China," Trump said.
Beijing is Pyongyang's sole major ally and Washington wants it to do more about the North's nuclear and missile programs, while the US has a security alliance with Seoul and stations more than 28,000 troops in South to defend it.
The exact details of what Xi said and whether Trump accurately represented him are not known, but South Koreans are wary of Chinese expansionism and politicians, historians and citizens have been outraged.
The Korean Peninsula has been heavily influenced by China politically and culturally for centuries.
However, while its ruling kingdoms sometimes paid tribute to their giant neighbor, South Korean historians stress they did not come under its territorial control, despite repeated invasions.
"The fact that Korea was not part of China for thousands of years ... is a clear historical fact acknowledged by the international community," the South Korean Ministry of Foreign Affairs said.
Chinese Ministry of Foreign Affairs spokesman Lu Kang (陸慷) declined to confirm the details of Xi's wording.
"The Korean people should not be worried about it," he said.
However, Seoul's JoongAng Ilbo daily said South Koreans had been "dumbfounded" by the Chinese leader.
"If Trump really conveyed Xi's words correctly, it is nothing but a grave challenge to the identity of the Korean people," it said.
South Korean historians and advocates rallied outside the Chinese embassy on Friday to protest against Xi's "absurd remarks," Yonhap news agency reported.
Seoul and Beijing are at loggerheads over the deployment of the US missile defense system Terminal High-Altitude Area Defense system (THAAD) to the South to guard against threats from the North, infuriating China, which sees it as weakening its own capabilities.
Beijing has imposed a series of moves including a ban on group tours to the South and suspensions of South Korean businesses in China, which are seen by Seoul as economic retaliation.
South Korea's top-selling Chosun newspaper turned on both leaders, castigating Xi for his "premodern expansionist view" and Trump for a lack of awareness of diplomatic sensitivities.
"The fact that Trump publicly disclosed such a remark [by Xi] demonstrates that he is completely ignorant about the history of the Korean peninsula," it said in an op-ed Friday.
The row came after South Koreans were dismayed by the revelation that the aircraft carrier USS Carl Vinson and a supporting battle group were still thousands of kilometers from the Peninsula, despite the White House saying it was dispatching them to the area as tensions mounted with the North.
Trump had described the vessels as an "armada" and "very powerful" and the revelation drew jeers and disappointment.
"What Mr Trump said was very important for the national security of South Korea," conservative South Korean presidential candidate Hong Joon-Pyo told the Wall Street Journal. "If that was a lie, then during Trump's term, South Korea will not trust whatever Trump says."
Fears of potential Korean conflict have mounted in recent weeks with Pyongyang showing no sign of any willingness to abandon its nuclear and missile programs and the US saying that military action was an "option on the table."
The North has vast amounts of artillery deployed within striking range of Seoul, putting the South Korean capital at risk of devastation in even a conventional conflict.
The carrier controversy illustrated Trump's "unpredictable behavior" that could lead to "disastrous events", the Kyunghyang daily said.
"We are worried whether the Trump administration ... can properly handle a crisis on the Korean Peninsula," it added. "The South Korean government should brace itself against the 'Trump Risk.'"
Comments will be moderated. Keep comments relevant to the article. Remarks containing abusive and obscene language, personal attacks of any kind or promotion will be removed and the user banned. Final decision will be at the discretion of the Taipei Times.