Trump says Obama tapped his phones
'SIMPLY FALSE': Obama spokesman Kevin Lewis said neither Barack Obama nor any of his White House officials had ever ordered surveillance on any US citizen
US President Donald Trump is accusing former US president Barack Obama of ordering his telephones tapped during last year's elections, offering no evidence while invoking politically charged references to Watergate, former US president Richard Nixon and McCarthyism.
Obama spokesman Kevin Lewis responded that the assertion against the former president was "simply false."
Trump's claim also drew bipartisan rebukes from Democrats and Republicans alike.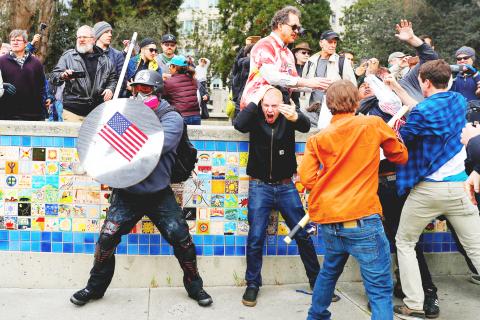 A demonstrator supporting US President Donald Trump, left, holds a shield as a group of men punch a counterdemonstrator during a "People 4 Trump" rally in Berkeley, California, on Saturday.
Photo: Reuters
In a series of morning tweets on Saturday, Trump suggested that Obama was behind a politically motivated plot to upend his campaign. He compared the alleged events to "Nixon/Watergate" and "McCarthyism!" and he called Obama a "Bad (or sick) guy."
The Watergate break-in during the Nixon administration led to Nixon's resignation and the conviction of several aides. During the 1950s, then-Republican senator Joe McCarthy's reckless and unsupported charges of communist infiltration in federal government gave rise to the term "McCarthyism."
After Trump's speech to Congress on Tuesday, the tweets reflected his growing frustration with the swirling allegations about his advisers' ties to Russia, which are under FBI investigation, and his team's inability to overcome them.
Trump on Friday lashed out at his senior team during an Oval Office meeting, according to one White House official.
The White House did not respond to questions about what prompted Trump's accusations that Obama had tapped his telephones.
Presidents cannot legally order wiretaps against US citizens. Obtaining wiretaps would require officials at the US Department of Justice to seek permission from the Foreign Intelligence Surveillance Court, which is shrouded in secrecy.
Trump on Saturday morning said he had "just found out" the information, though it was unclear whether he was referring to a briefing, a conversation or a media report.
He has in the past tweeted about unsubstantiated and provocative reports he reads on blogs or conservative Web sites.
The morning tweets stand out, even for the perpetually piqued Trump, given the gravity of the charge and the strikingly personal attack on Obama. Trump spoke as recently as last month about how much he likes Obama and how much they get along, despite their differences.
In his morning tweets, Trump said the wiretapping occurred in October las year at Trump Tower, the New York skyscraper where he ran his campaign and transition. He maintains a residence there.
"How low has President Obama gone to tapp my phones during the very sacred election process. This is Nixon/Watergate. Bad (or sick) guy!" he tweeted, misspelling "tap."
Lewis said a "cardinal rule" of the Obama administration was that no White House official ever interfered in Justice Department investigations, which are supposed to be conducted free of political influence.
"As part of that practice, neither president Obama nor any White House official ever ordered surveillance on any US citizen," Lewis said, adding that "any suggestion otherwise is simply false."
Trump has been trailed for months by questions about his campaign's ties to Russia. The questions have been compounded by US intelligence agencies' assessment that Russia interfered with the election to help Trump triumph over Democratic rival Hillary Rodham Clinton, along with disclosures about his aides' contacts with a Russian official.
The president's allegations may be related to anonymously sourced reports in British media and blogs, and on conservative-leaning U. Web sites, including Breitbart News. Those reports claimed that US officials had obtained a warrant under the Foreign Intelligence Surveillance Act to review contacts between computers at a Russian bank and Trump's New York headquarters.
The Associated Press has not confirmed these contacts or the investigation into them.
Comments will be moderated. Keep comments relevant to the article. Remarks containing abusive and obscene language, personal attacks of any kind or promotion will be removed and the user banned. Final decision will be at the discretion of the Taipei Times.