Ex-war zone church awaits pope
SRI LANKAN SANCTUARY: Under a new president and still scarred by civil war, the nation anticipates its first visit from Pope Francis amid 'a time of tremendous change'
A small church in a Sri Lankan wildlife reserve was on the front line of the nation's decades-long civil war, but is now preparing for its first papal visit, being seen as a beacon of harmony.
The Our Lady of Madhu chapel is a pilgrimage destination for Catholics from both the Tamil and the majority Sinhalese communities, making it a rare symbol of reconciliation in a nation riven by ethnic and religious divisions.
Church administrator Emilianuspillai Santhiapillai expects at least 500,000 people to attend tomorrow, when Pope Francis is to fly in by helicopter for a service.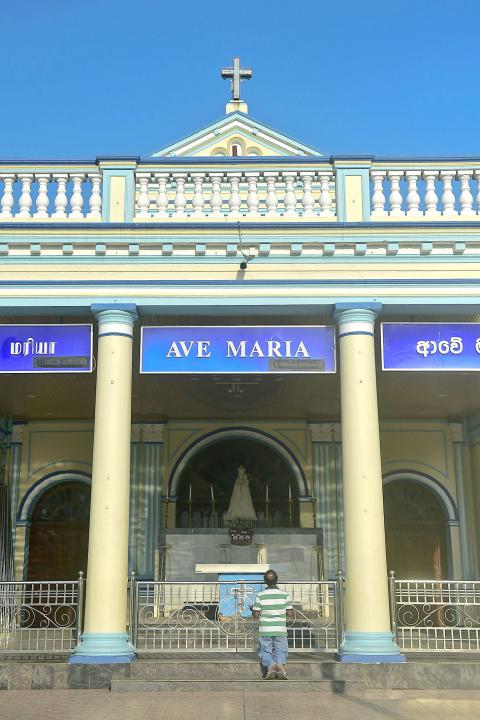 The Our Lady of Madhu chapel in Madhu, Sri Lanka, pictured on Sunday, is set to welcome Pope Francis tomorrow.
Photo: AFP
The first papal visit to Sri Lanka in two decades comes after the surprise ousting of former Sri Lankan president Mahinda Rajapaksa, who oversaw the violent suppression of Tamil Tiger rebels in 2009, and faced criticism for failing to bring about post-war reconciliation.
The pope is expected to bring a message of ethnic and religious harmony — an idea that chimes with the hopes resting on new Sri Lankan President Maithripala Sirisena, who received strong electoral support from Tamils and other minorities.
"We needed change," said 51-year-old construction engineer Palitha Rodrigo, a Sinhalese Catholic who traveled 300km from Colombo to attend Mass at the church. "He [Rajapaksa] could have done more things for the Tamils. We do not want to have fighting in Sri Lanka."
Sri Lanka is a majority-Buddhist nation, but it has a sizeable Catholic minority that accounts for about 6 percent of its population of 20 million people. Hindus represent about 13 percent and are mostly Tamil.
Pilgrims flock to the church to pay homage to a 450-year-old statue of the Virgin Mary that also attracts visitors of other faiths who believe it has miraculous powers — including protection from poisonous snakes that inhabit the jungle.
"This is a holy shrine for all people in Sri Lanka; there is no religious difference shown," Santhiapillai told reporters. "Catholics, Hindus, Buddhists and Muslims all come here for the harmonious and peaceful atmosphere."
When Pope John Paul visited the island in 1995, the north was still a "no-go" zone, making the church inaccessible.
Four years later, the shrine was hit by artillery, killing 38 people who had sought refuge from the violence, including 13 children.
That the statue was unharmed only added to its mystique. However, at the height of the fighting in 2008, Santhiapillai decided to smuggle it out of the area.
"All the refugees had left and intense war had broken out. It was not advisable to stay here," said the priest, a Tamil who had to convince a skeptical military that he had not handed the precious icon to rebels.
"Both sides suspected us of being with the other," said Santhiapillai, who returned to the church in 2009 with the statue — now encased in bulletproof glass.
Since then, the once heavily landmined region has been made safe for visitors, and an asphalt road has been built.
Deer and peacocks inhabit the surrounding jungle, and hundreds of thousands of religious devotees flock to the site every year for an annual feast in August.
Two services are held every morning — one in Tamil and one in Sinhalese — and worshippers come great distances to attend.
Madhu has been a pilgrimage destination since the shrine was established in the 17th century by a group of Sri Lankan Catholics fleeing persecution by the nation's Dutch colonial rulers.
In honor of the papal visit, a new chapel has been built alongside the 19th-century sanctuary that houses the statue, and Santhiapillai says he hopes that Francis will consecrate it.
Dominic Jencily, a volunteer at Madhu who lost his brother in the war, voted for the first time in last week's election.
The 19-year-old Tamil is confident that the nation will change for the better under Sirisena — and he believes the pope's visit is the icing on the cake.
"He is the representative of God," Jencily told reporters. "This is our chance to connect with him at a time of tremendous change in our country."
Comments will be moderated. Keep comments relevant to the article. Remarks containing abusive and obscene language, personal attacks of any kind or promotion will be removed and the user banned. Final decision will be at the discretion of the Taipei Times.