Bo supporters protest on eve of trial
JUSTICE: Bo Xilai's supporters were skeptical that the trial of the former Chongqing party chief would be fair, with some believing his fall was a result of elite infighting
A handful of supporters of ousted Chinese politician Bo Xilai (薄熙來) yesterday protested outside a courthouse in eastern China on the eve of his trial to denounce what they said was politically motivated persecution.
About 10 people held up signs outside the courthouse in the city of Jinan in Shandong Province, where Bo is set to appear in public today for the first time in 17 months to face charges of bribery, corruption and abuse of power.
The trial of Bo, 64, a charismatic and well-loved leader to some and a power-hungry politician to others, will cap the country's biggest political scandal since the 1976 downfall of the Gang of Four at the end of the Cultural Revolution and could sharpen rifts in a society already divided about his fate.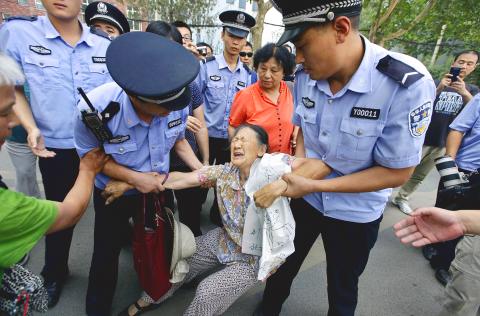 Policemen yesterday remove a petitioner outside the court where the trial of disgraced Chinese politician Bo Xilai will be held today in Jinan, Shandong Province, China.
Photo: Reuters
Although there were only a few protesters at the courthouse, it was a sign that Bo still has a public following and supporters willing to risk being detained by security forces, who routinely lock up those involved in any sort of protest or unrest.
Police tried to move the small crowd of demonstrators away from the street, as dozens of journalists camped out in front of the main gate of the courthouse.
The protesters, who came from all over the country, held signs that said: "We're watching the Bo trial to see if it's fair and just."
"When comrade Bo Xilai was put under house arrest, it was a violation of the party charter and when he was handed over to the justice system it was a violation of the constitution," a protester from Chongqing surnamed Li said.
"This trial is illegal. We don't believe in any outcome of this trial," Li said.
Bo was the party chief in the sprawling southwestern metropolis of Chongqing at the time of his downfall last year.
There was no immediate sign yesterday that a secret session of the trial had started. Sources said on Tuesday that the charge of abuse of power against Bo relates to his flouting the authority of central leaders in Beijing, an allegation so sensitive that his trial could start one day sooner to hear it in camera.
The public support for Bo, though modest, underscores the difficulty the Chinese Communist Party faces in trying to both convince skeptics that Bo's fall was not simply the result of elite infighting, and show the country that Beijing is serious about fighting graft.
Before his dramatic ouster, Bo looked set to join the upper ranks of China's leadership.
After his appointment as party boss of Chongqing in 2007, he had turned the region into a showcase of revolution-inspired Maoist "red" culture, as well as state-led economic growth. Bo's populist ways were welcomed by many of Chongqing's 30 million residents — and others across the country.
However, his rise was stopped by a murder scandal involving his wife, Gu Kailai (谷開來), and his former police chief, Wang Lijun (王立軍). Both Gu and Wang have since been jailed over the scandal, which stems from the murder of British businessman Neil Heywood in November 2011.
Standing outside the courthouse, a protester from Beijing surnamed Li said: "Bo Xilai is not corrupt, Bo Xilai works for the people and is a good cadre."
"Others have talked about serving the people, but they have just left the people hanging out to dry and not done anything practical for the people," Li said. "I hope the Communist Party and [Chinese President] Xi Jinping (習近平) will support justice."
A court spokeswoman in Jinan said that the trial will not be televised live, although the authorities will provide a press briefing when the court adjourns.
A Hong Kong-based broadcaster, Phoenix Television, reported on Tuesday that the trial would be televised live to reporters in a hotel in Jinan.
The last television coverage of a major trial in China was when state television broadcast excerpts from the trial of the Gang of Four in 1980. Jiang Qing (江青), the wife of Mao Zedong (毛澤東), was removed from the courtroom several times after shouting down judges and insulting witnesses as she stood trial for crimes committed during the Cultural Revolution.
Bo's son, Bo Guagua (薄瓜瓜), has urged the authorities to allow his father to defend himself at his trial. Bo is almost certain to be found guilty, given that China's prosecutors and courts come under party control and courts have a 98 percent conviction rate.
Comments will be moderated. Keep comments relevant to the article. Remarks containing abusive and obscene language, personal attacks of any kind or promotion will be removed and the user banned. Final decision will be at the discretion of the Taipei Times.