Gunman murders three in US spa
'DOMESTIC PROBLEM': The suspect allegedly went on a shooting spree in his estranged wife's workplace, before killing himself. Four people were injured in the attack
A gunman burst into a day spa where his estranged wife worked in the US state of Wisconsin and opened fire on Sunday, killing three people and injuring four, police said.
The suspect — identified as 45-year-old Radcliffe Haughton — was later found dead at the scene in Brookfield, a suburb of the city of Milwaukee, police said.
Haughton died from a self-inflicted gunshot wound, Brookfield police chief Dan Tushaus said.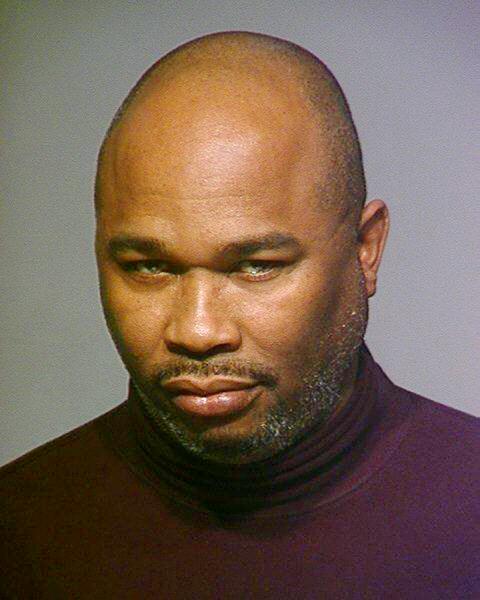 An undated booking picture released by the Milwaukee County Sheriff`s Office on Sunday shows shooting suspect Radcliffe Haughton.
Photo: AFP / MILWAUKEE COUNTY SHERIFF'S OFFICE
"We believe this incident is domestic violence-related," he told reporters, adding that officers discovered a small fire inside the building when they went in for the suspect and found him dead.
Women who were trying to relax by getting massages and nail treatments instead ran for their lives when the gunman entered the Azana spa, police said.
Clients stood dumbfounded in the parking lot in their white spa robes outside the locked-down crime scene, as police spent hours combing the large building, which had many small treatment rooms.
Police said Haughton's wife apparently wanted a divorce and he had slashed her car tires earlier this month, prompting her to take out a restraining order against him, Tushaus said.
However, that did not stop Haughton from targeting her workplace, police said. They said they could not immediately say if his wife was among the dead.
The suspect's father, Radcliffe Haughton Sr, told TMJ4 News: "This is not the way I raised my son ... My son is facing a domestic problem. Things happen, and some people cannot take it."
Sunday's mass shooting was the second in the US state this year. In August, six people were killed in a rampage at a Sikh temple in another suburb of Milwaukee, Oak Creek. The gunman in that incident killed himself.
Tushaus said earlier that Haughton had left behind what appeared to be an improvised explosive device (IED), which prevented police from searching the entire two-story building. However, the police chief later said it was unclear if the propane tank was an IED or something left behind by maintenance or construction workers.
The four people injured in Sunday's shooting were not believed to be critically hurt. However, one woman who was shot in the neck may be about six months pregnant, TMJ4 reported.
Police would not immediately identify the dead, other than the shooter himself. They were not looking for any other gunmen, Tushaus said.
Comments will be moderated. Keep comments relevant to the article. Remarks containing abusive and obscene language, personal attacks of any kind or promotion will be removed and the user banned. Final decision will be at the discretion of the Taipei Times.