Philippines erects wall to hide slums
Delegates attending an international conference in the Philippine capital might not see what they came to discuss: abject poverty.
A makeshift, temporary wall has been erected across a bridge on a road from the airport to downtown Manila that hides a sprawling slum along a garbage-strewn creek.
Presidential spokesman Ricky Carandang defended the wall's installation, saying yesterday "any country will do a little fixing up before a guest comes."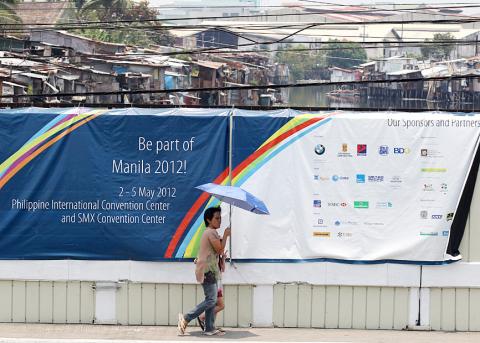 Two people walk past a wall and tarpaulin that is used to conceal the slum settlers living along the creeks during the Asian Development Bank's 45th Annual Meeting of the Board of Governors in Manila, Philippines, yesterday.
Photo: EPA
He expressed hope that this week's annual meeting of the Asian Development Bank (ADB) Board of Governors, which includes finance ministers and senior officials from 67 member states, will show the Philippines is open for business. The lending institution, which is headquartered in its own walled compound in Manila, aims to cut poverty in the Asia-Pacific region.
"We need to show our visitors that Metro Manila is orderly. We owe it to ourselves," Metro Manila chief Francis Tolentino said. "I see nothing wrong with beautifying our surroundings. We are not trying to keep the poor out of the picture."
There was no immediate comment from ADB.
The Philippine Communist Party recalled that former Philippine first lady Imelda Marcos — notorious for living an ostentatious lifestyle — was ridiculed for trying to hide squatter colonies. She erected similar whitewashed walls along the route of foreign visitors to the Miss Universe pageant in Manila in 1974, and other international events.
"The government should face reality. If they don't, how will they know the problem, how will they solve the problem?" asked Renato Reyes, secretary general of the largest left-wing group Bayan. "By covering the truth, they lose the energy or intention to resolve the problem."
About a third of Manila's 12 million residents live in slums, and a third of 94 million Filipinos live below the poverty line of US$1.25 a day. Overall, more than half the population in Asia remains poor.
Comments will be moderated. Keep comments relevant to the article. Remarks containing abusive and obscene language, personal attacks of any kind or promotion will be removed and the user banned. Final decision will be at the discretion of the Taipei Times.