FEATURE: Afghan carpet industry left threadbare by machinery
For decades, Ismail Temorzada's handmade Afghan carpets decorated people's homes around the world, but export problems and competition from Iran's machine-made products have left his business threadbare.
"My carpet sales are down, no one is buying handmade carpets anymore," says Temorzada, 45, who has run a shop for more than 20 years in Kabul's once crowded and colorful Chicken Street bazaar.
"Iranian machine-made carpets are imported to Afghanistan at a cheaper price," he said, dismissing them as lacking originality, durability and charm.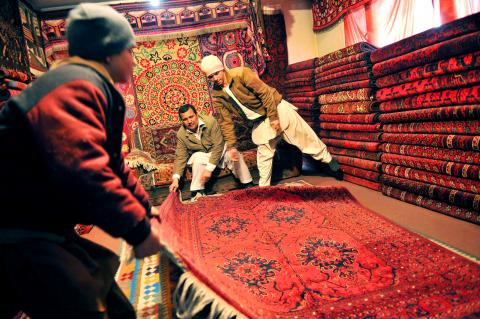 Shopkeeper Ismail Temorzada, center, displays a carpet to customers in his shop on Chicken Street in Kabul, Afghanistan, on March 3.
Photo: AFP
However, they are cheap and people buy them, and his sales have dropped by 70 percent over the past year, he says. Carpets are Afghanistan's best-known export, woven mostly by women in the north of the country.
Displaying his best carpets, from Andkhoy in northern Faryab Province, Temorzada said they cost 60,000 Afghanis (US$1,240), but nobody is buying them now.
He wants the government to ban the importation of machine-made carpets from Iran — or at least impose a steep increase in the import duty.
"Recently, Afghan carpet businessmen had a meeting with [Afghan] President Hamid Karzai and the president told us that if we ban their carpets then they will ban all their products to Afghanistan," Temorzada said. "If we cannot ban the Iranian machine-made carpets we should increase the duty on the product from [US]$10 a meter to [US]$100, so that they cannot be imported to Afghanistan in great numbers and slowly will be reduced."
Temorzada also wants the government of the landlocked and wartorn country to help the industry export its own products directly to clients around the world.
At the moment, transport problems mean that most carpets are sent to neighboring Pakistan for washing and cutting and are often then shipped abroad under Pakistani labels.
Afghan carpet making used to employ directly or indirectly 6 million people, or a fifth of the country's population, according to the export promotion agency of Afghanistan — but that figure has dropped sharply.
"The Afghan carpet industry is totally dependent on the international market," said Mohammad Zarif Yadgari, deputy director of the Afghan Carpet Exporters' Guild. "There is no direct access [to sell] abroad — if we export carpets they will be sent abroad from Pakistan through middlemen."
The value of carpet exports fell from US$262 million in 2007 to US$149 million in 2008, according to the Afghanistan Chamber of Commerce and Industries.
In 2010, nearly 400,000m2 of carpets worth US$48 million were sold, but this dropped by half last year. However, while some businesses suffer, others are thriving.
"Since I brought Iranian machine-made carpets, my business has boomed," Kabul carpet dealer Mohammad Muzamil Yousufzai said. "Because they are cheap and are sold at a reasonable price, everyone can afford to buy them."
The Afghan government says it is making moves to help local carpet makers.
"The government has started work on the construction of industrial parks for carpet businessmen for washing and scissoring," said Motasil Komaki, Afghan deputy commerce and industries minister.
Describing carpets as "Afghanistan's national industry," he said the parks would initially be built in four provinces — Faryab, Balkh, Herat and Jawzjan.
Weaving carpets was a main source of income for the millions of Afghans who fled to Pakistan during Afghanistan's years of war, notably the 1990s civil conflict that was followed by Taliban rule. About 80 percent of the exiles have returned home since the ouster of the Taliban government in 2001 and now a large portion of Pakistan's carpets are made in Afghanistan, but sold as Pakistani, according to government figures.
Afghanistan, one of the poorest countries in the world, can ill afford to lose its main industry. Its economy has been supported by huge infusions of Western cash for the past decade as 130,000 US-led NATO troops help Karzai's government fight a Taliban insurgency.
Comments will be moderated. Keep comments relevant to the article. Remarks containing abusive and obscene language, personal attacks of any kind or promotion will be removed and the user banned. Final decision will be at the discretion of the Taipei Times.