Cherry blossoms a diplomatic coup for Japan
A century before cultural diplomacy became a buzzword for governments around the world, Japan scored a spectacular success — Washington's cherry blossoms, which have become one of the US capital's top tourist attractions.
First planted in 1912 on central Washington's then barren Tidal Basin, the gifts from Japan each year now draw more than 1 million visitors who revel in the famously short-lived beauty of the blooming pink and white cherry petals.
Japan and the US will mark the March 27 centennial of the first trees' planting with a monthlong festival, but crowds are already eagerly strolling around the trees as warm weather brings an early bloom.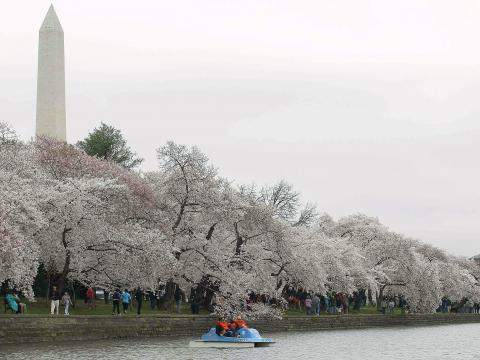 People paddle a boat near cherry blossom trees on the Tidal Basin in Washington on Sunday.
Photo: Reuters
Zack Zimko and Katie Head came to Washington from the eastern state of Delaware to soak up the atmosphere of the cherry blossoms, snapping pictures of each other as they admired the bloom near the towering Washington Monument.
"I had read about the cherry blossoms, but to come down here and actually see them, I was just blown away," Zimko said. "Definitely the influence of Japan here is very strong."
Daniel Seow of Melbourne, Australia, admiringly took pictures nearby, saying that the cherry blossoms looked like "snow lifted to the trees."
"For me, it's very Japanese. It's the idea that the advent of spring ushers in the new and that beauty is fleeting," he said.
Such reverence for one of Japan's traditions is a dream-come-true in the modern era, in which many governments have multimillion-dollar budgets to promote their cultures overseas in hopes of increasing their "soft power."
The Japanese have celebrated the cherry blossoms for centuries, with much of the country heading under the falling petals to reflect on life and enjoy copious amounts of drink — marking one key difference from Washington, where consumption of alcohol in a park is grounds for arrest.
Japanese Ambassador to the US Ichiro Fujisaki said that the cherry blossoms' draw was in their "brightness, beauty and brevity" — with most trees in bloom for little more than a week.
"Cherry blossoms are a symbol of Japan's spirit. At the same time, it's a symbol of Japan-US friendship and I really think this will remain so," Fujisaki said.
Japan planned to celebrate the centennial by enhancing the landscape of the Tidal Basin — now home to several major US monuments — including by building a zen rock garden that would offer another reminder of Japan.
However, the Japanese instead will only announce the proposal during the centennial, as last year's devastating earthquake and tsunami in northeastern Japan halted preparations.
Instead, Japan is bringing some of its best-selling musicians — including the all-girl J-Pop idol band AKB48 and R&B sensation Misia — for concerts to thank the US for its major relief effort following the disaster.
Japan will also plant trees in dozens of other cities across the US, including New York, Los Angeles and Chicago.
When Japan gifted the trees a century earlier, it was also partly out of gratitude — for US mediation that ended the Russo-Japanese War. However, the cherry blossoms did not get off to an auspicious start in Washington.
In 1910, US authorities burned an initial shipment of 2,000 trees on orders of the US Department of Agriculture, which ruled that they carried insects and disease. Then-US secretary of state Philander Knox tried to contain the fallout with a letter of regret to Japan over the "painful" decision.
Two years later, Japan sent a new shipment of 3,020 trees, which were successfully planted in a ceremony led by the then-first lady Helen Herron Taft.
A new setback came when Japan and the US went to war. In 1941, four trees were chopped down in suspected vandalism after Japan attacked Pearl Harbor, but Americans informally organized to protect the trees, which were referred to generically as "Oriental" trees until the end of World War II.
The cherry blossom festival has rapidly expanded in popularity since then. In 1965, Japan donated another 3,800 trees, which are known in Japanese as sakura.
Ann McClellan, author of the book The Cherry Blossom Festival: Sakura Celebration, said that visitors to Washington usually recalled the Japanese influence, but that the trees also carried an "overarching message."
"When I'm down by the Tidal Basin and I'm overhearing people's conversations as they walk under the blooms, it's often about how brief life is and how beautiful, and how you have to make the most of it," McClellan said.
"That is certainly what the Japanese believe, but now we've all embraced it," she said.
Comments will be moderated. Keep comments relevant to the article. Remarks containing abusive and obscene language, personal attacks of any kind or promotion will be removed and the user banned. Final decision will be at the discretion of the Taipei Times.