Stars celebrate Chechen strongman's birthday
Chechen strongman Ramzan Kadyrov turned 35 on Wednesday with congratulatory calls from Russia's ruling duo and Hollywood stars attending grandiose celebrations in the Caucasus republic.
Actors Jean-Claude Van Damme, Kevin Costner and Hilary Swank all participated in the festivities, which were televised live and were officially decreed to be held for the opening of a new skyscraper complex, Grozny-City.
Violinist Vanessa-Mae also performed at the glitzy gala that culminated in a fireworks display.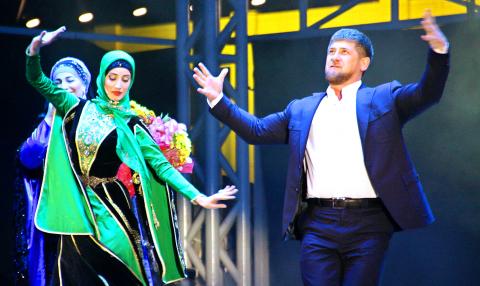 Chechen leader Ramzan Kadyrov, right, dances in a ceremony to mark his 35th birthday in Grozny, Russia, on Wednesday.
Photo: AFP
The swaggering leader, whom critics accuse of megalomania and heavy-handed tactics, had banned bureaucrats from celebrating his birthday on pain of being fired, so the events in the former war zone of Chechnya were tied to the city day, as well as a national teachers' holiday and a "day of Chechen youth."
A former insurgent, Kadyrov took power in Chechnya after his father, Akhmat Kadyrov, was killed in a bomb attack as he attended a Victory Day concert in the volatile region in 2004. His critics say Kadyrov runs Chechnya as his personal fiefdom and enjoys carte blanche and hefty financial assistance from the Kremlin in exchange for loyalty.
Even though the Russian authorities remained conspicuously silent on the matter, Kadyrov's spokesman Alvi Karimov said that his patron received telephone calls with birthday wishes from both Russian Prime Minister Vladimir Putin and President Dmitry Medvedev.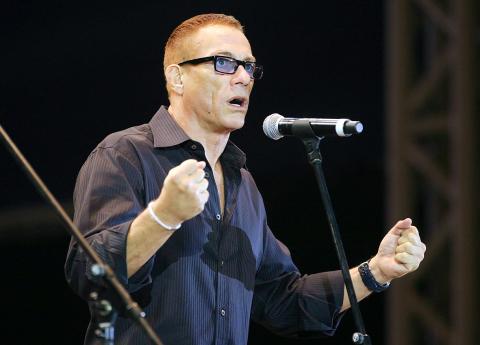 Belgian actor Jean-Claude Van Damme speaks at a ceremony to mark Chechen leader Ramzan Kadyrov's 35th birthday in Grozny, Russia, on Wednesday.
Photo: EPA
There were unprecedented security measures in Chechnya, where the Kremlin has waged two wars with separatists in the past 20 years, as authorities closed the main highways leading into Grozny on Monday and police carried out document checks on residents of all apartment blocks in the past two weeks.
Numerous stars were invited to participate in the birthday celebrations, with Colombian singer Shakira, known for hits such as Hips Don't Lie, reportedly hired to perform, but she denied that on Twitter, saying she was never booked for the event.
However, Kadyrov claimed in a live televised interview on Tuesday that human rights activists had warned Shakira against coming.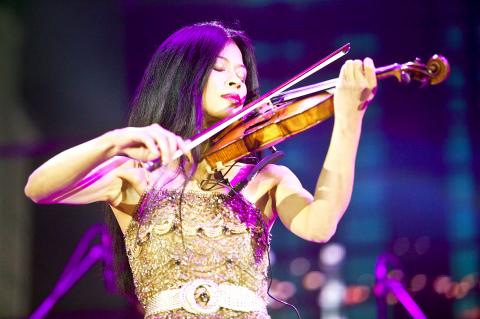 Musician Vanessa-Mae performs in Grozny, Russia, on Wednesday.
Photo: Reuters
"Rights activists wrote a letter to Shakira telling her not to come to us, because the authorities here kill people, human rights are breached here. Only enemies of the people could write this," he said in typically belligerent rhetoric.
Local media said that celebrities were handsomely rewarded for attending the celebrations, with British violonist Vanessa-Mae rumored to have received US$500,000.
Kadyrov had earlier banned any events being held for his birthday and warned officials that "anyone who even tries to give me a present will immediately be sacked," RIA Novosti news agency reported.
Human rights activists accuse Kadyrov of presiding over a personal militia that carries out rampant rights abuses, torture and even murder.
Often photographed with luxury cars and the owner of a string of racehorses, Kadyrov has sought to draw positive publicity for Chechnya by inviting international celebrities.
This year he invited former soccer star Diego Maradona to play at a celebrity match and hired Dutch player Ruud Gullit to manage the republic's Terek soccer team, only to unceremoniously sack him for spending too much time in nightclubs.
Such spectacular celebrations for long-serving leaders' birthdays are commonplace in the former Soviet Union.
This year, Kazakh President Nursultan Nazarbayev invited British pop star Sting to perform at celebrations on his 71st birthday, which were also formally linked to a city day.
Sting pulled out at the last moment on the instigation of Amnesty International, citing violations of the rights of striking workers.
Comments will be moderated. Keep comments relevant to the article. Remarks containing abusive and obscene language, personal attacks of any kind or promotion will be removed and the user banned. Final decision will be at the discretion of the Taipei Times.