S Korea to simulate infiltration
WATER GAMES: The South's marine and naval forces are holding two-day maneuvers later this week, the 'first of their kind' near the border in the Yellow Sea
South Korean marines and naval forces will hold joint war games this week to simulate an infiltration by North Korean troops across the tense Yellow Sea border, military officials said yesterday.
Navy officials said the two-day maneuvers on Friday and Saturday were designed to enhance the South's capability to repel a surprise landing on islands near the disputed sea border.
"This week's computer--simulated war games will be the first of their kind near the sea border," a navy spokesman told AFP.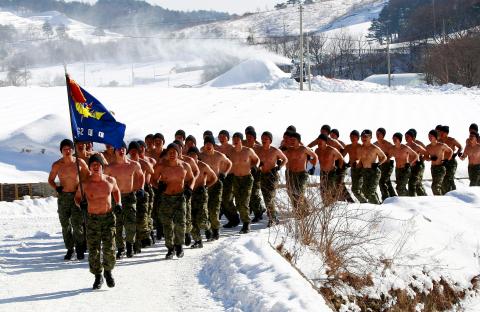 South Korean army special forces perform in the snow during a winter survival exercise yesterday in Pyeongchang, about 200km east of Seoul.
PHOTO: EPA
Cross-border tensions have been high since the North shelled a South Korean island on Nov. 23 last year, killing four people including two civilians.
The South has since staged a series of military exercises, including a live-fire drill on Dec. 20 on the island, but the North did not follow through with threats of a new and deadlier attack.
Rodong Sinmun, the North's party daily said yesterday that such exercises demonstrated Seoul's "persistent design for invasion."
"They are advised to behave themselves, mindful that confrontation and war will bring earlier their own doom," it said.
The North's artillery attack in November prompted South Korea to strengthen defenses along the sea border.
Last week, South Korea reportedly deployed extra anti-submarine patrol aircraft to guard against a potential attack by North Korea.
Five P-3CK surveillance aircraft were deployed on Saturday in addition to 11 anti-submarine planes already in operation to patrol the sea off the west and east coasts, JoongAng Ilbo newspaper reported yesterday.
The move is "aimed to improve the ability to detect submarines following a North Korean submarine's attack on the Cheonan warship," the paper quoted a military official as saying.
Seoul, citing a multinational investigation, blamed Pyongyang for torpedoing one of its warships, the Cheonan, in March last year, killing 46 sailors, a charge the North has vehemently denied.
"With the additional deployment of maritime surveillance aircraft, we are able to intensively monitor movements of the North's submarines in the East Sea [Sea of Japan] and Yellow Sea," the official was quoted as saying.
The aircraft, nicknamed "submarine killers," have taken part in major drills including a joint naval exercise with the US in July last year, the paper said.
Despite the tensions, South Korean President Lee Myung-bak on Monday reached out to North Korea, saying Seoul was open to talks and offering closer economic ties.
In his New Year policy address, just days after Pyongyang called for improved relations this year, Lee also urged the North to abandon its "military adventurism."
The North, in a joint New Year editorial by state media on Saturday, said tensions "should be defused as early as possible," stressing dialogue and cooperation "should be promoted proactively."
Comments will be moderated. Keep comments relevant to the article. Remarks containing abusive and obscene language, personal attacks of any kind or promotion will be removed and the user banned. Final decision will be at the discretion of the Taipei Times.