FEATURE : Pakistani rock defies Taliban mindset
Gumby, a diminutive pony-tailed drummer, believes Pakistani rock music is vibrant enough to withstand pockets of extremism and shield society at large from Western fears of the Taliban.
"I've been in the industry more than two decades and have seen Pakistani music rise, fall and rise again. Our culture is resilient, which won't allow the Taliban to take over our society," the 34-year-old said.
Louis John Pinto, better known as Gumby, launched himself on the rock circuit as a drummer and percussionist while a teenager and has played as a session musician with all the major cult bands in the country.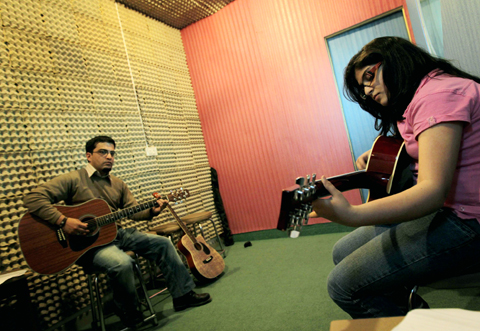 Guitar player Abid Khan, left, teaches a student at a guitar school in Lahore, Pakistan, on Feb. 4.
PHOTO: AFP
Pakistan has seen creeping religious conservatism for years. Its military is fighting to put down Taliban militants in the northwest and tribal belt on the Afghan border, albeit far from cities populated by the moderate elite.
Extremists have blown up hundreds of music and DVD shops in the northwest, branding them against Islam and forcing traders to display pro-Taliban tirades against the US to gruesome clips of beheadings and bomb attacks.
Hundreds of kilometers away in his compact studio in a multi-story building in Clifton, Karachi's poshest address, Gumby said the future of music is promising, with money and passion being injected afresh into the industry.
"Making music one's livelihood was thought to be a taboo for people here, but now parents themselves encourage their children to learn music, which shows we have a brighter future," he said.
At one recent concert at an open-air amphitheater in Islamabad, young middle-class Pakistanis dressed in tight jeans braved a chilly night to cheer bands introduced by two young women teetering on high heels.
In the more expensive stalls, parents brought young children, even babies and grandparents to listen to the music.
Successive governments have encouraged culture by relaxing curbs on artists and intellectuals. The explosion of independent television and radio in the last decade has also fostered musical talent.
"It is the one thing which comforts our people who are sick of terror attacks and political instability in the country," Gumby said.
Hamza Jafri agreed. Last year he opened the Guitar School in Lahore, Pakistan's relatively liberal and wealthy cultural capital in the east, which now teaches rock guitar to dozens of girls and boys aged seven to 20.
"Students are forming bands and the youngest one consists of three seven-year-olds," said Abid Khan, one of the founders of the school.
Most pupils come from wealthy families and are actively encouraged by their parents. Some dream of going professional.
"I want to become a rock star," said a shy 10-year-old who gave his name only as Kashan.
Hasan Zaidi, a film producer and director who has chronicled Pakistani music, sees a renaissance in underground contemporary pop.
"Pakistani pop is beginning to discover its own voice moving beyond bubblegum songs about love, by creating fusion with indigenous folk and singing songs about what is happening around us," he said.
Others, however, said that shows and concerts were declining because of economic woes and fears of bomb attacks — hammering musicians' main source of income, which rampant piracy deprives them from in sales of DVDs and CDs.
"Terrorism and a weak economy have affected the music industry dearly," said Ali Azmat, one of the most famous contemporary rock stars in Pakistan. "There has been a 50 to 60 percent decline in shows and concerts and overall earnings since 2005."
He accused "Western powers and their intelligence agencies" of harboring an agenda against Pakistan. Instead, his recent album Kalashnifolk focused on the agonies of social problems that he feels are Pakistan's real plague.
Six years ago Junaid Jamshed, Pakistan's most famous frontman — lead singer with Vital Signs, the country's first rock band, that emerged in 1986, renounced music and his playboy image to turn to religion.
Today he owns designer outlets specializing in conservative dress, keeps his beard long and joined preaching organization Tablighi Jamaat.
Critics hold General Zia-ul-Haq and his 11 years of military rule from 1977 to 1988 responsible for infringing the country's pluralistic tolerant culture and initially driving rock music underground.
"The early 1980s also saw the rise of political pop, whose lyrics explicitly dealt with issues of freedom and repression," Zaidi said.
Certainly for band Laal, which means Red in Urdu, their music is all about politics and Marxism.
One of their songs became an anthem for the lawyer's protest movement that resulted last year in the government restoring the independent judiciary after a two-year hiatus.
"We are interested in playing music of resistance, struggle and emancipation," said lead guitarist Taimur Rehman, who is studying for a doctoral degree in London.
The band's most popular song is based on popular poems of Habib Jalib, a renowned Pakistani poet who opposed military rule and state oppression in the 1960s, although followers believe his words are as relevant today as ever.
"You are the truth; they are an illusion, My prayer is that ou remain president forever," is one of their lyrics, which resonates today with critics of Pakistani President Asif Ali Zardari, who want him to resign over graft allegations.
Comments will be moderated. Keep comments relevant to the article. Remarks containing abusive and obscene language, personal attacks of any kind or promotion will be removed and the user banned. Final decision will be at the discretion of the Taipei Times.