Surgeon's steamy sex video scandal grips Philippines
Steamy sex videos of a cosmetic surgeon and his celebrity patients indulging in more than the standard nip and tuck have gripped the devoutly Roman Catholic Philippines.
Home movies showing Hayden Kho going beyond the usual ­doctor-patient boundaries with a rising film star and commercial model are spreading around the Internet, as hawkers on Manila's street corners sell DVDs of their trysts.
The videos and the manner in which they came into the public domain have fascinated and repulsed this deeply religious country.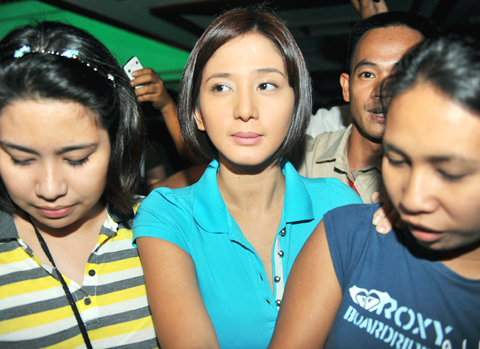 Actress Katrina Halili, center, is escorted by security personnel and aides as she leaves the court building in Quezon City on Friday after filing a libel case against the mother of surgeon Hayden Kho, her former lover.
PHOTO: AFP
One of the unwitting stars of the films is up-and-coming actress Katrina Halili, 23, who has now filed a criminal complaint.
Halili is the only woman who has identified herself as one of four appearing separately with Kho in the videos.
"I fully gave my heart and soul to a man who was doing his own movie," she said. "In our culture, this will stigmatize me for life."
She now has what many young actresses aspire to — instant name recognition — but for all the wrong reasons. In a country that Pulitzer Prize-winning journalist Stanley Karnow once described as "300 years in a Catholic convent and 50 years in Hollywood" this fame is working against her.
This week workers began ­pulling down from Manila's main avenue a large billboard of Halili endorsing a popular local brand of lingerie.
The young actress later confirmed she had lost an endorsement contract and that film and modeling offers had also dried up since the tapes went public.
Kho, 29, has issued a public apology and suspended his medical practice as calls increase for him to have his license revoked — all the while insisting he was not the one who made the recordings public.
Now suspicion has shifted to the cuckolded boyfriends or girlfriends — or their associates — of some of the personalities in the videos.
Fifty-something Vicki Belo, another cosmetic surgeon to Filipino movie stars and one-time lover of Kho, said she learnt of her estranged boyfriend's activities with other women from video files stored on her clinic's computer.
But despite saying in a sworn statement that she was aware Kho had made a similar recording of their own lovemaking, Belo has denied spreading the videotapes of Kho having sex with the younger women.
Recording the videos and making them public without the women's consent "is a form of violence," said Sylvia Claudio of the University of the Philippines Center for Women's Studies.
"We're seeing that even with this new technology, it still tends to go along the lines of old problems. Women's status is low in society, so we see this new technology where a lot of women are being hurt," she said in a television forum on the controversy.
Halili is now appealing for the public to stop watching the recordings, saying: "You also have daughters, sisters, girlfriends, wives."
But so far, her appeal has fallen on deaf ears. A middle-aged street vendor who would identify himself only by his first name, Jose, openly hawked a Katrina-Hayden Scandal video disc outside Manila's largest shopping mall, alongside his usual fare of pirated copies of Hollywood films.
"It's all over the Internet now, so sales are not that brisk as last week. But people still come here to buy them," Jose said.
A blue-collar worker who called himself "Joe" said he bought a copy because he had no Internet access.
"Every red-blooded Filipino male dreams of being in bed with Katrina Halili," he said.
Comments will be moderated. Keep comments relevant to the article. Remarks containing abusive and obscene language, personal attacks of any kind or promotion will be removed and the user banned. Final decision will be at the discretion of the Taipei Times.