Security cameras failed to stop young school shooter
Despite 26 security cameras, officials could not say how an armed, suspended 14-year-old student was able to get into his downtown school a day earlier and shoot two students and two teachers before killing himself.
School officials also were investigating how a number of warning signs from the troubled student, including threats made last week, apparently went unheeded.
Police were checking surveillance video on Thursday for clues as to how Asa Coon, armed with two revolvers, was able to enter the SuccessTech Academy alternative school.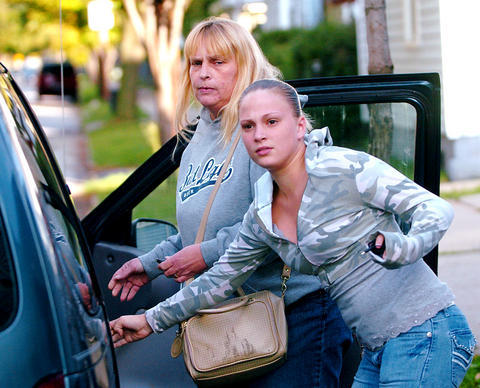 Lori Looney, left, the mother of school shooter Asa Coon, and his sister Nicole Coon leave the family's home in Cleveland, Ohio, on Thursday.
PHOTO: AP
Coon was a new student at the school, but the district has a dossier on past problems. He had mental health problems, spent time in two juvenile facilities and was suspended from school last year for attempting to harm a student, juvenile court records show.
Coon had been suspended for a fight on Monday, but students said officials had done nothing about threats he had made last week to blow up the school and stab students.
"I told my friends in the class that he had a gun and stuff," Rasheem Smith, 15, said on Thursday on CBS's Early Show. "We talked to the principal. She would try to get us all in the office, but it would always be too busy for it to happen."
Responding on the show, schools chief executive Eugene Sanders said the district would investigate.
The school of about 240 students has metal detectors, but none were operating on Wednesday. Students said the devices were used only intermittently.
When asked how Coon got past an armed security guard or whether warnings signs were missed, Police Chief Michael McGrath said he could not comment. He said police consult with school officials on where to locate metal detectors, based in part on crime in schools.
Charles Blackwell, president of SuccessTech's student-parent organization, said the position of a second security guard had been eliminated because of lack of money.
Wearing black clothing, black-painted fingernails and a T-shirt of Marilyn Manson -- the shock rocker he said he chose to worship instead of God -- Coon fired as students ran screaming or hid under tables or in closets. Then the freshman shot himself behind his right ear with a .38 caliber shot shell loaded with pellets.
Near Coon's body, police found the two guns -- .22- and .38 caliber revolvers -- and a box of ammunition for each, as well as three folding knives, McGrath said.
McGrath said that since last year, police had gone to the family's home five times: for calls about domestic violence, an assault call, a property crime and a hit-and-run accident.
Asa Coon, who is white, stood out in a school that is 85 percent black for wearing a black trench coat, black boots, a dog collar, chains and a glove. No one has suggested race played a role in the attack.
Coon was the subject of a juvenile court neglect case at age four, came from a poor home and routinely showed up to school unkempt.
When he was 12, Coon was charged in juvenile court with domestic violence, accused of attacking his mother.
His probation officer described the relationship between Coon and his mother as extremely poor, with both using foul and abusive language toward each other.
Comments will be moderated. Keep comments relevant to the article. Remarks containing abusive and obscene language, personal attacks of any kind or promotion will be removed and the user banned. Final decision will be at the discretion of the Taipei Times.