Dead pigs take center stage in Philippines
A pig in a tutu, a porker on a bike, a hog on a drip -- it was no ordinary parade that snaked its way through this Philippine town yesterday.
Participants in your average hometown parade aren't usually dead, let alone roasted, nor are they generally carved up and eaten afterwards.
But in Balayan, south of Manila, a centuries-old religious festival is all that's needed to kill, clothe, parade and consume the neighborhood pigs.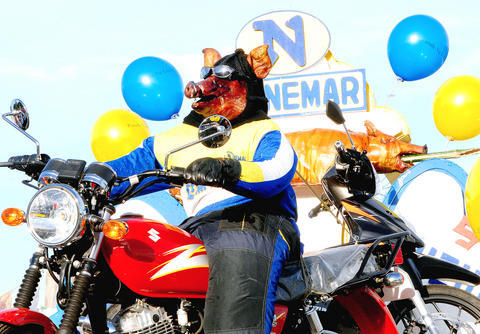 A roasted pig straddles a motorcycle during a town fiesta in Balayan, Philippines, yesterday. Hundreds of succulent pigs decked in colorful costumes were paraded through Balayan to mark a fiesta that honors its patron saint, John the Baptist.
PHOTO: AFP
Hundreds of succulent, roasted pigs decked out in colorful costumes were paraded in the festival celebrating the sainthood of John the Baptist.
The pigs, known as lechon in the local language, were placed on motorized floats as residents filled the streets and soaked each other in water to recall the baptism of Jesus Christ.
The eccentric event serves as a religious and purifying rite in the mostly Roman Catholic town of Balayan and draws thousands of tourists each year.
Nobody really knows when the tradition began, although it likely pre-dates the arrival of the first Spanish missionaries who introduced Christianity here in the 15th century.
The succulent, reddish-brown lechon is a centerpiece of Philippine culture, much like Thanksgiving turkey in the US. No party or family reunion is complete without one.
But at this festival, the cooked pigs are paraded around the town as thick crowds line the streets and snatch off bite-sized pieces.
One the more colorful displays at the event was a pig atop a red motorcyle with a ski mask on its glistening, oily head and a pair of sunglasses perched above its well-cooked snout.
The pig's creator, Nelson del Rio, said he spent hours making it as an advertisment for his shop, which sells Suzuki bikes.
"We have been joining this event for years," he said.
"The parade has evolved also as a marketing tool for many businessmen," he said.
Another pig was set up on a mock stage in rock-star pose, wearing jeans, a suitably grungy T-shirt and holding a microphone.
Comments will be moderated. Keep comments relevant to the article. Remarks containing abusive and obscene language, personal attacks of any kind or promotion will be removed and the user banned. Final decision will be at the discretion of the Taipei Times.