Offbeat Taiwanese crochet artist knits a few brows in the US
"Public Art Private Parts" has returned to Washington -- only this time, the exhibit of completely crocheted pieces is drawing stares, giggles and even buyers instead of complaints.
Taiwan-born artist Ming Yi Sung Zaleski's nude figures created an uproar in 2005 when they were shown in the lobby of a downtown office building. She was asked to remove her work from the lobby show, "Not the Knitting You Know," following complaints.
Zaleski's naked human and animal figures are now on display at the Nevin Kelly Gallery, along with a whimsical, five-minute film that explains why fig leaves cover the anatomically correct crocheted private parts. Those who are not offended are invited to lift the leaves.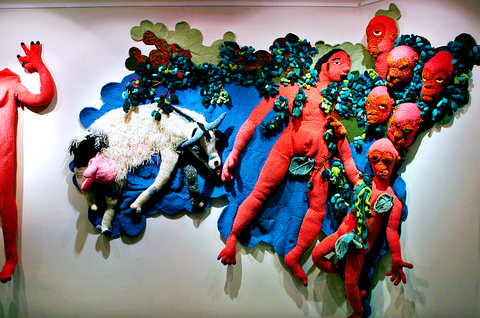 Completely crocheted works by artist Ming Yi Sung Zaleski hang in the Nevin Kelly gallery in Washington on Friday. The pieces are anatomically correct and covered with crocheted fig leaves.
PHOTO: AP
Brandon Bloch, a first-year graduate student at American University, created the film about how Zaleski responded to complaints from a law firm tenant of the downtown Washington building where her work was on view in 2005. Bloch used interviews with Zaleski, gallery owner Nevin Kelly and the knitting exhibit's curator, Binnie Fry, along with animated figures representing Zaleski's art.
The film also features animated caricatures of aghast art patrons.
"I was saving myself for my wedding night," a crying matron wails after seeing crocheted genitalia. A mustached gentleman with a cane and top hat wonders, "What manner of beast created such indecency?"
In response to the law firm's requests to remove her art, Zaleski added the fig leaves to the offending private parts.
"It never crossed my mind to have my work censored," said Zaleski, a 33-year-old art teacher. "I figured this is a grown-up working place and if people are bothered by it, I'll cover it up, and if people want to see what's underneath, they can look."
Each figure took her about two weeks to crochet, and her work includes male and female private parts of monkeys, humans and a goat. She also includes hermaphroditic figures.
"I'm not really a very political person," Zaleski said. "I just wanted to do my artwork, and I am still very interested in human figures. I don't like making sweaters when I crochet."
The artist said she has moved on from the controversy, which she finds amusing.
She noted that people who complained -- mostly men -- kept their eyes on the art.
"Even though their feet were walking, their heads kept turning and looking in this direction," she said. "If it bothers them so much, why do they keep looking?"
Julia Morelli, deputy director at the Nevin Kelly Gallery, said the new exhibit has been well received, with no complaints -- not even from the church next door. Three of nine available pieces have been sold.
Comments will be moderated. Keep comments relevant to the article. Remarks containing abusive and obscene language, personal attacks of any kind or promotion will be removed and the user banned. Final decision will be at the discretion of the Taipei Times.