Nabi roars through southern Japan
EVACUATIONS The typhoon has forced thousands from their homes and stranded tens of thousands of travelers as transportation services were canceled
A powerful typhoon lashed southern Japan yesterday, killing one person, injuring more than 40 others, and forcing tens of thousands to flee their homes as gale-driven waves hurtled against coastline defenses and storm surges flooded seaside towns. Another 16 people were reported missing.
The government dispatched 70 Self-Defense Force soldiers to storm-hit areas to fortify defenses, cope with flooding and help evacuate the displaced, Chief Cabinet Secretary Hiroyuki Hosoda said.
The typhoon grounded hundreds of flights, blocked trains and ferry services and closed down highways, stranding tens of thou-sands of travelers.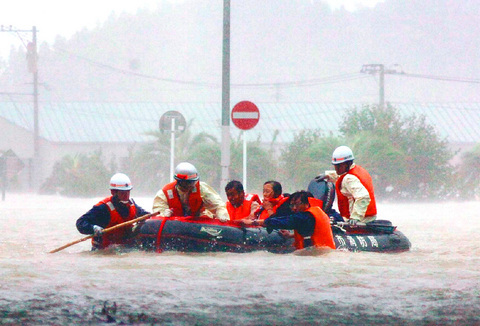 Rescue workers ferry Typhoon Nabi victims in a rubber boat across a flooded street in Miyazaki city, Miyasaki Province, yesterday.
PHOTO: EPA
Typhoon Nabi was packing winds of up to 126kph as it made landfall and traveled up the southernmost main island of Kyushu, Japan's Meteorological Agency said. Heavy rain and wind also pounded the neighboring island of Shikoku.
"The wind and rain was so strong earlier this morning, I could hardly walk -- I couldn't leave the building," said Mitoshi Shiroi from his flooded grocery store in Tarumizu, Kyushu.
"The water just keeps on coming in from under the door. And my products will be ruined without electricity," he said.
Power outages affected over 270,000 households in Kyushu, Kyushu Electric Power Co spokesman Tetsuo Yano said.
The typhoon also forced Prime Minister Junichiro Koizumi to cut short a two-day campaign trip to western Japan ahead of Sunday's national elections.
He was to return to Tokyo last night to avoid the storm, an official from the Liberal Democratic Party said on condition of anonymity, citing party policy.
Police in several prefectures on Kyushu and Shikoku islands confirmed one death and 25 injuries. Another 16 people were missing and over 60,000 were advised to evacuate their homes. Kyodo News Agency reported 41 injuries.
A man in his 70s was found dead after his house was destroyed in a landslide, while nine other people were missing in two other landslides in Miyazaki prefecture, Kyushu island, local police official Takayoshi Tanaka said.
Rescue operations were being hindered by heavy rain and wind, Tanaka said.
An 85-year-old man was also missing in Kagoshima after a mudslide destroyed his home, while a 46-year-old woman and her 10-year-old son were injured when a tree crashed through a window of their home, a local official said.
Japan Airlines and its affiliates canceled 307 flights yesterday, including 10 on international routes, while All Nippon Airlines grounded 374 domestic flights. More than 60,000 people were affected by the cancellations, according to the two companies.
Nabi was expected to move northeast and become the first typhoon to hit South Korea this year.
Comments will be moderated. Keep comments relevant to the article. Remarks containing abusive and obscene language, personal attacks of any kind or promotion will be removed and the user banned. Final decision will be at the discretion of the Taipei Times.