Afghans tell of hunger strike at Guantanamo
ALLEGATIONS About 180 Afghans at the US prison are refusing food as part of a protest, two ex-detainees say, but the Pentagon said it was unaware of a hunger strike
Two Afghans released from Guantanamo Bay have claimed that about 180 Afghans at the US detention facility were on a hunger strike to protest alleged mistreatment and to push for freedom.
Habir Russol and Moheb Ullah Borekzai, who said they left the prison camp on Cuba on Monday and were flown to Afghanistan before being freed, said on Wednesday that they did not participate in the hunger strike. They did not say how they knew others were refusing to eat.
A Pentagon spokesman, Navy Lieutenant Commander Flex Plexico, said he was unaware of a hunger strike at Guantanamo Bay but would inquire.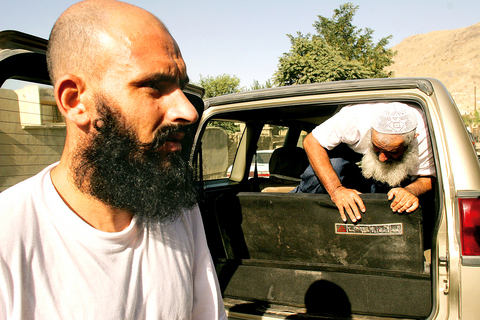 Former prisoners at the US prison camp in Guantanamo Bay, Moheb Ullah Borekzai, left, and Habir Russol, right, get out of the car that took them to their release ceremony in Kabul, Afghanistan on Wednesday. The two Afghans claimed that about 180 other Afghans held at the detention facility were on a hunger strike to protest alleged mistreatment and to push for their release.
PHOTO: AP
Amnesty International in London said it knew nothing about hunger strikes at Guantanamo, other than media reports.
Russol said 180 Afghan prisoners "are not eating or drinking." He and Borekzai estimated the men were in the 14th or 15th day of their fast. Borekzai later said that the detainees were protesting because "some of these people say they were mistreated during interrogation. Some say they are innocent."
"They are protesting that they have been in jail nearly four years and they want to be released," he said.
Neil Koslowe, a Washington-based lawyer for 12 detainees from Kuwait, said several inmates told him during a June 20-24 visit to Guantanamo that there was a "widespread" hunger strike over the amount and quality of their drinking water.
The two Afghans released this week said they had been accused of being members of the former Taliban regime, but both said they were innocent. Neither said how long they had been detained.
The Pentagon announced, meanwhile, that seven Guantanamo detainees had been released and an eighth transferred to the custody a foreign government. In addition to the two released Afghans, three Saudi Arabians, a Jordanian and a Sudanese were freed, the Pentagon said.
The three Saudis, who were not identified, were handed over to Saudi security, the official Saudi Press Agency said in Riyadh. It did not specify whether the three were detained for questioning, saying only that "the regular procedures will be applied accordingly."
In addition, a Moroccan was transferred to control of the government of Spain, US officials said. The Pentagon did not identify the detainees. The Moroccan was identified earlier this week in Spain as Lahcen Ikassrien, who had been charged there for his links to an al-Qaeda cell.
The US defense department has sought to dispute allegations of mistreatment of detainees at the Guantanamo camp, where about 520 prisoners remain, mostly Afghans, Pakistanis, as well as others captured after the US invasion of Afghanistan in 2001.
Comments will be moderated. Keep comments relevant to the article. Remarks containing abusive and obscene language, personal attacks of any kind or promotion will be removed and the user banned. Final decision will be at the discretion of the Taipei Times.