US bank hid Pinochet loot
SENATE REPORT Riggs Bank was concluded to have approached the Chilean dictator in 1994 and not reported on his accounts when required
A respected US bank discreetly helped former Chilean dictator Augusto Pinochet to hide millions of dollars over an eight-year period, even after he was arrested in London in 1998 and a court froze his assets, a US Senate report said on Thursday.
Executives of the Washington-based Riggs Bank approached Pinochet in Chile in 1994 and invited him to open an account, Senator Carl Levin said as he delivered the conclusions of the document in the Senate Permanent Subcommittee on Investigations.
Levin, calling the 88-year-old Pinochet a "notorious military leader accused of involvement with death squads, corruption, arms sales and drug trafficking," said the former general agreed to open the account.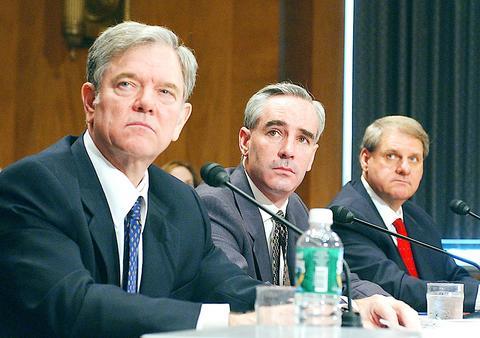 Riggs Bank president and chief executive officer Lawrence Hebert, left, former bank vice president Raymond Lund, center, and bank executive vice president R. Ashley Lee appear before the Senate Governmental Affairs Permanent Investigations Subcommittee in Washington on Thursday.
PHOTO: AP
"The bank opened an account for him personally, helped him establish two offshore shell corporations in the Bahamas called Ashburton and Althorp, and then opened more accounts in the name of those shell corporations both here and in the UK," Levin said.
From 1994 to 2002, Pinochet deposited between US$4 million and US$8 million in his Riggs accounts, the report said.
Pinochet, who ruled Chile with an iron fist from 1973 to 1990, was arrested in London in October 1998 after Spanish judge Baltasar Garzon demanded his extradition in order to try him on charges of human-rights abuses.
He was allowed to return to Chile in 2000 after being released on grounds of failing health.
"In 1998, when Mr. Pinochet was arrested in London on charges of crimes against humanity and a court issued an order seeking to freeze his bank accounts, Riggs quietly helped him move money from London to the United States," Levin said.
In March 1999, while Pinochet was still under arrest, the bank authorized the transfer of US$1.6 million from a London account of Althorp to a new account in the US, despite a court order to freeze the accounts, the report said.
"Needless to say, [the bank] didn't alert law enforcement or the courts to his accounts," Levin said. "We can't allow our financial systems to be misused by corrupt dictators, terrorists or other criminals."
In testimony before the committee, Riggs president Lawrence Hebert said the bank "has not been accused of money laundering" and is "fully and actively cooperating with all law enforcement efforts."
But the Senate subcommittee's chairman, Republican Senator Norm Coleman, lamented the bank's decision to keep Pinochet's accounts secret from regulators.
"For eight years, Riggs officials did not verify the source of his wealth, nor did they disclose the existence of these accounts to the Office of the Comptroller of the Currency," Coleman said.
In Santiago, Chilean President Ricardo Lagos said that if the report were confirmed, an investigation would be appropriate.
"If the result of the US Senate investigation determines that level of accounts, and who the account holder is, some kind of commission probably should be set up to investigate" to determine "the nature of those accounts," Lagos said.
Comments will be moderated. Keep comments relevant to the article. Remarks containing abusive and obscene language, personal attacks of any kind or promotion will be removed and the user banned. Final decision will be at the discretion of the Taipei Times.