China's `Motion King' full of ideas
They call him the "Motion King," and it's not for the way he moves.
During the past seven years as a delegate to the National People's Congress (NPC), the southern China businessman and Communist Party member has put forward hundreds of motions, or proposals, to China's nominal legislature.
Zhao Linzhong has suggested barring young people from Internet cafes. He has pushed to mandate lower prices for commercial housing. This year, he is proposing a law to safeguard medical benefits for entrepreneurs.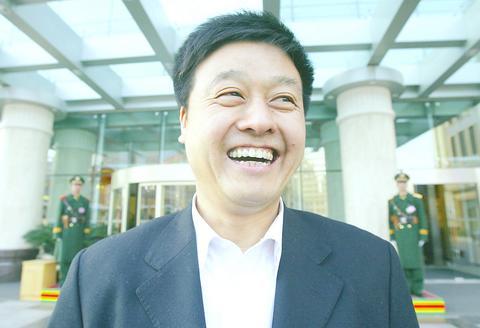 National People's Congress delegate Zhao Linzhong stands outside a hotel for delegates to the congress in Beijing last Friday. He has brought more than 500 proposals to NPC sessions since 1998, including 80 this year.
PHOTO: AP
"I do put forth more motions than other delegates, but it's not good to call me a king," said Zhao, a sharply dressed man with an easy smile who exudes an energy younger than his 50 years.
"It doesn't sound right," he said.
Zhao sees himself as an "earnest public servant" with a strong sense of social responsibility. He is among the thousands of government-appointed delegates who come to Beijing each year to participate in China's version of representative democracy.
While delegates can put forward any number of ideas, new laws are crafted by a small group of top leaders and rubber-stamped by the congress during its annual two-week session, which this year runs through Sunday. Dissenting votes are rare. But this doesn't seem to bother Zhao.
"It's not like I propose something and the government will immediately take it up," explained Zhao, who has put forward about 500 motions since he became a delegate in 1998. "But if they think it has merit, then they could consider it."
Though none of his motions have gone directly into the law books and most -- on subjects from mental health to public security to unemployment -- end up merely as talking points for delegate meetings, Zhao still feels he serves a valuable purpose.
"The government stands above and the ordinary people stand below, while we delegates serve as a bridge between the two," he said..
Zhao's ideas come mainly from issues raised by his constituents in Zhuji County, Zhejiang Province.
The province, famous for its Shaoxing rice wine and Dragon Well tea, is one of China's wealthiest. Zhao himself heads a publicly listed textile manufacturing company, the Furun Group, worth 480 million yuan (US$58 million).
"When I first took on this position, I wracked my brains for a method I could use to canvas public opinion," Zhao said. "Finally, I came up with a system similar to what I use as a business manager."
Zhao gets the provincial media -- both newspapers and TV stations -- to solicit suggestions from the public. The notices cost him nothing. Responses, in the form of faxes, e-mails and letters, then pour in.
"I can't meet with anyone in person," he said with a shrug. "I still have my day job."
At this year's congress, he is submitting around 80 motions -- well above the average handful submitted by most delegates. Last year, the NPC received a total of 1,050 motions from 2,984 participating delegates. If a similar number of motions is submitted this year, Zhao will be responsible for nearly 10 percent of them.
Comments will be moderated. Keep comments relevant to the article. Remarks containing abusive and obscene language, personal attacks of any kind or promotion will be removed and the user banned. Final decision will be at the discretion of the Taipei Times.