What if Berlusconi had one half of Putin's brain?
Audiences at a sold-out Dario Fo spoof in Rome this week are being entertained with this question: what might happen if half of Russian President Vladimir Putin's brain were transplanted to replace half of Italian Premier Silvio Berlusconi's brain?
Fo, who won the Nobel Literature Prize in 1997, has written a comedy with a zany plot that mocks the Italian conservative leader, who enjoys a real-life friendship with the Russian president.
The three-hour show at Teatro Olimpico is staged to a current-affairs backdrop of growing concerns in the country over censorship of political satire. Last month, RAI state TV suspended a program by another leftist comedian, Sabina Guzzanti.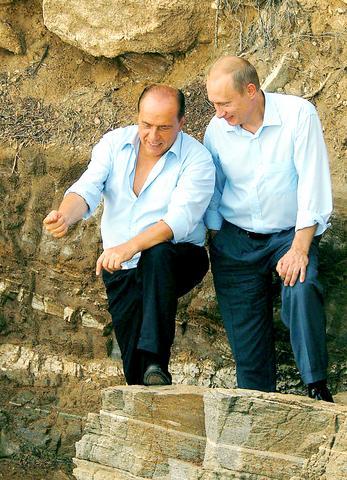 The starting point of the new political satire The Two Headed Anomaly from Italy's Nobel prize-winning playwright Dario Fo, which is taking Italy by storm, is from this summer when Berlusconi invited Putin to his sun-drenched Sardinian villa.
PHOTO: REUTERS
Fo's The Two-Headed Anomaly explores what many say is the conflict of interest posed by a premier who is also the country's richest man thanks to his vast business holdings, largely in the media sector.
At the beginning of the premiere in Rome on Monday, Fo told the audience that he and his artistic partner and wife, Franca Rame, were increasingly concerned with a government that continues to make laws critics say protect Berlusconi from his legal woes and favors the premier's business interests.
As the play begins, Berlusconi and Putin are in Sicily when Chechen terrorists attack and kill Putin on the spot. Berlusconi, trying to help his Russian friend, is also shot and badly wounded in the head.
They're rushed to a hospital where Russian surgeons repair the Italian premier's brain with a graft from Putin's.
When Berlusconi awakens, he can't remember most of his business and political past and seeks help from his wife, Veronica Lario, a former actress. Rame plays Lario.
The transplant gives Berlusconi a split personality: he blathers in Russian, gets cravings for vodka and is desperate about sailors trapped in a submarine.
But he is especially sad because his beautiful wife doesn't love him any more.
In the real world, Berlusconi, who fell in love at first sight with Lario when she was performing in a theater almost 25 years ago, has said their marriage isn't in great shape.
In the play, Veronica isn't very nice to her husband. Like the prosecutors who have investigated the premier in corruption probes of his business dealings, she bombards him with questions about how he found the money to create his business empire. In real life Berlusconi has contended that he is the victim of left-leaning prosecutors.
In the play, Veronica also asks Berlusconi about conflict of interest.
That's when Fo decides not to spare anyone. To loud cheers and laughter from the audience, he launches an attack against Massimo D'Alema, a former premier and former Communist who is widely accused of leaving unresolved the conflict posed by Berlusconi's political and business interests when his center-left party was in power.
"The people laughing at the Olimpico are the ones who love to hear Fo's views on Italy: that there's a reactionary regime, an unpunished and greedy premier and a timid and ready-to-compromise opposition," the right-leaning daily Il Giornale, which is owned by Berlusconi's brother Paolo, wrote in a review Thursday. "Does it really make one laugh? Well, it depends on who's watching."
Fo, 77, has written more than 70 plays. When he was 25, he began to write and perform satirical cabarets at Milan's Teatro Piccolo.
Fo's open opposition to the Italian establishment and his associations with left-wing groups have often caused officials to ban his works from state-run theaters in Italy. In 1980, Fo and his wife were refused entry visas into the US because of his support for left-wing activities in Italy.
Comments will be moderated. Keep comments relevant to the article. Remarks containing abusive and obscene language, personal attacks of any kind or promotion will be removed and the user banned. Final decision will be at the discretion of the Taipei Times.