Amendments to protect non-cohabiting victims of abuse
The Legislative Yuan on Tuesday passed amendments to the Domestic Violence Prevention Act (家庭暴力防治法) to grant police permission to arrest abusive partners who do not live with the victim, as well as expand the scope of protective orders.
Under the amendment, if a current or former intimate partner harms the physical or mental health of a victim, police would be allowed to arrest the abuser under criminal procedure, even if they do not live together.
Since the current law excludes non-cohabitating partners from criminal proceedings, law enforcement cannot intervene, said Democratic Progressive Party Legislator Kao Chia-yu (高嘉瑜), who has been a vocal advocate for victims of domestic abuse since coming forward with her own story in 2021.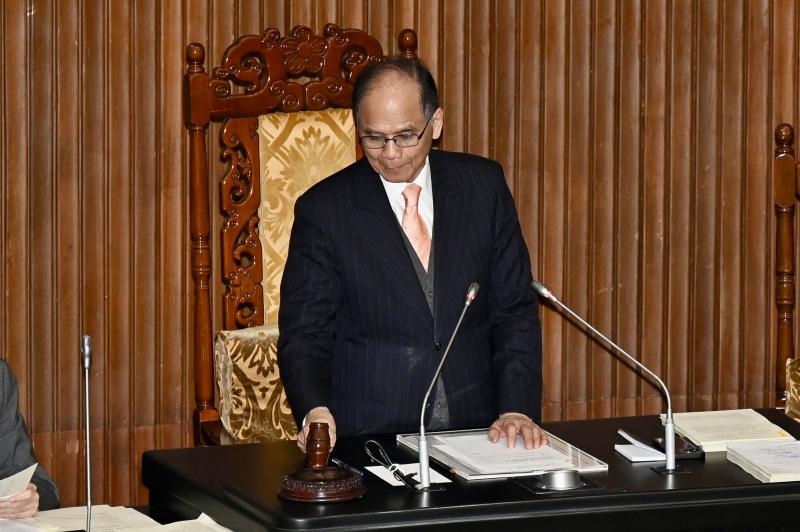 Legislative Speaker You Si-kun bangs a gavel at the legislature in Taipei on Tuesday.
Photo: Tu Chien-jung, Taipei Times
Direct arrest and protective custody can effectively halt domestic violence, but as they do not apply to non-cohabitating partners, police may only give a verbal remonstration, independent Legislator Freddy Lim (林昶佐) said.
Regarding protective orders, the amendment expands their scope to prohibit abusers and their close family members from accessing information about a victim or their underage children.
A new type of emergency protective order would also prohibit abusers from reproducing or disseminating intimate images or video of the victim without their consent.
Online platforms with knowledge of the situation would be responsible for restricting access to or removing the images.
The changes also seek to provide same-sex partners the same protections by changing the definition of "in-laws" to refer to the relatives of each partner within four degrees of consanguinity.
If a perpetrator violates the conditions of a protective order and there is reason to believe they may commit an act of violence, prosecutors may petition for preventive detention or a court may order their arrest, the amendments say.
When applying for an extension, an expiring protective order would remain in effect until the court's ruling to ensure there is no gap during which a victim is unprotected.
The amendments also allow for those who were abused by family members when they were minors to change their household registration and prohibit their immediate relatives from accessing their personal information, as long as certain criteria are met.
Comments will be moderated. Keep comments relevant to the article. Remarks containing abusive and obscene language, personal attacks of any kind or promotion will be removed and the user banned. Final decision will be at the discretion of the Taipei Times.