Unions demand fewer medical students
BLACK CROSS: The government should keep in mind that previous quota expansions in education had negative effects both on schools and the workforce, an academic said
Hundreds of Taiwan League of Healthcare Workers members yesterday gathered in front of the Presidential Office Building for the "Black Cross Movement" rally and urged the government to set a principle for determining the healthcare professional quota and to put it into law.
The league, consisting of trade unions of nurses, pharmacists, Chinese medicine practitioners, physicians and dentists, held the rally on Taipei's Ketagalan Boulevard in the afternoon.
It said that healthcare workers' work environment continues to worsen, and many people have left their posts disappointed, while the Ministry of Education (MOE) and the Ministry of Health and Welfare (MOHW) ignore the real problem and are considering expanding medical school enrollment quotas.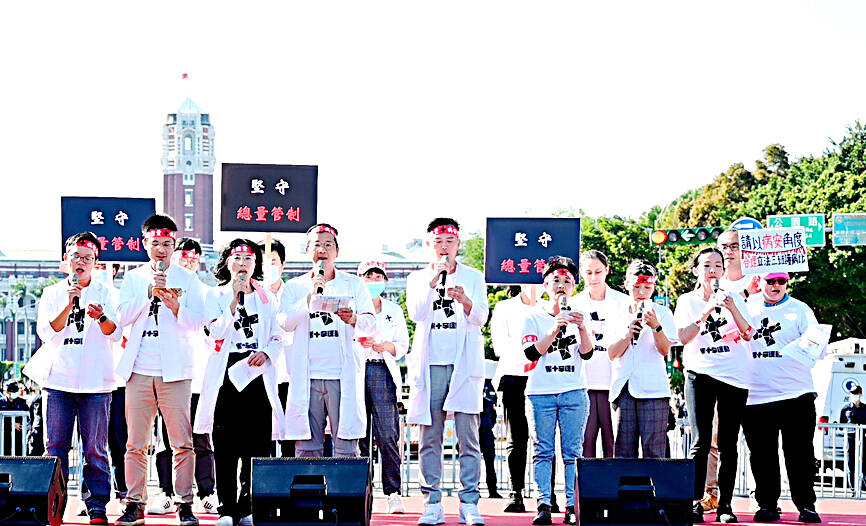 Healthcare professionals hold a rally in front of the Presidential Office Building in Taipei yesterday.
Photo: Chu Pei-hsiung, Taipei Times
Casually expanding enrollment quotas would lead to poorer personnel quality and worsen the work environment, as there might be many healthcare workers with insufficient experience, it said, adding that the newer recruits might leave the workforce more easily, leading to the destruction of the nation's healthcare system.
It urged the MOHW to discuss a principle regarding the healthcare professional quota with them and put it into law.
"The red cross represents us health workers, so the 'black cross' refers to [the government] discrediting and neglecting our demands," the group's co-convener, plastic surgeon Tsai Feng-chou (蔡豐州) said, wearing a red headband with a black cross in the middle and words reading: "Quota restriction, patient safety."
Tsai said that Taiwan's healthcare spending as a percentage of its GDP is lower than many developed countries, and the payment points for medical services in the National Health Insurance (NHI) system has dropped to a record low, causing more healthcare workers to leave the workforce.
The government should learn a lesson from previous quota expansions in higher education which led to university shutdowns along with unemployed teachers and lawyers, said rally co-convener Lin Yuan-min (林元敏), a professor at National Yang-Ming University's dentistry department.
Pharmacist Cheng Wen-po (鄭文柏) said there are about 13 pharmacists per 10,000 people in Taiwan, which is higher than the five per 10,000 people rate suggested by the WHO and the average rate of about 8.6 per 10,000 people of OECD economies.
The MOE previously allowed the Tzu Chi University in Hualien County to establish a new department of pharmacy, saying that the county has an insufficient amount of pharmacists, he said, adding that the data from August shows that the rate of pharmacists in Hualien and Taitung counties were 13 and 17 per 10,000 people respectively, Cheng said.
Another co-convener, Chen Chia-fan (陳嘉帆), a Chinese medicine practitioner, said that since a 2019 projection of the National Health Research Institutes showed there might be a bigger supply of Chinese medicine practitioners than the demand in 2028, there is no need to increase Chinese medicine departments' enrollment quotas.
The Minister of Education Pan Wen-chung (潘文忠) in 2018 promised that an enrollment restriction would be imposed on Chinese medicine departments to ensure higher education quality, Chen said, adding that the ministry should keep its promise and put such restriction into law.
Comments will be moderated. Keep comments relevant to the article. Remarks containing abusive and obscene language, personal attacks of any kind or promotion will be removed and the user banned. Final decision will be at the discretion of the Taipei Times.